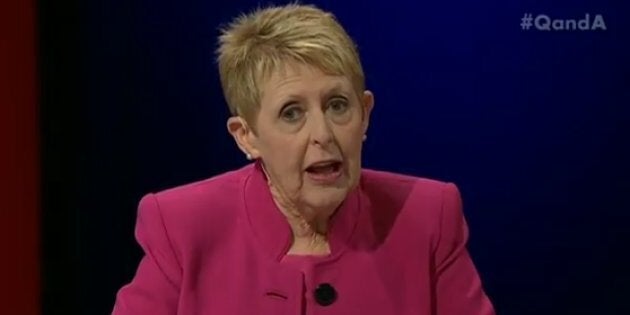 Appearing on ABC's Q&A program on Monday night, Fox acknowledged that, while the US does have the right to protect its borders from foreign threats, the way she was pulled out of an immigration line and "interrogated" only worked to instil fear in her.
"I had been interrogated, and I use the word specifically interrogated, not interviewed. I was pulled out of line for a very small reason. The digital cameras didn't work and I was sent to a real person and that's where the trouble started," she started.
"The real person found out I was being paid to give a speech in the States and said, 'you've come in on the wrong visa. You need to have more questions asked'.
"It was the way the questions were asked. It was the way they're trying to protect their borders. It was the insolence. It was the fear that they caused in me. It was the humiliation in a public room in which everything about my finances were shouted out to the entire room. It was the way other people in the room were treated which made me ashamed of being a human being. It was not only I who was badly treated. It was appalling."
Fox, the author of iconic Australian children's book Possum Magic, went on to say she will never return to the United States following the incident and said anyone who tells her to "get over it" will never understand the experience she went through.
"I don't think I'd be allowed in, I'd faint in the immigration queue. I couldn't even stand in the immigration queue, I would just faint with fear," she said.
"People have said, 'get over it. Don't be so precious'. I was in that room and had been through that. They were not in the room that I was in. They were not there after Trump came into power. They were not interviewed by the man who interviewed me, who was much younger than I was, and who looked absolutely terrifying and he humiliated me from the first sentence."
When quizzed on whether the incident was simply a way for the US to maintain sovereignty, similar to Tony Abbott and his border protection policy while Prime Minister, Fox recognised that the US should protect its borders, but needs to do so in a way that is "polite" and "warm".
"Of course they can keep their borders safe. There are ways of doing it that are polite. That are friendly. That are warm," she said.
In regards to Tony Abbott, she only had one thing to say.
"Please don't ask me to comment on Tony Abbott and our own border protection because there are not enough expletives."
Australian theatre and opera director Neil Armfield also weighed in on Fox's experiences, saying her treatment reflects a world-wide movement based on fear and "targeting difference", including in Australia.
"I think it is very clear that there is across the world a movement based on fear where there is an absolute targeting of difference out of the other," he said.
"The xenophobic terror for people in this country is equally disturbing and the kind of energy with which both parties have supported the basically, inhuman decisions in our name, I find, gives me great shame as an Australian.
"What has happened to our humanity that, across the world, people are deciding that millions of children, millions of people in despair, in terrible impoverished and broken situations who are fleeing countries because of the impossibility of living there, often because of wars that we have participated in or that America has participated in, how do we not embrace that responsibilities?"
ALSO ON HUFFPOST AUSTRALIA