One of the hardest things to do when you're trying to eat healthily is satisfy your sweet tooth (without giving in and eating a whole block of chocolate).
That's where healthy treats that truly taste delicious (and sweet) help enormously.
Using nutritious ingredients as the base, these healthy desserts from Love Move Eat by Sally O'Neil, AKA The Fit Foodie, are all about turning classics into treats that fit into a healthy eating experience.
From cherry cashew scones to frozen chocolate banana pops, these nutritious treats have got you covered.
1. Frozen choc banana pops
"Bananas protect against muscle cramps during workouts by fuelling your body with potassium. Eat one before a sweat sesh for a hit of energy," O'Neil said.
Prep time: 10 minutes (plus freezing). Makes six.
INGREDIENTS
3 bananas
1 cup 90% dark chocolate or leftover basic raw chocolate
1 tablespoon tahini (optional)
Topping ideas: ½ cup chopped nuts (such as hazelnuts, pistachios), shredded coconut, rose petals, cacao nibs, tahini, orange rind, matcha green tea powder, bee pollen
METHOD
Line a baking tray or large plate with baking paper.
Peel the bananas and cut them in half widthwise. Push a popsicle stick into each banana half from the flat cut side.
Melt the chocolate however you like, then dip in the bananas or drizzle the chocolate over the bananas.
Sprinkle each banana pop with your fave topping idea so that they stick to the chocolate.
Place the pops on the baking paper, then drizzle with tahini (if using). Freeze for at least three hours before serving.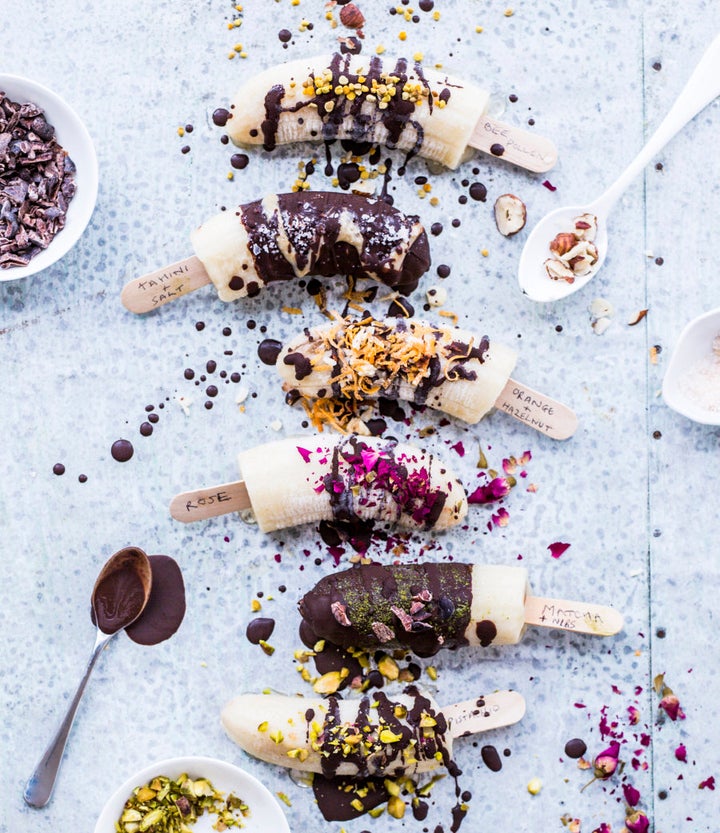 2. Flourless cherry and cashew super scones
"There's nothing better than a freshly baked scone straight from the oven," O'Neil said. "Kinda like a cake and biscuit all rolled into one happy package, they're the ultimate hybrid.
"Whilst we might be skipping the clotted cream (I know, *eye roll*) they're super tasty and high in protein. Wrap one up and throw in your bag for an afternoon pick-me-up."
Prep and cook time: 40 minutes. Makes eight.
INGREDIENTS
1 cup raw cashews
¾ cup natural vanilla protein powder (or additional cashews)
¼ cup arrowroot powder
1 teaspoon gluten free baking powder
½ teaspoon sea salt flakes
¼ cup coconut oil, melted
1 organic free range egg
3 tablespoons rice malt syrup
1 teaspoon natural vanilla extract
1 cup cherries (fresh or frozen)
METHOD
Preheat the oven to 180°C and line a 22cm cake tin with baking paper.
Add the cashews to a food processor, then blend into a powder.
Add the cashews to a large bowl, then mix in the remaining dry ingredients.
In a separate bowl, whisk the wet ingredients together, then pour into the dry ingredients and mix well.
Fold through the cherries and pour the mixture into the cake tin.
Bake for 30 minutes, then remove and leave to cool for 10 minutes before slicing and serving with leftover chia jam.
Notes: While fresh cherries are best, feel free to substitute frozen in this recipe when they are out of season. You can also try other small fruits, such as strawberries or blueberries.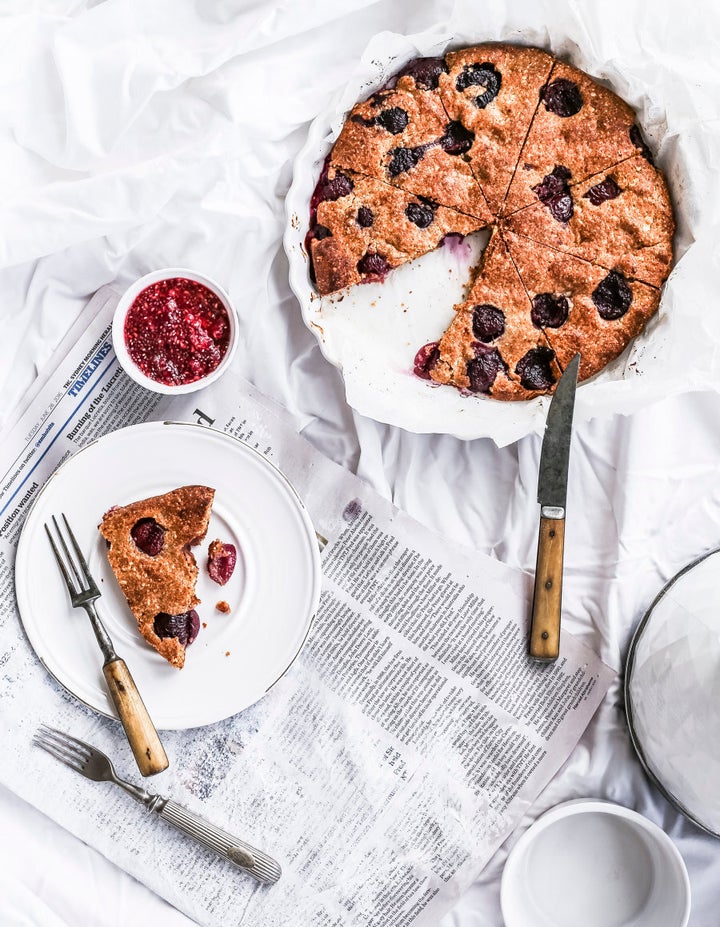 3. Vegan matcha pops
"Green tea leaves are ground to a powder, meaning you ingest the whole leaf -- giving you loads more antioxidants than traditional green tea," O'Neil said.
Prep time: 10 minutes (plus two hours freezing). Makes six.
INGREDIENTS
⅔ cup coconut cream*
1 teaspoon matcha green tea powder (see tip)
3 teaspoons rice malt syrup or 8 drops liquid stevia
75g 90% dark chocolate, melted, or leftover basic raw chocolate
2 tablespoons pistachios, roughly chopped
Mint leaves and extra matcha, to garnish (optional)
METHOD
Add coconut cream, matcha powder and sweetener of choice to a bowl or blender, and whisk or blend until smooth.
In a popsicle mould, pour in the mixture evenly, leaving a small gap at the top for expansion. You can tap your mould on a hard surface to knock out any air bubbles.
Pop in the freezer to set briefly, before adding the popsicle sticks (they should be able to stand upright).
Put back in the freezer for a few hours or until completely set.
Remove from moulds, drizzle with chocolate, top with pistachios, mint and a little extra matcha and enjoy!
* For a lighter option, use coconut milk or unsweetened nut milk. Or, sub half the coconut cream for plain Greek yoghurt. You'll amp up the protein for muscle repair and satiety.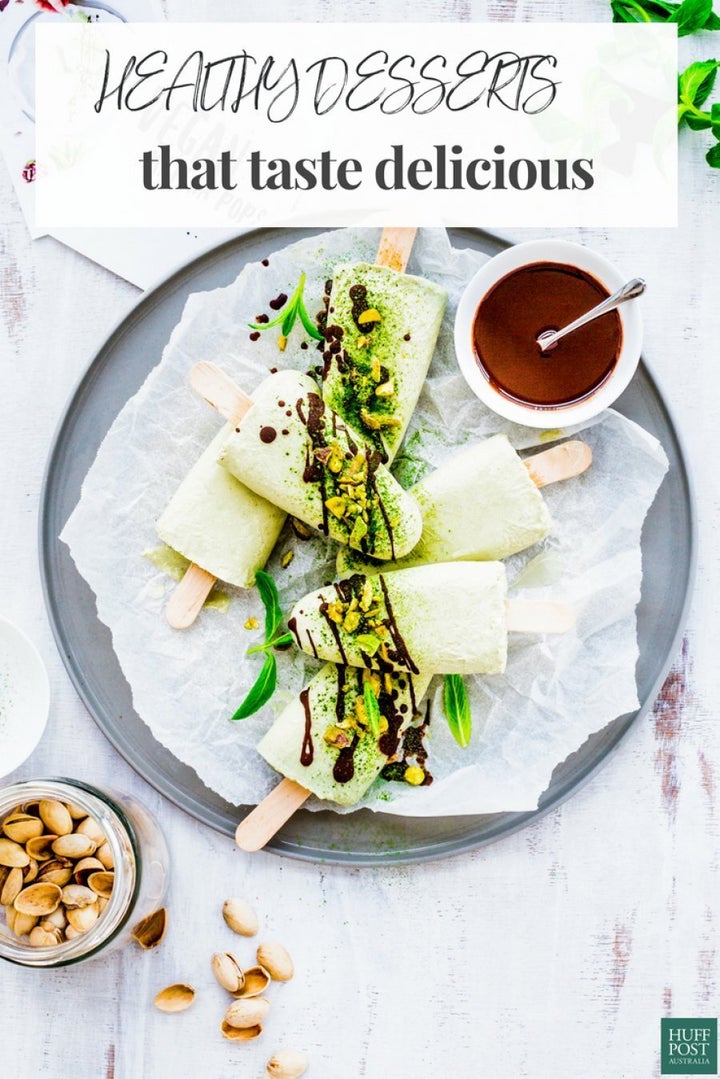 4. Baked gingerbread porridge with caramelised pecans
"This fragrant porridge is delightfully low in sugar and super versatile," O'Neil said.
"It actually tastes like gingerbread men -- it's a must-try. Slice it up and tote it to the office, or stick it in the kids' lunch boxes (minus the nuts) for a simple snack on the go."
Prep and cook time: 50 minutes. Serves six.
INGREDIENTS
Caramelised pecans (make two cups):
1 tablespoon rice malt syrup
1 egg white
2 cups pecans
2 cups rolled oats (gluten free, as needed)
¼ cup natural vanilla protein powder (optional)
¼ cup granulated stevia
1 teaspoon baking powder (gluten free, as needed)
1 tablespoon ground ginger
1 teaspoon cinnamon
½ teaspoon Himalayan salt
2 cups unsweetened almond milk (or other non-dairy milk)
2 tablespoons organic coconut oil, melted
1 tablespoon rice malt syrup
2 teaspoons natural vanilla extract or powder
Oil spray, for cooking
METHOD
For the caramelised pecans: Preheat the oven to 120°C and line a tray with baking paper.
Whisk together the egg white and rice malt syrup, and stir through pecans. For vegans, skip the egg and substitute with a tablespoon of olive oil or coconut oil. Spread out in a single layer on your lined tray. Bake for 20 minutes, stir, then bake for a further 20 minutes. Set aside to cool.
For the baked porridge: Preheat the oven to 180°C.
In a bowl, combine the oats, protein powder, stevia, baking powder, spices and salt. Set aside.
In another bowl, whisk together the almond milk, coconut oil, rice malt syrup and vanilla until combined.
Spray a large baking dish with a little oil, then add the oat mixture.
Pour over the milk mixture and bake for 30 to 40 minutes until the porridge has become firm.
Remove the porridge from the oven and top with a cup of caramelised pecans -- the other cup can be stored for another batch of porridge. Leave to cool a little before serving.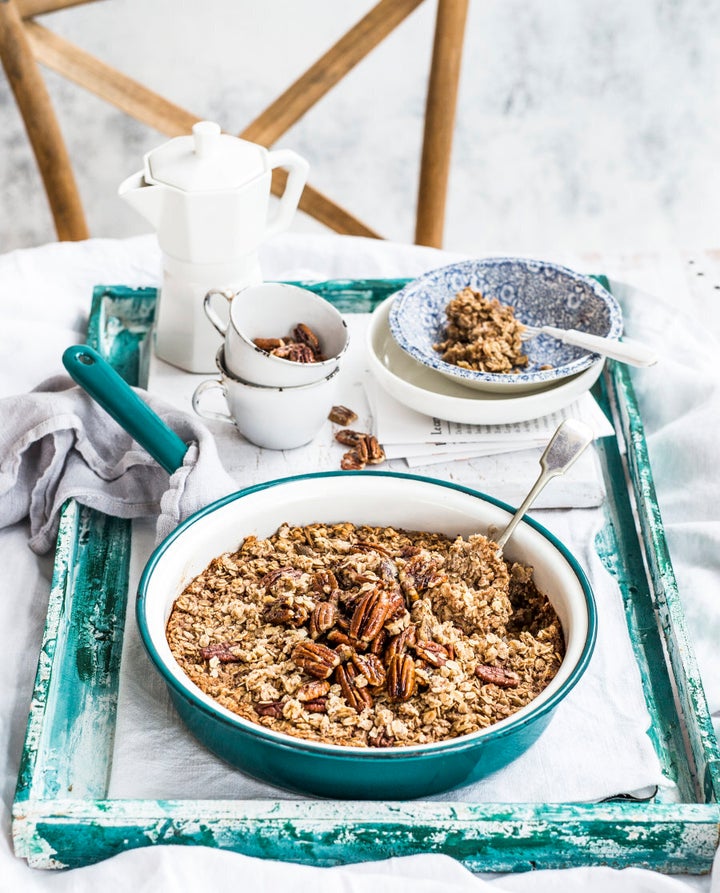 Love Move Eat by Sally O'Neil, Bauer Books. RRP $34.99. Available at all good bookstores or online.

ALSO ON HUFFPOST AUSTRALIA