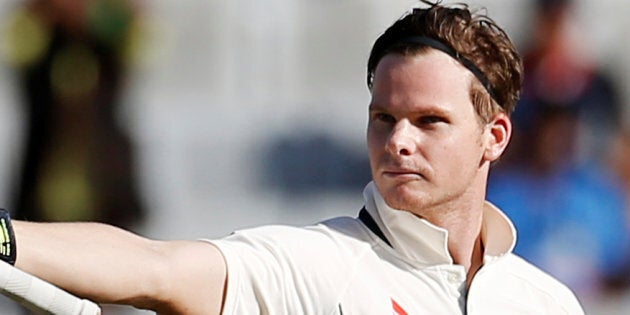 Look at that face. Just look at it. Like the Mona Lisa's smile, the calm expression on Australian cricket captain Steve Smith's face is very much open to interpretation. But we think we've got a fair idea what it means.
The image shows Smith reaching his century on day one of the third Test between Australia and India in the north-eastern city of Ranchi. A little context:
Smith was under enormous personal pressure after the ill-tempered second Test in Bengaluru, which India won to square the series 1-1. In Australia's second innings, he was out LBW and looked to the dressing room -- at the suggestion of batting partner Peter Handscomb -- to see whether the dismissal was worth reviewing.
This is something you are most definitely not allowed to do. The decision to review umpiring decisions must be made on the field, and quickly. Seeking external counsel is not an option.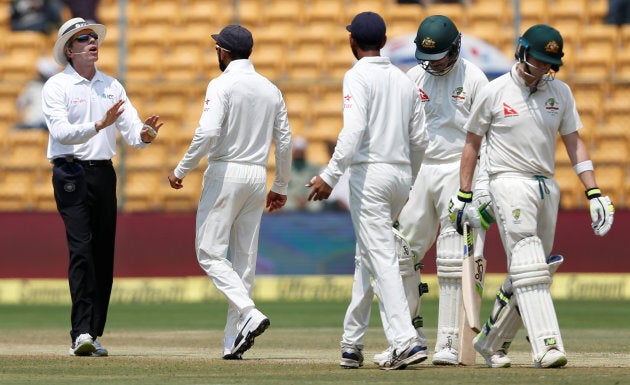 Smith apologised immediately afterwards, attributing the moment to a "brain fade". But the India media pounced, spurred on by combative Indian captain skipper Virat Kohli who stopped short of using the word "cheating" but said "there are lines you don't cross on the cricket field" in the post-match press conference.
As the saga bubbled on, former Indian cricket greats called for Smith's suspension, while Cricket Australia chief James Sutherland took the unusual step of weighing in, saying "I find the allegations questioning the integrity of Steve Smith, the Australian team and the dressing room, outrageous".
Against the backdrop 1.2 billion Indian cricket fans baying for his blood, Smith can not have gone into the third Test with a clear mind. But from the moment he strode to the batting crease, he looked his usual calm, assured self.
Smith, by any measure, is the best batsman in world cricket. But the guy's human. It's hard to perform at your best with turmoil all around you. Meanwhile, an unheralded new-look Australian team is valiantly trying to win a Test series in India, something they have achieved only once. For a man with slender shoulders, Smith is carrying quite the burden.
Normally when a sportsperson achieves success with so much going on in the background, they display aggression. This is Virat Kohli's way. The Indian captain has been all fist pumps and lion roars at big moments for India in this series.
Smith? He was Mr Cool when he reached a century which help put Australia in a very strong position late on day one. On his face was satisfaction and relief. And there was also a half smile, which as mentioned, could be interpreted as many ways as the Mona Lisa's.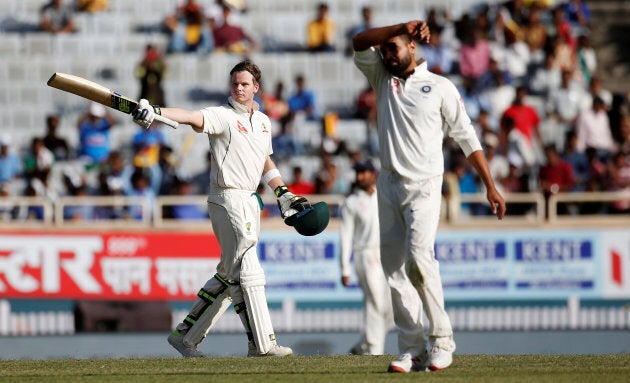 We'll leave that interpretation up to you, but suffice to say, that expression was in many ways more meaningful than an overt display of aggression.
Great leaders don't let the opposition know what they're thinking, and if Steve Smith's smile had a hidden message of "cop that, India!", he was poised and clever enough not to make it obvious.
Meanwhile, here's how the (Indian) blokes who compile the live commentary on the world's leading cricket site ESPNCricinfo saw it:
"Vijay to Smith, FOUR, he is the only man to have scored a century this series, and he makes it two now. Full ball, middle and leg, and he drives this straight of mid-on for four. He is just content. He is not angry after what all has gone around him and against him. He just removes his helmet and gracefully accepts the applause."
What a player. And what a captain. Smith is 117 not out and will resume his innings on Friday afternoon (AEDT) hoping to make this match close to unwinnable for India.
ALSO ON HUFFPOST AUSTRALIA