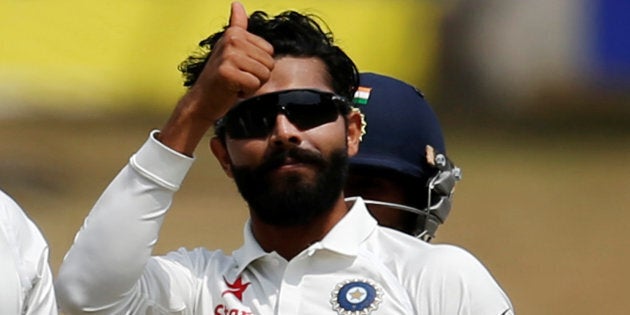 India have started strongly with the bat in its first innings on day two of the third Test against Australia in Ranchi despite Steve Smith's impressive score of 178.
While Pat Cummins may have been at the forefront of the bowling attack for the first time in more than five years, it didn't stop Indian opener Lokesh Rahul from notching up his fourth Test fifty on his way to a score of 67 before falling.
Fun fact -- That was also his fourth Test fifty in five innings, with this one coming off of just 69 runs.
He also managed a 91-run partnership with fellow opener Murali Vijay which had Australia looking a little on the back-foot after its impressive start to the match.
At stumps on day two, India finished at 1 for 120 after 40 overs, with Australia leading by 331 runs. Vijay and Cheteshwar Pujara remain not out on 42 and 10 runs respectively. You can see the full scorecard here.
Say this about Glenn Maxwell: Something is always happening while he's at the crease in any form of cricket.
On the very first ball of day two of the third Test between India and Australia in Ranchi, Maxi broke his bat. Funny thing about it, he wasn't even trying to hit the ball hard.
He just got in a nice classical defensive position behind Umesh Yadav's ball of the day and thwok! His beloved blade snapped like a twig.
But it was Australian captain Steve Smith -- who else? -- who has put Australia in with a huge chance of retaining the Border Gavaskar trophy which Australia currently hold. This four match Test series is locked 1-1. With his polished knock of 178 not out in Australia's total of 451 all out, Smith has done everything he can to help Australia's cause.
Earlier, Glenn Maxwell notched his first Test century. He was 82 not out overnight. He breezed along to 98 with fresh timber after the broken bat without any hiccups. And then he slowed down. At the end of the 95th over he was on 98. At the end of the 96th, still 98. After 97 overs, he was on 99. Can you believe he then played out a maiden?
But the following over, he at last got the wide ball he craved, which he cut fiercely to the boundary -- and the whole of Australia pondered anew what the selectors were thinking picking Mitchell Marsh for 21 Tests -- despite Marsh boasting the worst ever average for a number six batsman.
"He's shown the world that he can bat in this format as well," said an Indian commentator of Maxwell, as the 28-year-old Victorian hugged his skipper with great gusto.
Maxwell's century was both a personal and a team triumph. Pencilled in as a T20 and One Day specialist, there are those who always believed Maxwell could be the ideal man at number six for Australia. Ironically, many of those believers live in India.
Maxwell is a slugger of a number six in the Andrew Symonds mould, but like Symonds, there's technique behind the power, and of course some handy bowling too. His cricket career has always appeared to be a battle of mind vs talent and it appears that maybe, just maybe, the two have found a way to work together in beautiful harmony.
Cool stat: He's now just the second bloke to score a hundred for Australia in all three international formats.
Australia was 4/341 after the first hour of play. Maxwell was out soon afterwards, caught behind off the bowling of Jadeja for 104. It was disappointing for those who were looking forward to him loosening up a little, and maybe even busting out a reverse sweep or two. But he'd done his job.
Australia was 5/332 when Maxwell departed. Maxwell and Smith had put on a series-high partnership of 191.
Matthew Wade came in and added a brisk 37 before he too feathered an edge to the keeper off Jadeja. It's hard to know what to make of Wade. He scores freely, but since being recalled to the Test team last November, he has registered scores of just 4, 7, 1 not out, 9, 29, 8, 20, 40, 0 and 37.
Australia went to lunch at 7/401 after Pat Cummins was bowled for a duck just before the break. Steve Smith was 150 not out at that point. Steve O'Keefe chipped in with a handy 25, and the skipper was unbeaten at the close of the innings as both Nathan Lyon and Josh Hazlewood went cheaply.
Stats nerds might like to know that Smith now averages 61.46 in Test cricket, which is second only to Bradman among Australian batsmen. Enough said.
ALSO ON HUFFPOST AUSTRALIA