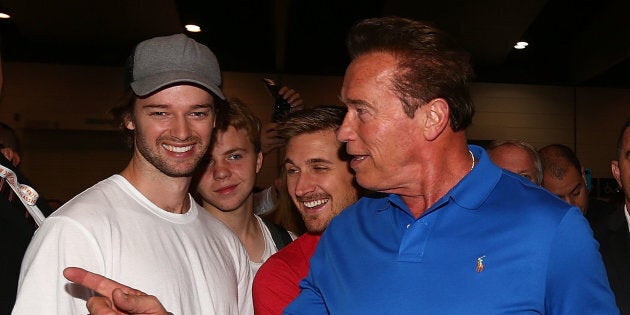 Arnold Schwarzenegger has been mobbed by hundreds of fans in Melbourne as part of the Hollywood superstar's whirlwind visit Down Under.
The bodybuilding legend, actor and former California governor landed in Australia on Friday for the Arnold Classic, which is billed as the world's biggest multi-sports festival.
"It's wonderful to be back in Australia," he told media after touching down.
On Saturday, the 69-year-old action star took to the city's streets where he was swamped by adoring fans, Network 10 reports.
The 2017 Arnold Classic is Schwarzenegger's fourth trip to Australia since 2013. But he's been a long time fan of Australia, with celebrity visits dating all the way back to 1974.
The bodybuilding legend is spruiking this trip as a "fitness crusade" to get Aussies off couches and into the gym.
"My fitness crusade is to encourage people of all ages to get off the couch and start exercising. It is so important for our youth to experience the benefits of regular exercise and playing sport," Schwarzenegger has previously said of his mission Down Under.
This time around, the Terminator star is being accompanied by his son Patrick, 23, who also landed in Australia on Friday.