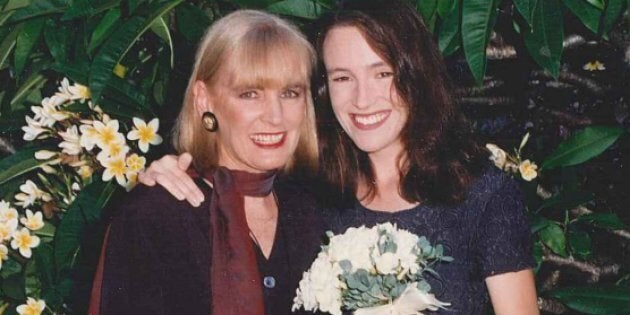 When best-selling Australian author Nikki Gemmell was told her elderly mother had taken her own life in October 2015 to escape the debilitating chronic pain that had consumed her life as a result of a failed foot operation, the shock and grief was overwhelming.
In an interview with the ABC's Australian Story, Gemmell detailed how she had always found it difficult to listen to her mother, Elayn, discuss euthanasia as an option and couldn't understand why she wouldn't want to be around to see her grandchildren grow up.
It wasn't until she began to piece together Elayn's final months and days in an attempt to understand her decision that she found herself coming to terms with the euthanasia debate and the issues around elderly suicide and assisted dying.
"I just wish I'd listened to Mum rationally. I wish I'd had a very calm conversation with her about what she really wanted to do in terms of the end of her life without me getting emotional, without me talking about the grandkids," she said.
"Mum's death was horrifically lonely and bleak because she couldn't tell anyone what she was going to do for fear of implicating her family and friends, so she did it entirely alone."
Gemmell's story comes to light amid political steps that have been made to reform assisted dying laws in Australia. While nothing is certain yet, Victorian Premier Daniel Andrews announced plans in December to introduce a bill to State Parliament in the second half of 2017, according to The Age.
Victorian MPs will be given a conscience vote on the matter as part of the bill, and if passed, the state would be the first in Australia to legalise euthanasia since laws in the Northern Territory were overturned by the Federal Government in the 1990s.
The change, which could act as a strong precedent for other states, would only be available to adult Victorian residents with a decision-making capacity who are at the end of their lives and suffering from a terminal illness and would allow them to be helped to die.
It would also be likely to require two doctors to sign off on any plan that would involve the prescription of a lethal tablet with those who are physically unable to take a tablet to be assisted by a doctor.
Steps have also been taken towards legalising assisted dying laws in New South Wales with a cross-party working group currently in the works to introduce a bill into State Parliament that would see MPs debate issues around euthanasia in the second half of 2017, according to the Sydney Morning Herald.
As part of that bill, which could see terminally ill individuals over the age of 18 with the capacity to give consent to two doctors, all NSW MPs would be granted a conscience vote on the matter.
In a statement released in January, the working group said: "Law reform on the issue of assisted dying is necessary.
"The prolonging of pain, suffering, and distress, for both the terminally ill and their families, is not necessary; the fundamental principle behind the call for legislating to allow for assisted dying is to provide dignity to people who wish to pass peacefully and on their own terms."
ALSO ON HUFFPOST AUSTRALIA