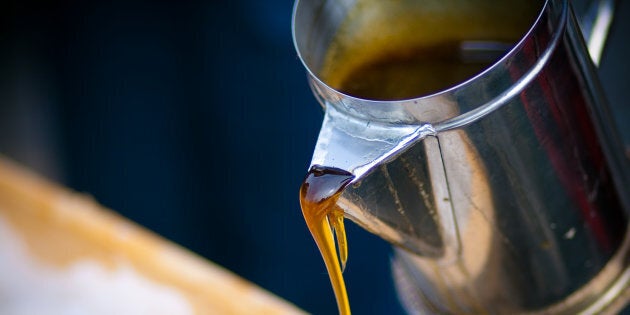 Japan, the land of the hot spring bath, has just out done itself.
Famous for its culture of naturally heated public baths, it's apparent that plain old water just isn't enough any more.
Hakone Kowakein Yunessan Spa Resort near Mount Fuji, has become ultra-creative with what visitors can bathe themselves in. The spa offers a very unique variety of different bath options including tea, coffee, green tea, red wine and even Ramen.
For the next month, the spa is offering guests a limited edition 'Hot Cake Spa' which has been likened to bathing in maple syrup. The maple syrup spa was created to celebrate the 60th anniversary of the extremely popular Morinaga Hot Cake Mix. The mix is renowned in Japan for making perfectly light and fluffy Japanese pancakes.
The 'Hot Cake' bath smells like pancakes, with an extra hint of vanilla. It also has actual bottles of maple syrup poured into it as part of its upkeep.
Yunessan Spa said in an advertisement, that bathing in maple syrup actually has health benefits different from those when one actually ingests the sugary sauce. Maple syrup has moisturising effects that benefit the skin and can also boost circulation.
With healthy side-effects like that, no wonder all the people in these photos look so happy!