In the dementia unit at Blacktown Hospital in Sydney's west, the halls are well and truly alive with the sounds (and steps) of Elvis.
Aged 78, John O'Malley (who likes to go by the name "Sean") is his biggest fan. You may have met him on social media in recent weeks thanks to his stellar dance moves. For Elvis' tenor tones are what calms Sean's distressed mind, now plagued by dementia.
"When Sean first came in to see us, he was very agitated. He would try to leave the hospital every day because he had an idea in his mind that his daughter was in trouble. And so we would have to call her numerous times, daily. In his eyes, there was an unmet need that had to be fixed," Katie Conciatore, clinical nurse consultant (dementia and delirium) at Blacktown Hospital told The Huffington Post Australia.
We went from a man who was acting out to relieve his stress to a man who was dancing around the unit. Katie Conciatore
"When we put the music on, there was a complete change in him. He listens to it constantly and dances around the halls. It settles him, reduces his stress and makes him much calmer to interact with."
O'Malley is perhaps one of the more extroverted success stories from Blacktown Hospital's roll out of the 'Music and Memory' program, an internationally recognised pilot that brings iPods loaded with patients' favourite music to long-term healthcare facilities.
The program first circulated with this video of founder and social worker Dan Cohen giving an iPod to a nursing home resident.
And it has now reached Australia. Launched in Blacktown's dementia unit last year, the hospital is one of 21 sites involved in the rollout of the 'Music 4 Health' pilot by the NSW Agency for Clinical Innovation and the Arts Health Institute.
Grounded in rigorous research and clinical evidence, Sean's story offers further proof that music heals.
How music heals people with dementia
Labelling music a universal language is not a new phenomenon. In the face of dementia, the boundaries between basic communication and social interaction become transient -- and the value of music powerful.
Music by its nature represents a form of communication, allowing individuals with dementia to engage meaningfully with others regardless of their level of cognitive decline or language disturbances.
"Dementia has far-reaching effects, beyond the domain of memory. Individuals with Alzheimer's disease often experience agitation, anxiety, disorientation and language dysfunction, all of which can negatively impact on communication and social relationships," Associate Professor from Sydney University's School of Psychology and Brain and Mind Centre, Muireann Irish, told The Huffington Post Australia.
"The mechanisms by which music exerts its powerful effects remain elusive, however it has been suggested that music by its nature represents a form of communication, allowing individuals with dementia to engage meaningfully with others regardless of their level of cognitive decline or language disturbances."
The pleasure derived from experiencing music is one that is associated with activity in reward structures deep within the brain. According to Irish, these pathways remain relatively intact in Alzheimer's disease.
"Music enables individuals to derive pleasure and to connect in an evocative way to specific time periods and individuals from their past," Irish said.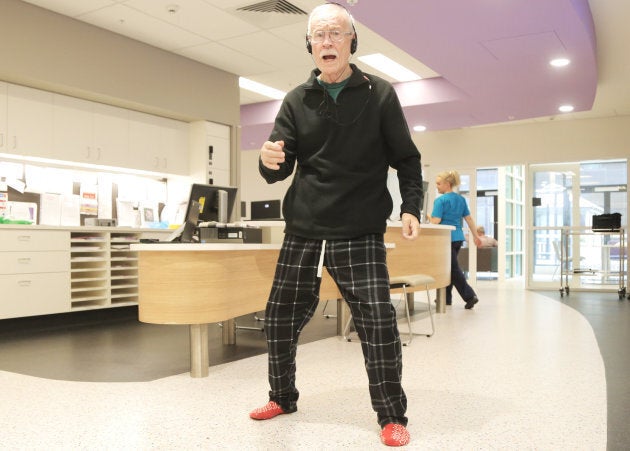 At Blacktown Hospital, Conciatore and her team of carers sit down with the patient's family to derive a personalised playlist.
"It can be difficult at times. Sometimes we can pinpoint a person's favourite artist, whereas other times we become music detectives. We may use the music played at their wedding, as an example," Conciatore explains.
Enabling an individual to retain a connection to their personal history is imperative. Muireann Irish
This approach has the potential to bolster retrieval of memories from the past in dementia patients, with marked improvements in wellbeing and alleviation of symptoms.
According to Irish, the choice of musical stimulus is key.
"Increasing research is being directed to the use of individualised music, incorporating the music preferences of the individual. This approach may be the most effective way of eliciting specific memories from distinct time periods within the person's past and fostering a strong sense of self," Irish said.
Music therapy in clinical settings
The power of music and its ability to animate, stimulate and alleviate form the basis of music therapy. This too, is not a new phenomena.
But as the incidence of dementia increases in the face of an ageing population, greater accessibility is rendering musical therapy an evolving one.
"Music therapy certainly has a place among everyday care, especially now for the price and simplicity of an iPod. There's the emotional benefits tied to this, but we are also having results with increased medication compliance, reduced falls, and improved care outcomes," Conciatore said.
"The happier the person is, the more you are going to be able to care for them and introduce these medical treatments. If we can get somebody in a better mood or improve their state of wellbeing, they are going to take their medications, which in turn is going to affect their outcome and the length of their time in hospital."
Conciatore is optimistic about continuing to roll out the program in various units throughout the hospital.
"To have a positive conversation about dementia in this light is so crucial. We're excited to see where this goes next."
ALSO ON HUFFPOST AUSTRALIA