Although it's one of the easiest meals to make, actually perfecting a sandwich is hard.
Either the sandwich is too soggy and falls apart, or it's too dry and takes 10 minutes to swallow. There's too much bread, fillings or sauce, or there's just not enough.
Because sandwiches are one of the most underrated lunches of all time, why not learn how to make them the best?
Executive chef at The Dolphin in Surry Hills, Monty Koludrovic, is here to help.
Here are his top tips for making killer sangas.
1. Keep it simple
"Start with great ingredients and keep it simple," Koludrovic told The Huffington Post Australia. "Good bread and good fillings and you're in a good place to start with."
For quality ingredients, head to your local fruit and veggie shop and look for seasonal produce, and pick up bread from your nearest artisan bakery.
"There's a few exceptions to every rule (like devon and ketchup on fake bread) but, generally speaking, your ingredients mean everything."
2. Choose the right bread
"The big things to think about with bread choice are chewiness (soft fillings with chewy bread can be tough), sliced bread or individual (ask, 'Am I toasting, or am I slicing?'), and crunch (assembly and ability to eat needs to be thought through -- you don't want to be cutting the roof of people's mouths)," Koludrovic said.
"Sliced sourdough bread and wood fired schiacciata is what we use at The Dolphin, or Turkish bread for toasting or open sandwiches.
"[Use] super fresh sourdough ciabatta for warm, juicy or meaty combination sandwiches. We use this for numerous sandwiches.They're super versatile and are great pre-toasted on the cut side before assembly."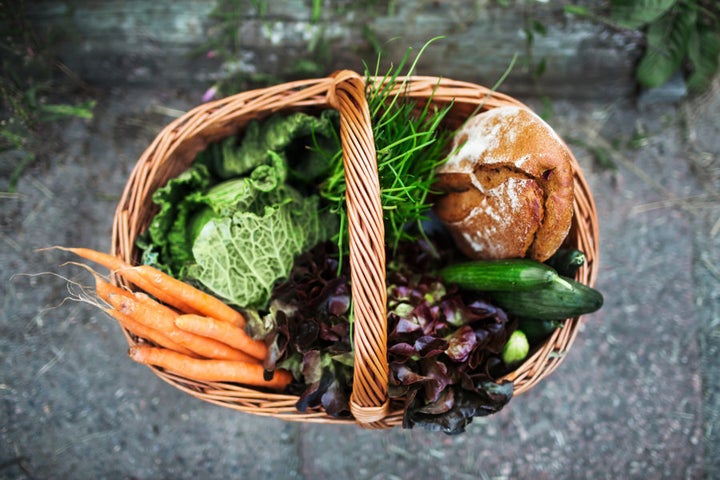 For egg, ham and pickle sandwiches, or retro devon combinations, Koludrovic recommends using soft sliced loaf bread.
"Baps and flat burger buns are also great for salad-heavy sandwiches."
3. Watch the moisture levels
"Too much moisture and you're in big strife on the soggy bread front. Too dry and you'll be gasping," Koludrovic said.
"Excessive moisture can come from tomato, coleslaw, pickles and sauces like mayo, relish, mustard pickles. Not enough moisture usually relates to not enough salt on and in vegetables, not enough sauce, overcooked meats and improper ratio of meat and bread to moist fillings."
As a general rule, make sure the fillings are at least equal height to one side of bread -- you don't want all bread or all fillings.
4. Season your ingredients
"Seasoning the right ingredients is important. Think about which layer your salt and pepper needs to be on," Koludrovic told HuffPost Australia.
"Cucumber, tomato and onion all like seasoning. Meats, lettuce and cheese can just join the party without direct seasoning."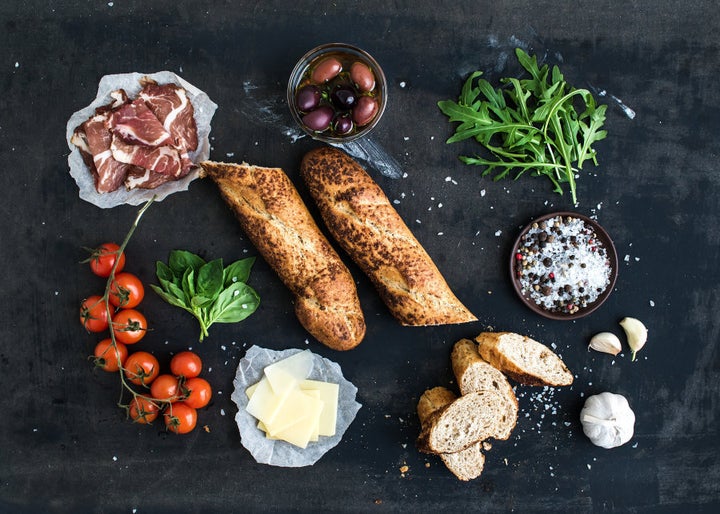 Chicken cotsu
A take on Japanese katsu with chicken cotoletta, smoked tomato relish, shaved cabbage and aioli.
INGREDIENTS
4 crumbed chicken breasts
Canola oil, for deep frying
4 fresh rectangle ciabatta
2 handfuls shaved white cabbage
2 tablespoons white wine vinegar
2 tablespoons extra virgin olive oil
4 tablespoons Kewpie mayo
Flake salt and white pepper, to taste
For the relish (this will make extra for the fridge):
Olive oil, for cooking
4 onions, diced
100g garlic purée
50g chopped chilli (or, to taste)
3kg fresh tomatoes
Salt and pepper, to taste
800g Australian crushed tomatoes
50g sugar
150g red wine vinegar
Wood chips, for smoking
300ml Bull Dog tonkatsu sauce
METHOD
Fry the chicken in the oil until golden and just cooked through. Allow to rest in a warm place on a cake rack. Trim the long edges off.
Dress the shaved cabbage with the lemon juice and olive oil. Season with salt and pepper. Allow to sit for a few minutes and then drain off any excess liquid.
For the relish: caramelise onion, garlic, chilli in the olive oil in a large pot over low heat. Season with salt and pepper.
Add rest of the relish ingredients to the pot and cook until all moisture has evaporated, approximately one hour. Remove from heat and spread relish on a large flat tray.
Lay wood chips in smoker, heat and light. Add the tray of relish, smoulder the flames and wrap tightly. Allow to sit and infuse for 10 minutes.
Chill the relish, then process in a food processor and add the Bull Dog tonkatsu sauce.
To assemble: split the ciabatta. On the base spread the relish, and on the top spread the mayo.
Place chicken onto base. Spread with a little more relish. Top with shaved cabbage.
Tightly press the lid on top. Secure and cut in half. We serve with toasted seaweed and potato crisps.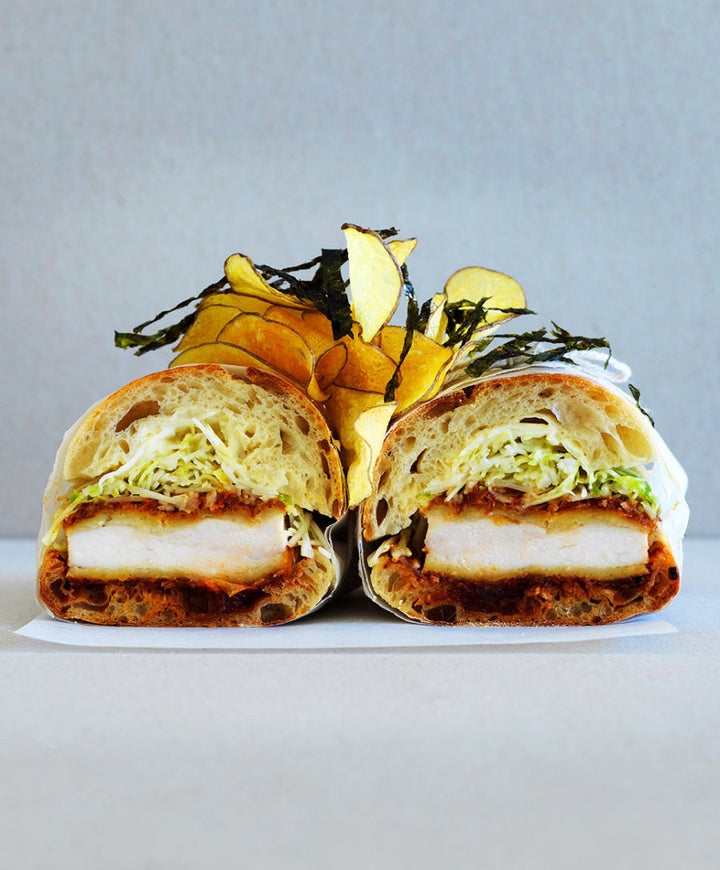 Forza scamorza
A cheesy, toasted combination of crispy brocolli, lemon, anchovy, chilli and smoked mozzarella.
INGREDIENTS
4 ciabatta or Turkish breads
300g smoked mozzarella, sliced
500g broccoli, cut into florets
4 anchovies, chopped
1 lemon, zest, plus lemon wedges for serving
1 long red chilli, chopped
1 tablespoon parsley, chopped
1 tablespoon mint, chopped
METHOD
Bring a medium sized pot of water to boil and steam broccoli florets for two minutes. Refresh in plenty of iced water to stop the cooking process.
Drain the broccoli, season with olive oil, salt and pepper, and grill on chargrill until lightly charred and smoky. Allow to cool, then chop. Mix broccoli with chopped anchovy, chopped chilli, lemon zest and herbs.
Open your breads and put cheese on both sides. Fill with broccoli mix and close.
Toast in sandwich press until hot, melted and gooey. Serve with lemon wedges.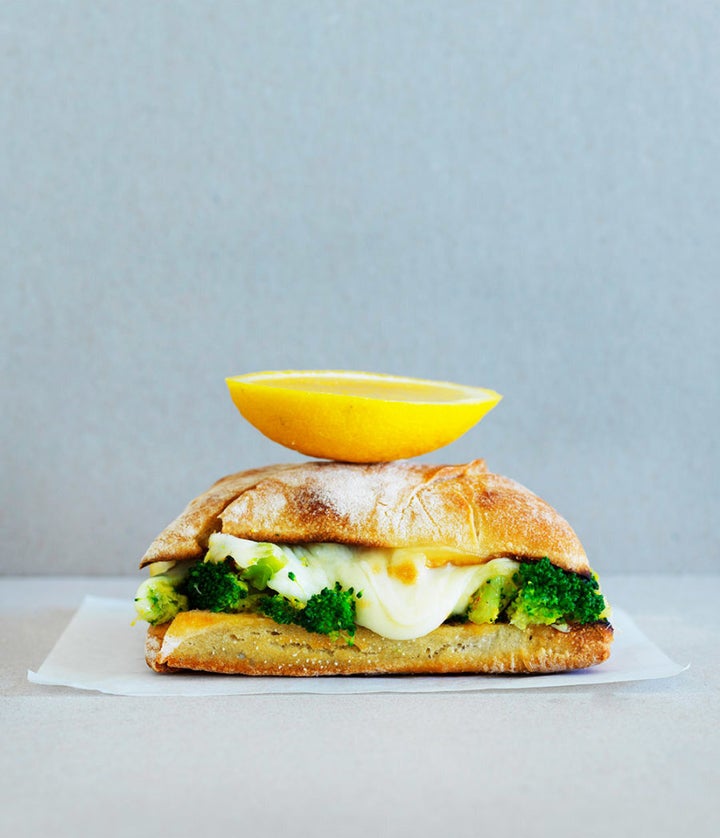 ALSO ON HUFFPOST AUSTRALIA