Contrary to popular belief, you're not bound to eating rabbit food for the rest of your life if you decide to go vegetarian or vegan.
With the meat-free lifestyle growing and growing, those who make the switch now open themselves to a world of creative plant-based versions of icecream, yoghurt, 'beef' burgers, chicken, cheese and even eggs.
This of course includes veganised remakes of your favourite classic meals. Think creamy Caesar salad, meaty tacos and cheesy eggplant parmigiana.
Don't believe it? Make these recipes from the Taste for Life cookbook by Animals Australia for yourself and find out.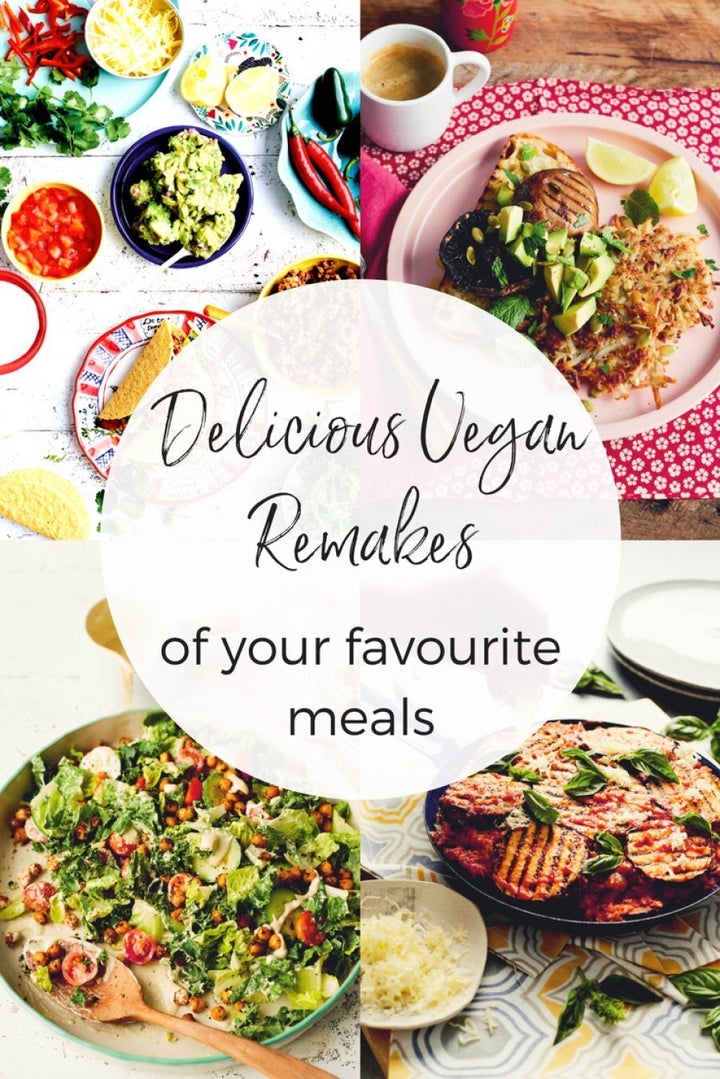 1. Spicy lentil and walnut tacos
This healthy variation on the traditional mince taco boasts an incredible texture thanks to the surprising binding quality of ground walnuts. Great as a fresh summer treat and packed full of veggie goodness, it's a surprisingly low-fuss and high-protein win! For a lighter lunch option, use cos lettuce leaves instead of taco shells.
INGREDIENTS
500g button mushrooms
½ cup walnuts
2 tablespoons olive oil
½ onion, finely diced
1 garlic clove, crushed
1 teaspoon chilli flakes
1–2 x 28g sachets taco seasoning, or homemade seasoning (see tip)
400g tin lentils, rinsed and drained
8 taco shells
1 cup guacamole
1 cup cashew sour cream
3 cups finely shredded iceberg lettuce
2 cups diced tomatoes
1 cup finely sliced red capsicum
1 cup grated dairy-free cheese
½ cup chopped coriander, for garnishing
METHOD
Finely chop the mushrooms into tiny cubes, and use a food processor to grind the walnuts into a coarse powder. Set aside.
In a saucepan, heat the olive oil over medium heat. Fry the onion, garlic and chilli flakes for five minutes, until the onion is translucent and aromatic. Add the chopped mushrooms and fry for a further five minutes, stirring occasionally, until they begin to soften. Stir in the taco seasoning and ½ cup water and simmer for 30 seconds.
Stir the lentils into the mushroom mixture, along with the ground walnuts. Cook, stirring, for two minutes, or until the mixture thickens. Remove from the heat and keep warm until ready to serve.
Meanwhile, heat the taco shells according to the packet instructions.
Place all the taco toppings in separate bowls, including the hot lentil and walnut filling, and the hot taco shells. Serve straight away, inviting diners to fill their own tacos however they choose.
Tip: To make your own taco seasoning, combine one teaspoon each onion and garlic powder, one teaspoon chilli flakes, two teaspoons dried oregano, one tablespoon hot or sweet paprika, two teaspoons ground cumin and some salt and pepper.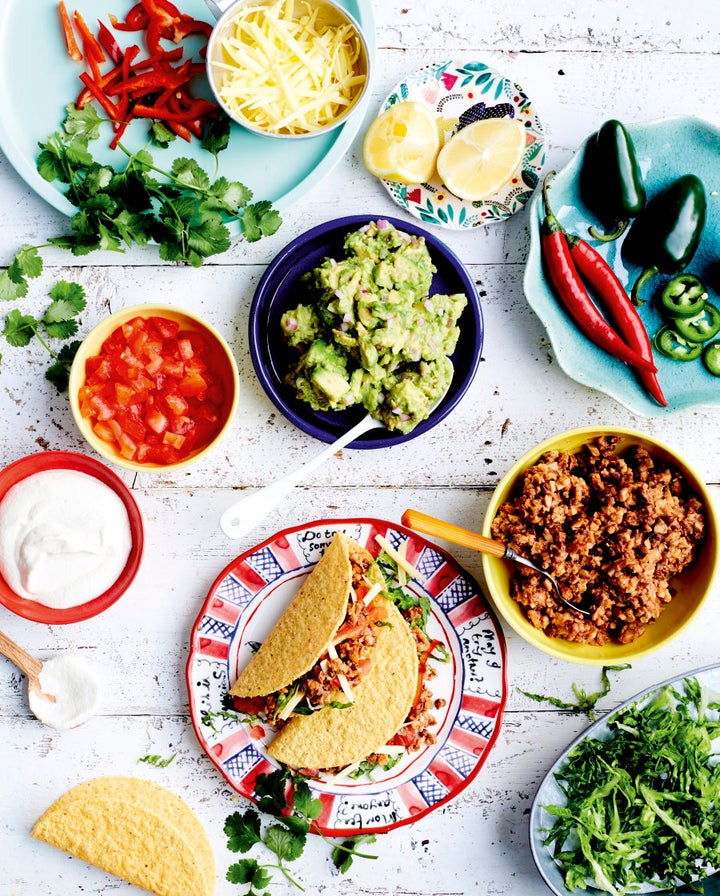 2. Layered cheesy eggplant bake
This lightened-up version of the classic Italian dish eggplant parmigiana is made with tender, smoky grilled eggplant slices, layered with breadcrumbs and a rich tomato sauce. Serve hot, cut into wedges, with a crisp green salad and a carafe of vino. Salute to that!
INGREDIENTS
½ cup olive oil
1 large onion, finely chopped
2–3 garlic cloves, crushed
1 teaspoon dried oregano
½ teaspoon dried sage
1 tablespoon tomato paste
Pinch of sugar
2 tablespoons red wine or dry marsala
750g jar of tomato passata
½–1 cup vegetable stock (or water)
4 medium-sized eggplants (about 700–800g in total)
75–100g dairy-free cheese, either cut into slices or grated, plus extra to garnish
⅓ cup basil leaves, plus extra to garnish
1 cup panko breadcrumbs (mixed with 1 tablespoon nutritional yeast, optional)
1 cup panko breadcrumbs
2 tablespoons olive oil
METHOD
Warm half the olive oil in a large heavy-based saucepan over medium heat. Add the onion and sauté, stirring occasionally, for about eight minutes, until golden brown and softened. Add the garlic and dried herbs, and cook for a further 30 seconds, until fragrant. Stir in the tomato paste and sugar. Cook for another minute, until the sugar has dissolved, and the tomato paste turns a slightly darker red. Deglaze the pan with the wine or marsala, stirring for about one minute to allow the alcohol to evaporate.
Stir in the passata. Bring to the boil, stirring constantly, then immediately reduce the heat to low. Cover and leave to simmer for 10 minutes, stirring occasionally so the sauce doesn't stick. Add the stock and mix well. Remove from the heat, season to taste and set aside.
While the sauce is simmering, prepare the eggplants. Heat your barbecue to medium–high (alternatively, use a chargrill pan). Trim the ends from each eggplant, then slice lengthways into 1cm strips. Lightly brush each side of the eggplant with the remaining olive oil, then grill in batches for about five minutes on each side, or until slightly charred and tender enough for a knife to pierce the middle easily.
Preheat the oven to 200°C conventional, or 180°C fan-forced. Lightly grease a 25cm round baking dish.
Ladle one-quarter of the tomato sauce mixture over the bottom of the dish, then add enough eggplant slices to cover in a single layer. Sprinkle with one-third of the cheese, a few basil leaves and one-third of the breadcrumbs. Continue layering with the tomato sauce, eggplant, cheese, basil and breadcrumbs until you've used up all your eggplant -- make sure your second-last layer is tomato sauce.
Sprinkle with the topping breadcrumbs to create a crust. Drizzle with the olive oil and pop the whole thing in the oven.
Bake for 25–30 minutes, until the breadcrumb crust is lightly golden. Remove from the oven and leave to stand for a few minutes to let the layers fuse -- it will be molten hot!
Use a very sharp knife to cut the eggplant bake into wedges. Garnish with extra cheese and basil leaves and tuck in.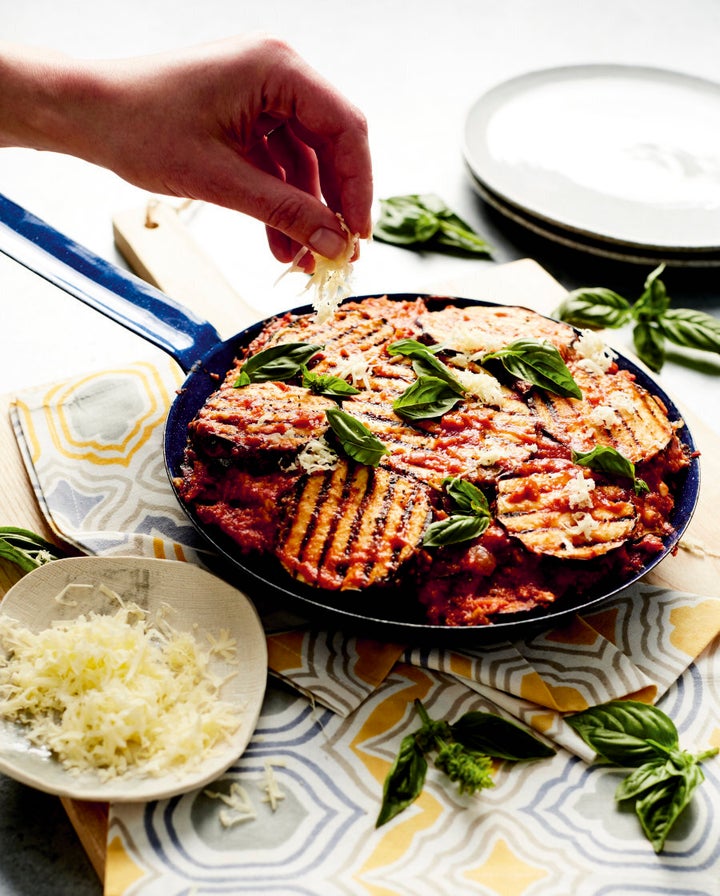 3. Caesar salad with herb-roasted chickpeas
Crunchy and fresh with a flavour-packed creamy dressing, this salad will make you excited about eating your greens. The secret ingredient in the dressing is aquafaba -- a fancy name for the liquid from a tin of chickpeas. Here, this versatile ingredient is whipped to add a mayonnaise-like creaminess to the caesar dressing.
INGREDIENTS
1 cos lettuce
1 bunch kale, stems removed
1 small Lebanese cucumber
1 punnet cherry tomatoes
400g tin chickpeas, liquid reserved
1½ tablespoons virgin olive oil
1 tablespoon lemon juice
1 teaspoon dried basil
1 teaspoon dried parsley
1 teaspoon smoked paprika (optional)
1 teaspoon onion powder or granules
½ teaspoon fine sea salt
¼ teaspoon cracked black pepper, or to taste
½ cup raw unsalted cashews, soaked for at least 10 minutes in boiling water, or overnight in cold water
1½ tablespoons aquafaba (the liquid from the tin of chickpeas)
1 tablespoon lemon juice
1½ teaspoons tamari or soy sauce (gluten-free, if needed)
1–2 garlic cloves, peeled
2 teaspoons dijon mustard
2 teaspoons capers, drained
½ teaspoon fine sea salt
¼ teaspoon cracked black pepper
3 tablespoons mild-flavoured olive oil or canola oil
METHOD
Preheat the oven to 175°C conventional, or 155°C fan-forced.
To prepare the chickpeas, drain the tin of chickpeas, reserving the liquid for the salad dressing. Toss the chickpeas in a mixing bowl with the olive oil, lemon juice, dried herbs and spices. Pour into a large glass baking dish and roast for 25–35 minutes, or until the chickpeas are crunchy, stirring every 7–8 minutes so they colour evenly. Remove from the oven and leave to cool.
Near serving time, place all the dressing ingredients, except the olive oil, in a blender. Add ⅓ cup water and blend on high until smooth. With the motor running, slowly drizzle the olive oil into the blender. Blend for about one minute, until all the ingredients are incorporated and the dressing is smooth and creamy. Taste test and add more salt and pepper as desired.
Wash all the vegetables and dry them thoroughly. (Salad dressing won't stick to wet veggies and will pool at the bottom of your bowl instead of coating them evenly.) Chop the lettuce and kale into bite-sized pieces and place in a large salad bowl. Slice the cucumber into rounds, cut the cherry tomatoes and add to the salad bowl.
Just before serving, drizzle the dressing over the salad and gently toss until all the vegetables are well coated. Top with the roasted chickpeas and watch this delicious salad disappear.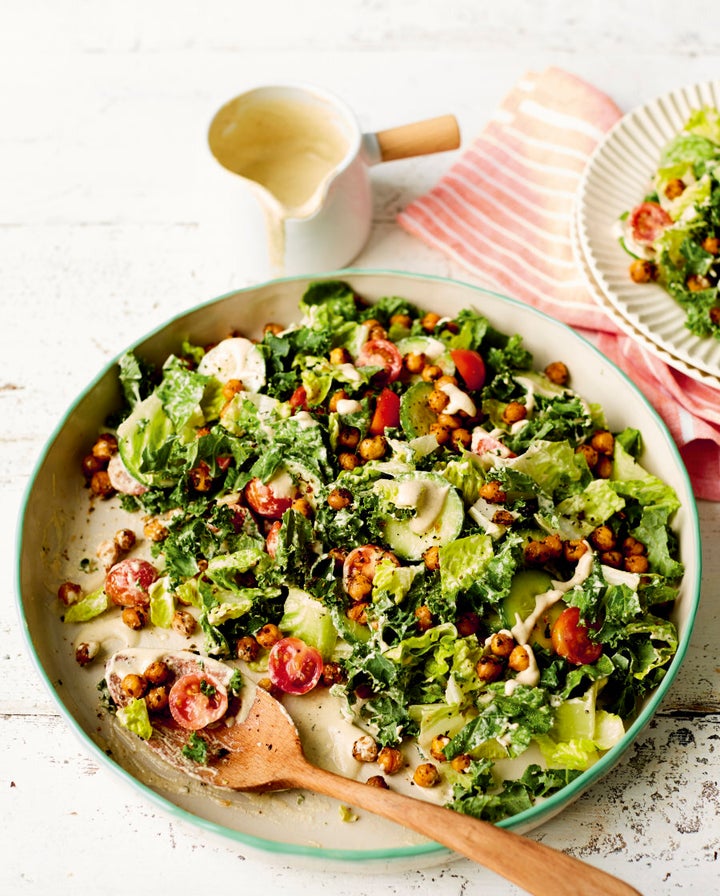 4. Seeded potato rösti with portobello mushrooms and avocado
For breakfast or brunch, this tasty café-style dish goes down a treat. Crispy, crunchy potato rösti contrasts beautifully with creamy avocado -- savoury mushrooms bring it all together. Add a sprig of fresh mint and we guarantee you'll enjoy every last bite. If you're breakfasting with avocado lovers, you could even use a whole avocado here.
Recipe contributed by What You Eat café.
INGREDIENTS
2–3 large or 4–6 small Portobello mushrooms (1 or 2 per serve, depending on size)
½ avocado, diced
½ teaspoon olive oil
Juice of ½ lemon
Toasted sourdough bread slices, to serve
Pepitas, for sprinkling
Mint or parsley sprigs, to garnish
1½ tablespoons whole flaxseeds (see tip)
2 potatoes, peeled and grated
1½ tablespoons plain flour
1 tablespoon pepitas, chopped
1 tablespoon sunflower seeds, chopped
Olive oil, for pan frying
METHOD
To make the rösti, place the flaxseeds in a food processor and grind into a powder. Tip into a small bowl. Stir in two tablespoons water, mix well, then set aside for 10 minutes, or until the mixture forms a gel.
Place the grated potato on a clean tea towel or paper towel, then press and squeeze out as much moisture as possible.
Place the potato in a large bowl. Add the flour and flaxseed gel. Mix well, then add the pepitas and sunflower seeds and season with a pinch of salt and pepper.
Pour a good amount of olive oil into a hot frying pan. Divide the rösti mixture into six small portions and use a fork to flatten and form each one into a circle about 1cm thick and 8cm wide -- you may need to cook them in two batches to avoid overcrowding the pan. Cook over medium heat for 8–10 minutes on each side, until golden and crispy.
Meanwhile, in a separate frying pan, cook the mushrooms over medium heat for about eight minutes on each side, until lightly browned, using a little olive oil if desired. Season to taste with salt and pepper.
Just before serving, place the avocado in a bowl, drizzle with the olive oil and lemon juice, and sprinkle with salt.
Arrange the warm rösti, mushrooms and sourdough toast on plates. Top with the avocado, sprinkle with pepitas, garnish with mint and serve straight away.
Tip: Instead of whole flaxseeds, you can use pre-ground flaxseed meal in the rösti.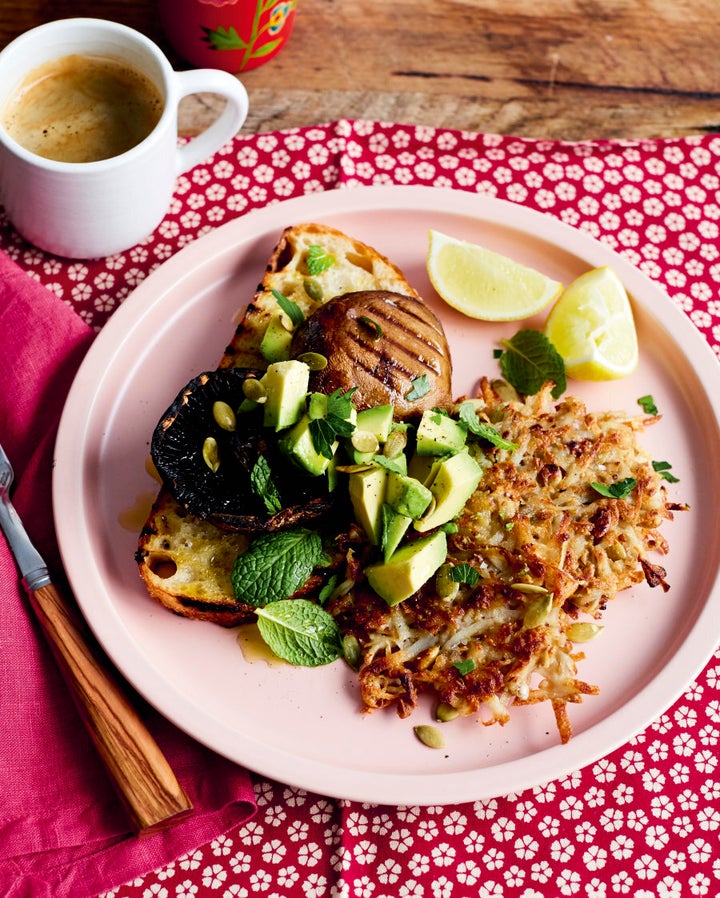 Recipes and images extracted from Taste for Life by Animals Australia. Published by ABC Books, available in store or online.
ALSO ON HUFFPOST AUSTRALIA