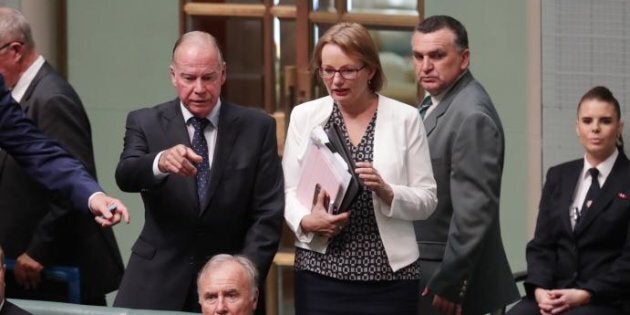 CANBERRA -- In the end, it was just a five-minute car ride, one official breach of the travel rules and the voluntary repayment of $5,232.20 in taxpayer money.
But, the former Health Minister Sussan Ley insists she "in no way" complains about being cast back to the backbench.
Ley has broken down in parliament has she released the first of two independent reviews, from the Finance Department, into the use of travel entitlements which cost her a high-flying Cabinet role.
Her voice wavered and broke as she thanking her colleagues for "support" and her constituents for the "faith" they have shown her.
"I accept the mercurial world of politics today, but ... the front page news and the associated conclusions drawn about me, talk about someone who bears no resemblance to me," Ley has told parliament.
"Even so I have been incredibly fortunate to serve in Malcolm Turnbull's Cabinet and even more fortunate to serve the people of Farrer here in the federal parliament."
Ley stepped down in January amid controversy over tax-payer funded travel. At the time, she described it as a "distraction," but admitted she made an "error of judgment" by charging taxpayers for a trip to the Gold Coast in which she bought a $795,000 apartment.
She also billed taxpayers to attend two New Year's Eve events in 2013 and 2014 hosted by a prominent Queensland businesswoman and Liberal Party donor.
But it is the 9 May 2015 trip to the Gold Coast where a COMCAR was directed to take her to a property auction that the Finance Department review has found "the travel was not in accordance with applicable rules".
Ley has been invoiced for the COMCAR, the travelling allowance for that night plus a 25 percent penalty.
Separate to the identified breach, the report notes Ley has "identified further costs associated with elements of travel that she felt might be considered more person in nature, or where her recollections of events was imprecise".
"Ms Ley has now voluntarily repaid $5232.20," the report notes.
The former Health Minister was accused of much more, including logging personal flying time for her pilot's licence while taking ministerial charter flights, which she described as "ridiculous".
She said she does not want to "complain about her situation," but she does cite a "massive workload" and "unclear" rules and regulations, up until now, as she continues to defend her actions.
"When I resigned as a Minister I did so because the facts could not overcome the story," she insisted.
"The repayments I have chosen to make voluntarily because I recognised that I have fallen short of community standards and I want to put the matter before further commentary."
Ley still insists she was in Queensland on ministerial business.
"This was for a five-minute car trip," she said.
"Even so, to avoid any doubt, I had already repaid the entire amount in January this year."
Following the Ley scandal, Prime Minister Malcolm Turnbull announced sweeping changes to the parliamentary entitlements system, including a new independent agency to oversee all politician expenses and MPs will be required to report spending every month, instead of twice a year.