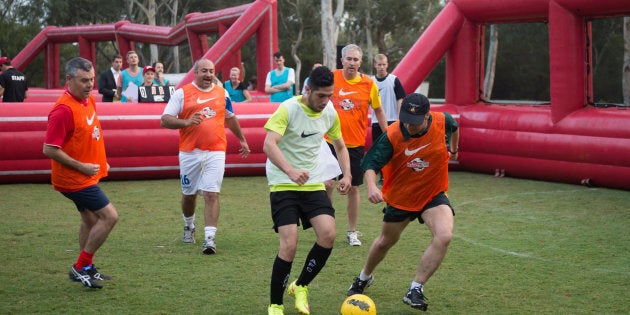 CANBERRA -- Every Wednesday morning when Federal Parliament is sitting, there's a soccer game on a flat green oval opposite the Senate. Sometimes it's an informal kick-around between journalists, staffers and the occasional politician dropping in as a special guest; other times there's a competitive 'press vs pollies' tournament game, or an organised fixture between a parliament side and a squad from the Australian Federal Police or another agency.
But there's a particular fixture which many look forward to all year, a marquee competition played both for year-long bragging rights and for a good cause. This Wednesday, two large inflatable fields popped up on the oval, for The Big Issue's annual 'street soccer' tournament.
"Symbolically, it's a gesture of goodwill that the pollies do care, to rub shoulders with people from a disadvantaged background. Sport is a great way to do that," said George Halkias, the national coach of the community street soccer program.
"We want to keep showing them what we do and that it's working, so they can get a feel for what it means to the participants. It's about bringing the program to life for politicians."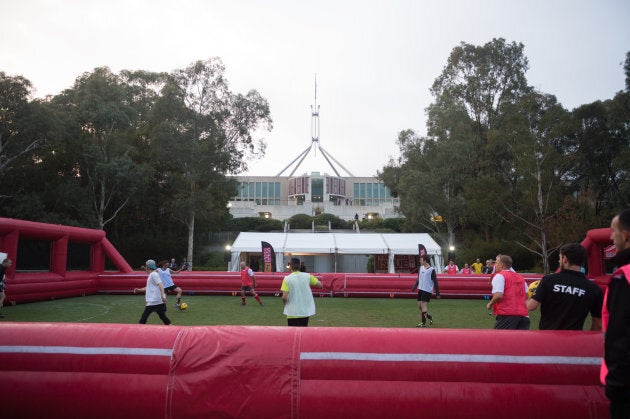 Street soccer is a program giving an opportunity for homeless and marginalised people to play a team sport. With 18 programs and up to 500 players around the country, players who might not be able to access regular local competitions -- which can cost hundreds of dollars in registration fees -- to get a weekly kick-around game. It's about promoting exercise, building friendships and giving people a positive outlet for their energy, but program coordinators also link participants with important community outreach and assistance services, health and safety information, and mentorship services.
"It's using the power of sport to help people overcome adversity and life challenges," Halkias told The Huffington Post Australia.
"The outcomes are numerous, from helping people lose weight, quit smoking, reduce alcohol, or set health goals. It's also about mental health, trying to live a better life, and connecting them with services."
Wednesday's five-a-side, six team competition was won by a squad from the Department of Health (unfortunately the press gallery side, including yours truly, managed to only squeak fifth place), also featured a special entrant -- the Street Socceroos, a squad of street soccer participants who have been selected to represent Australia at the Homeless World Cup in Oslo, Norway in August. They were presented with their national jerseys by Minister for Health and Sport, Greg Hunt, who himself played on a parliamentarians team alongside fellow politicians including Peter Khalil, Bert van Manen and Graham Perrett.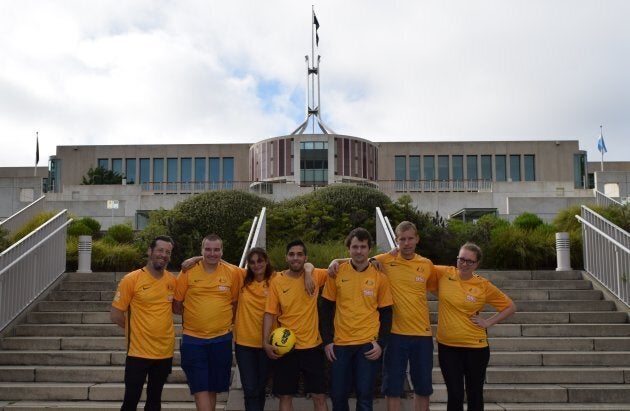 Georgina Liversidge, from Newcastle, is one of those who will be flying to Norway to play in the world cup. She joined her local street soccer competition after a referral from a health service, and said she has benefited greatly from the program.
"I find sport really helps with my mental health. I can't really afford to play organised sport because it's so expensive. You've got the social interaction, working as a team really helps, the motivation. It gives you a reason to get out of bed when you're feeling down," she told HuffPost Australia.
"We hang out after the game, everyone has a sandwich or a donut, we have a chat. It's great having the [street soccer] staff there, if anything is going on in your life you can talk to them, they give you advice or send you in the right direction. Everyone gets so much out of it."
Liversidge said the players in her local competition came from a range of backgrounds.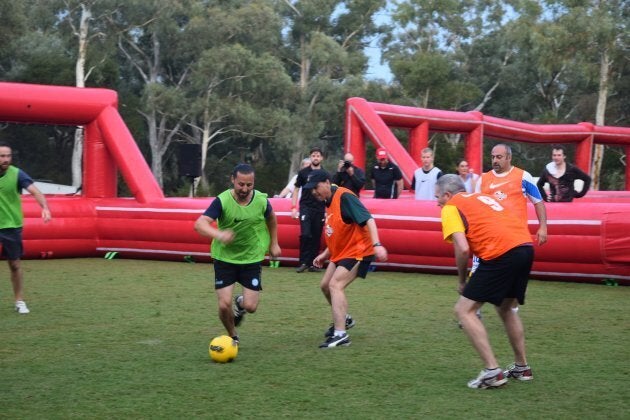 "There's not a lot of talk about where everyone comes from, we just get in and play. Different things bring people there, but once you start playing, it fades away," she said.
After the winners were crowned, Hunt announced the Federal Government would continue its funding for the street soccer program to continue well into the future. A $4 million grant was announced for the competition, keeping the program alive for the next four years.
"Since 2007, The Big Issue's Community Street Soccer program has helped more than 8,000 homeless and disadvantaged people to live healthier lives access the health and support services they need," Hunt said in a statement.
"The program has helped participants to improve physical fitness and mental wellbeing, learn about health issues and better eating habits, and decrease rates of smoking and substance abuse."
Halkias said he was very happy with the new funding, and with the parliamentary competition.
"I mean it in the nicest way, it restores your faith in politics, that there's bipartisan support for this," he said.
"When you see politicians of different backgrounds in the same team, hang out with some people who have had challenges, symbolically it says a lot."
Click below to follow HuffPost Australia Politics on Facebook!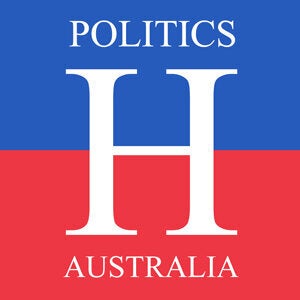 ALSO ON HUFFPOST AUSTRALIA