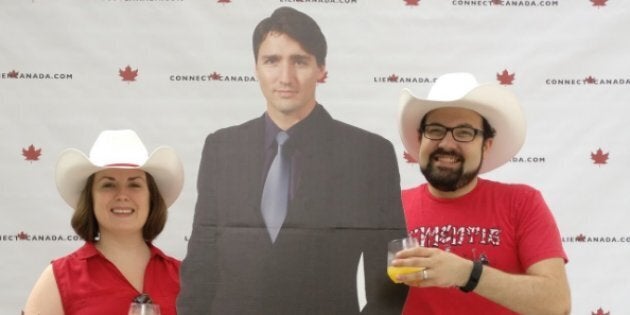 But now Canadian diplomats currently in the U.S. have been ordered by their country not to capitalise on their selfie-loving leader while at commercial and political events.
The word comes from Canadian governmental department for diplomacy, Global Affairs Canada, after life-size cardboard cut-outs of Trudeau began popping up at events across the United States to promote Canada and offer punters the chance to grab a quick snap with the replica.
Global Affairs Canada spokesperson Michael O'Shaughnessy told the Canadian Broadcasting Corporation: "We are aware of instances where our missions in the United States had decided to purchase and use these cut-outs.
"The missions have been asked to no longer use these for their events."
While Global Affairs Canada didn't detail exactly why the cut-outs have been banned, it might have something to do with their cost.
One company based in Pennsylvania reportedly sold between 10 and 20 cut-outs of Trudeau, one of which made its way to the Canadian embassy in Washington D.C. for use in 2016 Canada Day celebrations. That particular cut-out came at a cost of C$147.79 (AUD$144).
Emails leaked from within the Canadian Liberal Party have also shed light on the in-party debate that has occurred around the replicas, according to The Guardian. One member said the idea was a "hoot" that would create "some serious selfie action", however others were less excited, saying "it just doesn't seem very prime ministerial".
Members of the Canadian Conservatives opposition party also jumped at the chance to slam the gimmick and Trudeau himself.
Conservative party spokesman John Brassard said: "A life-size, two-dimensional cutout is probably a perfect metaphor for everything that Justin Trudeau represents.
"You've got the shallow facade, and yet there's very little in the way of depth or substance there."
ALSO ON HUFFPOST AUSTRALIA