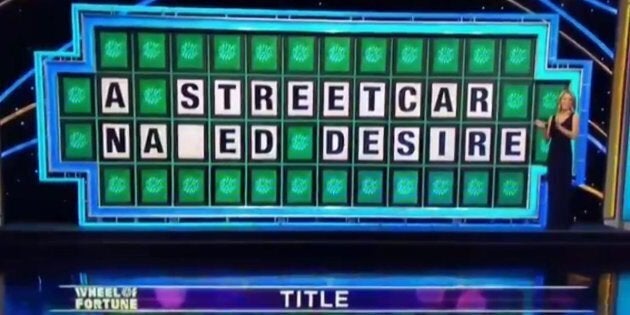 Remember the TV game show Wheel of Fortune? People love to watch it purely for the fact that when contestants get the answers right, it's glorious, and when they get them wrong, they get them very, very wrong.
A man named Kevin is the newest member of the group of contestants who will be immortalised in Wheel of Fortune history for being so close to victory and yet still managing to make a game-losing mistake the Internet now loves to hate.
Dubbed as possibly the worst mistake ever, in one of the rounds on the show Kevin was faced with a board that read: "A STREETCAR NA_ED DESIRE".
While most of the in-studio crowd and TV audience were near-certain Kevin would finish the name of Tennessee William's famed 1947 play 'A Streetcar Named Desire', his choice of the letter K to fill the gap and win the game left them all stunned.
Watch the mistake unfold here.
In light of the mix-up, Wheel of Fortune host Pat Sajak was left speechless after the crowd let out audible gasps before moving on to one of Kevin's opponents in the game, Lisa to take the win.
"Although you got the right answer I'd rather see Kevin's play," he joked afterwards.
That left Kevin open to the scrutiny of the Internet, with followers of the game show taking to social media to let him know how big of a mistake he had made.
It's probably safe to say, Kevin will never forget the name of that particular play again.
ALSO ON HUFFPOST AUSTRALIA