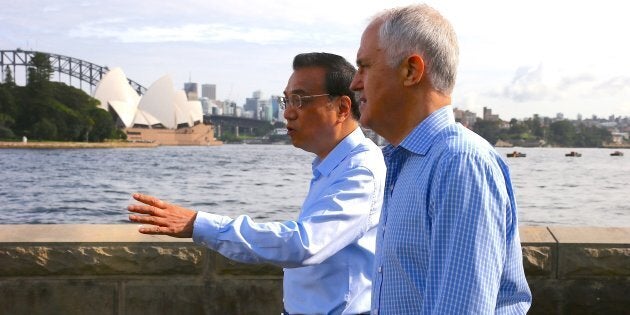 CANBERRA – The Turnbull Government wants to do with China something few Western countries have done; send criminals back to a country which imposes the death penalty.
It wants to formally enter into an extradition treaty with China, Australia's largest trading partner, ostensibly so crime can be "suppressed" when criminals are sent home.
They will send ours and we will send them theirs.
You can find the treaty here.
China Australia diplomatic ties are firmly in the spotlight at the moment with UTS Associate Professor Chongyi Feng stopped by Chinese authorities from boarding two flights to Australia over two days.

The expert in China studies had been visiting Guangzhou, but it has been reported he may have upset local authorities during his stay.

The Australian government has raised the case with the Chinese Government.

DFAT is not providing consular assistance as he did not enter China on an Australian passport.
Now on the surface this may not be a big deal, and there have been moves between China and Canada and China and New Zealand to strike up similar treaties, but human rights groups want everyone reminded that we are talking about a nation that routinely applies the death penalty and uses torture and other ill treatment against criminals and suspects.
"We would be unrelenting in our efforts to secure the abolition of the death penalty," Foreign Minister Julie Bishop said at the United Nations in 2015 as she sought to secure Australia a seat on the UN Human Rights Council.
The extradition treaty with China was signed by John Howard back in 2007 but has never been ratified. China wants it ratified to deal with corrupt officials who have fled the country and Chinese Premier Li Keqiang has been in Australia.
And in March 2, the Turnbull Government quietly tabled the treaty for ratification and is insisting, if ratified in 2017, there would be sufficient safeguards are in place to stop Australia sending people to their deaths.
There are clauses that allow for extradition to be denied on the basis of the death penalty, or concerns of political persecution, cruel treatment and torture.
"It needs to be ratified. We are urging the opposition and the crossbenchers to support the ratification." Turnbull told reporters in Canberra.
"There are very considerable protections in the treaty and it is an important part of our cooperation with China on law enforcement.
"I just note today ... yet another very large drug bust, well over $100 million of crystal methamphetamine which has been intercepted which had it not been for that cooperation would have been on the streets in Australia, destroying Australian lives. So that cooperation is very important."
This is not flying with the Greens, the Nick Xenophon Team (NXT) and most likely Labor, although the treaty has to go to Caucus.
None of the other member of the so-called 'five-eyes' intelligence sharing alliance: the United States, United Kingdom, Canada and New Zealand, have dared to enter such an arrangement.
Former Liberal senator Cory Bernardi has come out against it, which has made the Australian Conservatives senator an unlikely bedfellow with Amnesty International.
In a submission to the inquiry on the treaty, Amnesty stated, "executions in China are a state secret" and "transparency is non-existent".
Amnesty said it had "grave reservations" about the reliability and effectiveness of by the Chinese government not to impose the death penalty
"The undertaking should stipulate, unequivocally, 'The death penalty will not be imposed'," it said in its submission.
It specifically asks how could Australia monitor any Chinese government undertaking that a person extradited under a treaty with Australia would not be executed.
The Law Council of Australia opposes ratification, as there is an "absence of sufficiently robust protections to the right to a fair trial of those likely to be extradited to China".
The treaty will be put to a Senate vote on Wednesday. Some Liberal types are said to be very unhappy about it being put forward for ratification, but collectively the Turnbull Government wants it.
It is expected to be voted down, and therefore not ratified, but regardless of result just why does the Government want this so much?
ALSO ON HUFFPOST AUSTRALIA