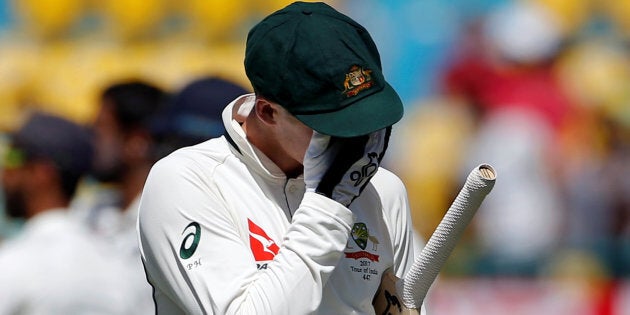 Well, it's been a long day three for Australia.
The visitors started the day with a thin 52-lead over India in the fourth Test in Dharamsala before bowling India all out for 332 right on lunch and then going on to crumble in the final two sessions by being bowled all out themselves for 137.
That left the Aussies with another small lead of 105, just six overs out from the end of the day's play.
With less than half a century of runs coming from the Aussies' opening four batsmen, things went from bad to worse fast as Yadav, Jadeja and Ashwin managed to plow down wicket after wicket.
With Glenn Maxwell's score of 45 the highest Australia's hopes got from its second innings, three ducks at the bottom end of the batting order pretty much summed up the state of affairs when it comes to securing the Border-Gavaskar Trophy.
India finished the day at 0 for 19, with openers Rahul and Vijay on 13 and 6 respectively.
Just when the series seemed to be slipping from Australia's grasp, Steve Smith did what Steve Smith has done so often before on day three of the fourth Test between India and Australia in Dharamsala.
In a word... the impossible.
The entire round of AFL on the weekend did not deliver a speccy as speccy-tacular as the catch Smith took to dismiss Indian wicket keeper and run-maker extraordinaire Wriddhiman Saha, off the bowling of Pat Cummins.
Cummins to Saha, OUT, what a great catch from Smith. Brute from Cummins to get the resolute Saha off. Short of a length, rises at his face, and because it has reared off from this length, Saha has to take evasive action. The shoulder of the bat is hit, and the ball looks like it is flying over Smith at second slip. He rushes back and takes it one-handed behind his body and over his head. And while he is coming down, the ball tries to slip out of his hand, but he regains control of it with his whole body out of balance.
If you click the link in this tweet, you can get a full video.
This was Smith's second catch of the day. Earlier he took a tricky little grab off Steve O'Keefe at slip to get rid of Bhuvneshwar Kumar.
Let's not forget he made a century in Australia's first innings too. Again.
Australia had started the day with a 52 run lead over India. Things looked bad for the visitors when the hosts passed Australia's first innings score of 300 without loss. But Pat Cummins took two wickets, and O'Keefe and Lyon grabbbed one each, to have India all out for 332 on the stroke of lunch.