The popular dating app Tinder is launching an online version which means you'll soon be able to swipe from any device as long as you have an internet connection -- and no one looking over your shoulder.
Tinder Online promises you even more scintillating conversation as you swipe right on everyone in your office, without having to pick up your phone! You'll be able to tell your future children that you met your partner while your boss thought you were writing an important report, or during a uni course that you later failed because you were too busy responding to the age-old question: "u up to much?"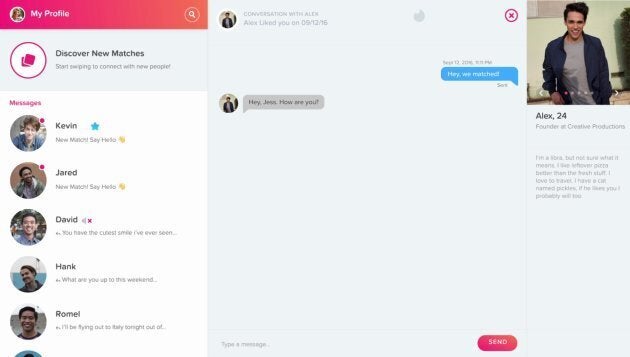 Currently undergoing testing in Argentina, Brazil, Colombia, Indonesia, Italy, Mexico, Philippines, Italy and Sweden, Tinder Online will broaden out to more countries later in the year.
The app launched in 2012 and became one of the most popular social apps for meeting new people, as well as popularising the terms "swipe left" and "swipe right" for all your moods.
And while it's being reported that the desktop version will inspire users to chat more and swipe less, I'm sure you'll still be spending most of your time trying to figure out exactly which dude holding a fish in a group photo you're actually talking to.
ALSO ON HUFFPOST AUSTRALIA