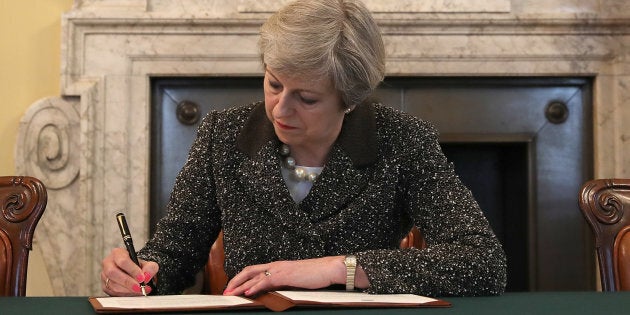 The five things you need to know on Wednesday March 29, 2017…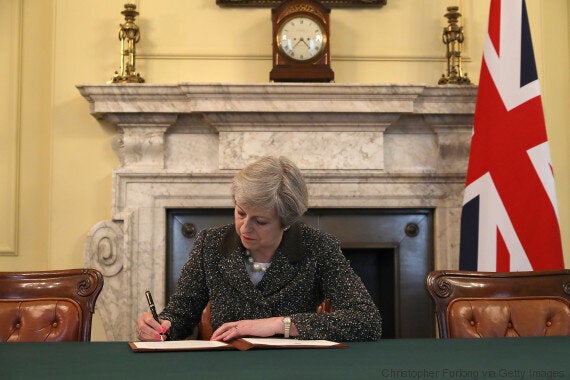 The Cabinet has met and the choreography is in place. Nine long months since the EU referendum result, Theresa May is finally pulling the trigger on Brexit's starting gun. Whether she also uses it to shoot her critics at home and abroad remains to be seen, but the No10 mood this morning is one of quiet confidence, pragmatic compromise and a sense of history.
The photo of the PM last night, signing the letter notifying the rest of the EU of our withdrawal, was the best bit of front-page PR that Downing Street has executed in recent months. Sitting under a portrait of our first Prime Minister, Robert Walpole, (trivia alert: a portrait painted by a European migrant, Jean-Baptiste Van Loo) May was the epitome of a business-like leader, getting on with the job. I was struck by how the photo was taken in the Cabinet Room, but without the Cabinet present. And for all the talk of new collegiate government, ultimately it will be Theresa May who drives and leads the Brexit negotiations over the next two years. Quite a responsibility rests on her shoulders.
My colleague Owen Bennett has written a lovely bluffer's guide HERE to what will exactly happen today, answering all those questions you were too scared to ask (including some wonderful Gifs). The letter itself was sent overnight, complete with a special guard, to Brussels. This morning our EU ambassador Sir Tim Barrow left his office and carried the letter in his slightly battered briefcase and took a short walk to the European Council building. The actual Article 50 process formally starts around 12.30pm when Barrow hands the letter to EU Council chief Donald Tusk, who will tweet a photo of the moment. Theresa May then tells the Commons what's next. Some Brexiteers probably wish the letter had its own Go-Pro web livestream to tell us its every move.
The content of the letter will be pored over closely and every word and phrase scrutinised with Kremlinologist-style fervour. It is said to be just a few pages long, but Chancellor Philip Hammond hinted on the Today prog that it would go beyond the PM's Lancaster House speech. He said it would "build on" her speech and "go further in expressing how we want to see this negotiation develop".
And Hammond certainly struck a note of compromise, stating that "we can't have our cake and eat it", a clear contrast to Boris Johnson's breezy optimism. Former British Chambers of Commerce chief John Longworth told the BBC at the crack of dawn that if the UK doesn't get a free trade deal with the EU it is 'not a big deal'. But Hammond clearly disagrees and suggested a new customs deal would be similar to the current one. He all but confirmed too that there would be no 'cut-off' for EU citizens' rights during the coming process, saying "We remain full members of the EU for the next two years subject to all the rules". The pound plunged this morning again.
The FT follows up on the joint scoop by the Guardian's Patrick Wintour and the BBC's James Landale yesterday, which revealed that EU diplomats have been told by ministers a much more emollient version of Brexit beyond the sabre-rattling of some in Government. May is said to be ready to make a one-off 'divorce' payment, happy to have transitional deals and even accept temporary European Court of Justice jurisdiction until we sort regulatory and trade details. A far cry from her own 'no deal is better than a bad deal' gambit in January.
Overnight, May said she wanted the right Brexit deal "for every single person in this country". That may be a big ask, given deep divisions. But it was not only a signal she intended to protect EU citizens' rights, but a wider message that she alone can now unify the country. Let's see.
Soon after the 1992 general election, the late Anthony King declared that Britain no longer had two major parties; it had a super one, the Conservatives, and various minor parties. Well, history famously doesn't repeat itself, but it does rhyme. And with its currently dire poll ratings, Labour in 2017 risks looking irrelevant once more as the Brexit juggernaut starts its engine.
The structural problems for Labour are well known, with its seats in the north, midlands and Wales voting heavily for Leave, yet many of its supporters elsewhere having backed Remain. Shadow Brexit Secretary Keir Starmer has the nightmare task of trying to square that particular circle.
There is a glimmer of an opportunity if somehow Labour manages to bounce back in the polls. Some Tories expect David Davis to signal that while the Great Repeal Bill will transpose most EU laws into British law, it will be the next Tory manifesto that will set out exactly where Britain goes after Brexit with details on trade, immigration and so on. If that's the case, Labour's next manifesto (and the Lib Dems') could provide a competing vision of post-Brexit Britain. A general election, which most expect in 2019, could in effect be the 'second referendum'.
But there's a heck of a lot of 'ifs' in that scenario. Even with transitional arrangements, the PM will want to squeeze the political space open to her opponents, both by setting out a direction of travel and in drafting a longer-term deal that proves she's in touch with Labour voters on immigration and jobs and trade. And Jeremy Corbyn, who has the task of a Budget-style response to May today, has to work out if Labour will vote in Parliament against any deal that lacks the 'exact same benefits' (DD's words) of the single market. And even if the Government delivers on all of Labour's 'six tests', won't they, rather than Labour, get the credit?
One area where Labour thinks it can push further is on devolution. Lisa Nandy's idea of 'taking back control' by giving power to towns and not just cities has the seeds of Labour's possible revival. Today Welsh First Minister Carwyn Jones unveils the party's Devolution Taskforce, including Gordon Brown. Brown has written a piece in the FT on how Brexit is an opportunity to create a 'federal UK'. Little noticed yesterday was Nicola Sturgeon's announcement that she would now wait until April to use the Scottish Parliament's mandate on a second independence referendum. That sounded like her very own version of May's 'now is not the time' to talk about it.
As the PM tries to heal the nation's deep divisions over Brexit, Westminster itself will be the focus for a different kind of national unity: remembering the terror attack of exactly a week ago. As soon as the PM starts her statement, the roads around Parliament and on Westminster Bridge will be closed off for the next three hours.
At 2.15pm, Metropolitan Police officers and members of the public will form a human chain of "Hands across Westminster Bridge" on the west and east pavements. Then more than 500 faith leaders from across the country – some with T-shirts printed with the message "I am a Muslim, ask me anything" -will walk across the bridge as part of the vigil. At 2.40pm, a minute's silence will be held to remember the victims killed in the attack. Across Britain, other bridges in Manchester and Birmingham and elsewhere are expected to take part in the silence.
Westminster Coroners' Court will open and adjourn the inquests today for the four murdered in the attack: PC Keith Palmer, 48, American Kurt Cochran, 54, retired window cleaner Leslie Rhodes, 75, and language teacher Aysha Frade, 44. We will also remember today the 12 people still in hospital, some with serious injuries.
BECAUSE YOU'VE READ THIS FAR…
In an age when Europe didn't dominate our political discourse, Tony Blair used to talk about "schools 'n' hospitals" as the domestic bread-and-butter issues the voters really cared about. And on both education and health policy, there are signs of trouble ahead.
The Public Accounts Committee has published a truly scathing report suggesting the Department for Education hasn't got a clue about the impact of cuts in real terms funding per pupil as schools face their toughest financial pressures since the mid-1990s. And the cuts are likely to lead to bigger classes, a heavier reliance on unqualified staff and more teachers teaching outside their specialism.
On health, yesterday's NHS pay review body announcement confirmed another year of the 1% pay rise cap for nurses, paramedic s, midwives and others. The Sun picks up on the contrast between the £5-a-week pay rise for NHS staff and the £1,000-a-year hike in MPs' pay. The BMA and other unions point to 2.3% inflation leaving millions with real terms wage cuts, while the NHS's pay review body says staff are under 'increasing pressure', feel undervalued and have low morale.
It's a good time to scrape some barnacles off the boat. With all eyes focused on the Brexit story, yesterday and today were pretty perfect days to smuggle out some quick U-turns and concessions from ministers on a range of issues. One of the most striking is the decision not to go ahead with the privatisation of Channel 4. As Tom Watson points out, it has taken 551 days from the Government first revealing it was looking at the idea to finally ruling it out. Culture Secretary Karen Bradley is expected to do so today, but will consult on plans to move some or all of the channel's staff from London to Birmingham or Salford.
Meanwhile, there were two significant concessions from ministers to help save British pubs and to protect tenants in privately rented homes, both driven by an alliance of Labour and Lib Dem peers in the Lords, as well as key MPs in the Commons. Gavin Barwell confirmed that the Neighbourhood Planning Bill would be amended to make it harder for pubs to be closed and turned into convenience stores or takeaway food shops. A big win for Shadow minister Jim McMahon and Lord Kennedy, as well as real ale campaigners CAMRA.
Barwell also confirmed that he would change the law to protect tenants from letting agents who disappear with thousands of pounds in rents when they go bust. Given the growing numbers of young people – and potential Tory voters – renting, it was a politically smart move. But it also showed Opposition parties can still effect change, even outside office. Proving the Lords really is a place for constructive policy-making, minister Lord Bourne had this line that caught my eye: "Yielding to persuasive argument always seems to be the best and most sensible course to pursue".
If you're reading this on the web, sign-up HERE to get the WaughZone delivered to your inbox.
Got something you want to share? Please send any stories/tips/quotes/pix/plugs/gossip to Paul Waugh (paul.waugh@huffingtonpost.com), Ned Simons (ned.simons@huffingtonpost.com), and Owen Bennett (owen.bennett@huffingtonpost.com)