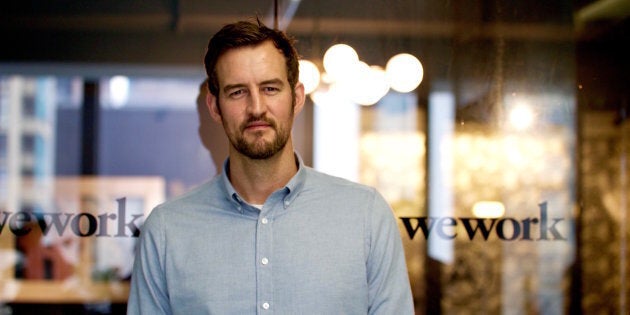 Miguel McKelvey says it doesn't matter whether you're an architect, a software engineer or an entrepreneur – it's all about solving problems.
That was how he and co-founder Adam Neumann came up with the idea for co-working giant WeWork.
"We were in a building in Brooklyn that was one of those stereotypical lofty industrial warehouses full of a bunch of diverse companies - everything from hat makers to architects to tech start-ups. It was cool, but it was very disconnected," McKelvey told HuffPost Australia.
"The services were really terrible – the internet was bad, the air conditioning was bad and everyone was very separate. There was no connective tissue amongst those companies.
"Our idea was that if we could open that up -- if we could actually expose all of these people to each other, that through their connection and potential collaboration they would certainly be empowered."
When we saw how good people felt in this more open, collaborative environment we just started running with it."
But neither of them had any idea just how empowered.
The pair started WeWork, offering shared office spaces for rent, as a side project just seven years ago. Now, the company has office spaces in 130 locations in 38 cities around the world, and it's expanding every month.
"When we saw how good people felt in this more open, collaborative environment we just started running with it – and we haven't stopped since." McKelvey laughed. "We have been running as fast as we can since then to keep up with the demand."
And it's not hard to see why.
Apart from the obvious perks of in-office beer kegs, arcade games and yoga classes, the company provides a welcoming and creative environment for businesses of all shapes and sizes.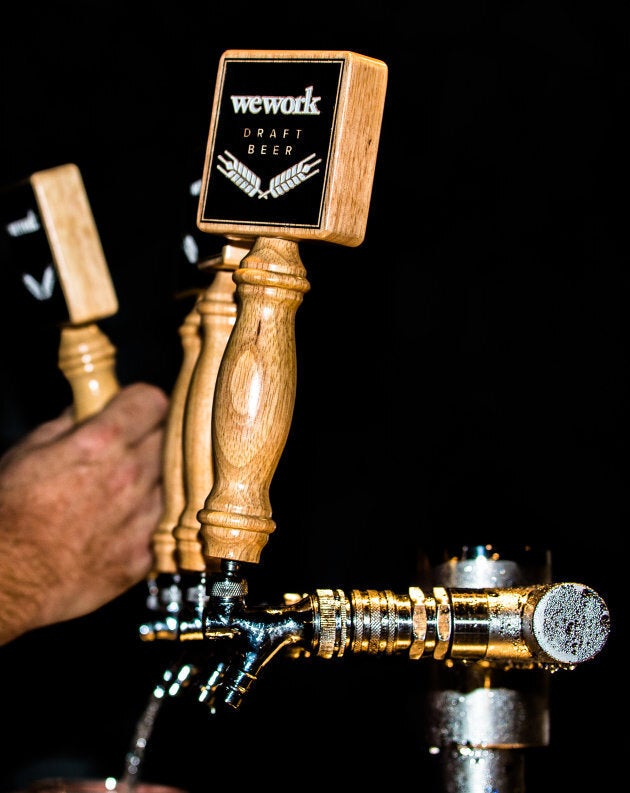 McKelvey's background in architecture has informed the earthy yet urban feel of the office spaces. The timber floors and furniture, low coffee tables, fully stocked bar and decorative rugs are more reminiscent of a bar or cafe than a traditional office.
But even more important to the WeWork ethos than the space itself is the collaborative environment.
Each day of the week, all the companies in the space -- which range from individuals launching a start-up to global giants like Microsoft and Dell -- come together. On Monday, the staff meet over a communal breakfast; on Tuesday, it's a business-focussed collaboration; on Wednesday, a wellness activity such as massages or running clubs.
Renting a WeWork office space -- whether that's a single hot desk or a whole floor -- opens up a global online community of businesses for networking, shared projects and commissions. Over 70 per cent of WeWork companies have collaborated with each other in some shape or form.
But the expansion has not been without its hurdles.
"There were people who said 'Nobody in London will work in a glass office.' Just literally flat out, no one will -- they're too private, they're not into interacting with other people, they're not open. They'll never do it," McKelvey said.
"That gave us a little pause, and we were just like 'well that's just what we do', so we're going to continue to be true to our mission."
Now, London is one of the company's biggest markets, with 17 office spaces across the city.
"So that kind of legitimised our approach and has allowed us to continue to roll out in a way that has a global perspective but is also localised on the personal level," McKelvey said.
McKelvey was in Australia to officially launch WeWork's second Sydney office in March. He says that Sydney was in their sights right from the start.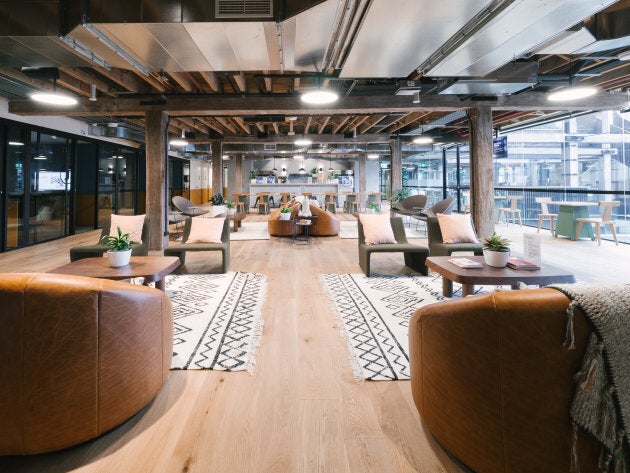 "We had a map of the world that we hand drew on a piece of paper and we just randomly put all the coolest cities we could think of on that map," he said.
"One of those cities was Sydney."
In the seven months since it opened its doors in Australia, WeWork has opened two Sydney office spaces, one in Martin Place and one in with a third on the way and has accrued 2,000 members. It also has plans to open in Melbourne in October.
"The cool thing about our business is that because it is an ecosystem and a network, it gets better and better the bigger it is," McKelvey said.
"All of our members benefit by that network becoming bigger because they have the opportunity for business connections. It allows people to expand their business in a really, simple easy way."
ALSO ON HUFFPOST AUSTRALIA