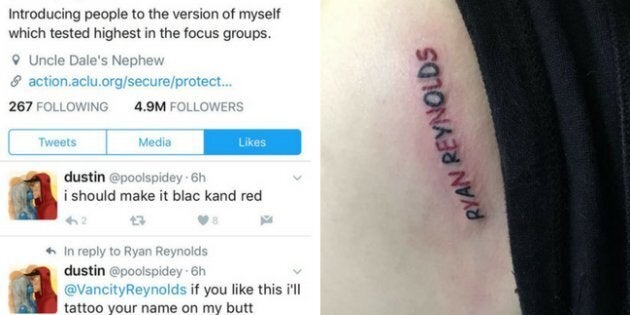 It's no doubt that Ryan Reynold's is one of the most-loved actors around. The star recently made hearts explode by baring his buns in the latest teaser for the "Deadpool" sequel, but that's not the last butt-related news Reynold's is involved with. A superfan has made the ultimate commitment.: A tattoo. Of Reynolds' name. In Comic Sans. On his butt.
On March 6, 18-year-old Dustin tweeted Reynolds with a simple message, if the star liked his Tweet, he'd get a tattoo.
Be it on a whim or be it fate, Reynold's not only liked the original promise, but also a suggested colour scheme.

So, naturally. Dustin went through with it.
"What kind of person would I be if I lied to Ryan Reynolds?" He told The Huffington Post Australia. "I wanted to prove to him and anyone that saw him like the Tweet that I'm a man of my word."
While the main goal was always to get Reynold's attention, there were a few people who weren't always on board. "My friends all seem to think it's pretty funny," Dustin said, "one of my friends was completely against me doing this at first, but she ended up being the one who took me to get it and now she's glad she did!"
As for the Comic Sans, Dustin said it was all to do with a single Tweet:
Ryan Reynolds has yet to respond to Dustin or the tattoo, but if he does? Dustin says it's "mission accomplished".
ALSO ON HUFFPOST AUSTRALIA