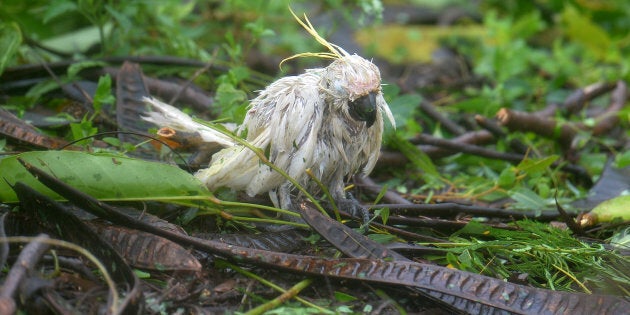 Journalist John Andersen of the Townsville Bulletin told The Huffington Post Australia the cockatoo, which had been named Debbie, looked to be on the mend on Wednesday before losing its fight to survive.
"She was pretty good yesterday, pretty perky and we thought she'd pull through," he said.
"It would've been great to see her survive but it wasn't to be."
Andersen said as a result of local supermarkets being closed, the only food he and photographer Alix Sweeney were able to provide the stricken bird was Saladas dry crackers and sunflower seeds provided by the motel owner who had found it.
Wildlife carers were called to come and collect the cockatoo, but due to the level of flooding they were unable to get to Airlie Beach in time to save Debbie.
"The lady who owns the motel had a packet of sunflower seeds. [Debbie] ate the Saladas and then ate the sunflowers seeds, but we had nothing else," he said.
"She took a couple sips of water but because there was nothing open we couldn't get a syringe or an eye dropper to get some water into her mouth.
"We laid little Debbie to rest with a couple of her mates who were already deceased and didn't make it through. They were all hanging onto the branches and probably suffered internal injuries in an event like a cyclone."
Andersen told HuffPost Australia supermarkets remain closed in Airlie Beach, electricity is still off, there is no running tap water and petrol service stations are shut with their reserve tanks emptied.
"We had no running water since Tuesday night. No electricity. It's quite possible we could be without power here for weeks because the power poles have been destroyed," he said.
"It's very hot and muggy, there's no air conditioning or cool breezes. The supermarkets are only just beginning to open and not all of them, there's no petrol or service stations.
"The emergency crews are really starting to dribble in but there's not many here yet because of the flooding and the lack of access. Most of the clean-up is being done by good samaritans, doing what they can to help people and make roads passable."
Despite all that is closed, he did say there was one thing open that was good for local morale - the local pub.
"The first bar opened yesterday at Airlie beach and it was packed," he said.
"Those things are good for morale. They're there for a lot of backpackers and international people who were trying to get to the Whitsundays."
ALSO ON HUFFPOST AUSTRALIA