Police have confirmed a body has been found in South Murwillumbah as severe floods sweep through northern New South Wales.
Flood levels reached three metres in Lismore's CBD and the town's levee was overflowing and at risk of collapse after it received 628mm of rain over the past 48 hours as at 3pm on Friday.
More than 100 calls for rescue in flood-stricken northern NSW remain outstanding since Thursday night.
Flood warnings still stand for parts of the Tweed River in NSW, which peaked at Murwillumbah at an estimate 6.20 metres around 4:30am on Friday. It is expected high tides could see it also peak at Chinderah, reaching a possible high of 2.50 metres.
The Wilsons River in Lismore also reached its peak at 11.57 metres and the Richmond River was also affected, reaching a peak at Kyogle of 17.33 metres.
State Emergency Services Acting Deputy Commissioner Mark Morrow said rescue helicopters had finally been able to take off late on Friday morning, but wind gusts of up to 90km/h were hampering rescue efforts.
Police fear people have died
100 emergency callers still unreached due to severe weather
Up to 700mm of rain fell overnight in northern NSW
220 swift water rescues by NSW SES in the last 36 hours
More than 20,000 people under evacuation orders across northern NSW
SES crews are rescuing trapped residents in and around Beaudesert, south of Brisbane, by boat
Schools across south-east Queensland remain closed on Friday
Search for a bushwalker missing in Lamington National Park since Wednesday remains suspended
130,000 still without power in Queensland, 10,000 in northern NSW
"I am aware our assets are able to get into the air," he said at lunchtime on Friday. "We haven't been able to do it for 24 hours or more. Some of the flood rescues that have been outstanding for 24 hours or more, we can get to."
Police were told earlier on Friday a body had been found in South Murwillumbah, but they are unable to reach the area due to ongoing flooding.
"We have received a report of a body in South Murwillumbah," a police spokeswoman told the Huffington Post Australia.
"We don't know when we'll get a team out there, it might be a matter of winching someone in, we don't know. It's just all dependent on the conditions."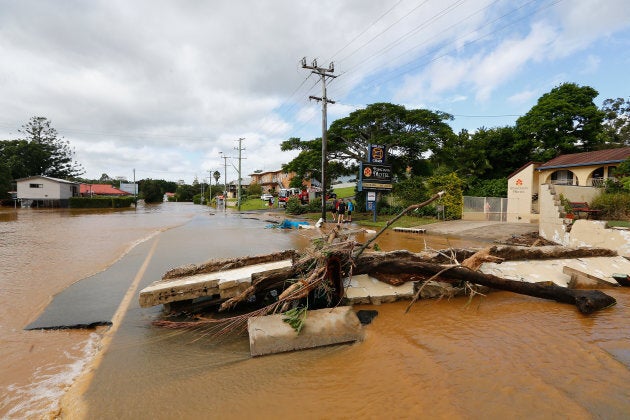 Prime Minister Malcolm Turnbull addressed the destruction left behind by flooding in a press conference on Friday.
"Our thoughts are with the people of Queensland and northern NSW who have been affected by the destruction, rain and flooding caused by this severe weather system," he said.
"As we observed yesterday in Queensland, nature's flung its worst at Australians but it brings out the best in Australians -- the resilience, the solidarity of the communities and the extraordinary response of the emergency services supported by the Australian Defence Force right across the nation makes every single one of us proud."
NSW Premier Gladys Berejiklian is pleading with residents in Lismore, Burwillumbah and surrounding areas to head evacuation warnings.
"It is serious, it is not a joke and you not only threaten your life but the lives of the emergency services who have to come and get you," she said in a press conference on Friday afternoon.
More than 10,000 homes in northern NSW were without power on Friday afternoon.
Northern New South Wales is the latest region to be affected by the tail of ex-Tropical Cyclone Debbie, with low-lying areas on the northern Gold Coast, Beaudesert and Logan regions evacuated as drainage systems fail to cater for the torrential rainfall.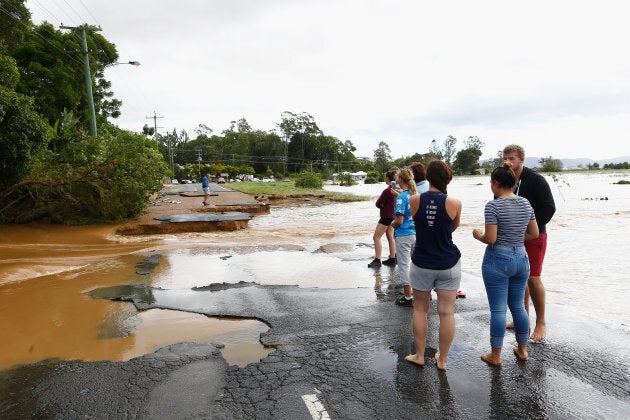 In Lismore, torrential rains caused the town's levee to crack and overflow, resulting in gushing torrents drowning the town's CBD in almost three metres of water.
Sirens sounded throughout Lismore on Friday morning warning residents to leave immediately, after floodwater topped the city's levee. It is believed up to 130 residents were unable to evacuate and were left behind.
"It's too late for us now. So we won't be sending anyone in now. This is a very, very serious situation. We cannot help in the present situation," SES spokesman Ian Leckie told ABC radio in the early hours of Friday morning.
"I suspect there may be people that may have perished overnight as a result of those conditions."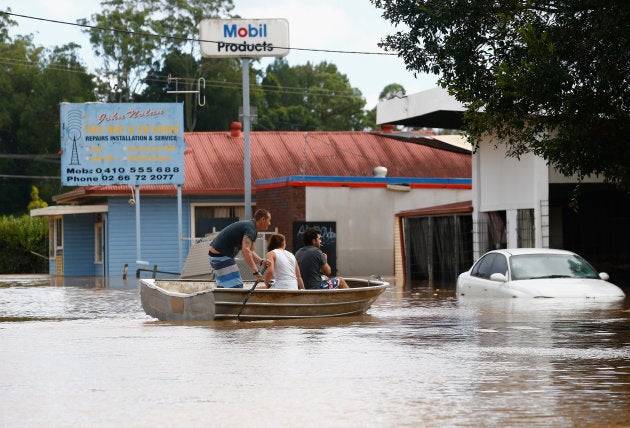 Police are warning parents to make sure children do not play in floodwaters after a three-year-old boy had to be rescued from a stormwater drain by Ambulance NSW workers at around 2pm on Thursday in Belleve Ave in Lismore Heights.
Emergency crews were able to resume rescue operations in Lismore on Friday morning, with the SES telling people in need of assistance to put white sheets on their roofs so they can be identified.
A total of 133 flood rescues were carried out by the NSW SES in Burringbar, Murwillumbah, Lismore and Tygalgah, with over 60 conducted overnight in extremely hazardous conditions.
Major flooding is currently forecast for parts of northern NSW with destructive winds, heavy rainfall and dangerous surf conditions expected on Friday.
In Murwillumbah, flood records have been broken after the Tweed River broke its banks, peaking at over six metres on Friday morning. The main streets of the town are waist-deep in water and residents have been forced to seek refuge in ceiling cavities and on roofs as rescue crews struggle to reach them.
Hydrologist Justin Robinson says the flood records of 1954 and 1974 have now been exceeded, according to ABC News.
A severe weather warning is in place for residents in the Northern Rivers and parts of the Mid North Coast, Hunter, Metropolitan, North West Slopes and Plains and Northern Tablelands locations.
Major locations affected by the bad weather include Tweed Heads, Lismore, Murwillumbah and Kyogle.
In addition to evacuations in Lismore, a further 17,500 people have been evacuated from the Tweed Heads region in northern New South Wales, the SES have confirmed.
The SES announced it was too late for Seagulls Estate and Banora Point residents to leave, as the area had been isolated by floorwaters by 2pm on Friday. Residents remaining in those communities were advised to seek shelter on higher ground or in the top story of a sturdy building.
Evacuated residents are being encouraged to stay with relatives and friends. For those who are unable to do so, the Department of Welfare has also opened five evacuation centres in Lismore, Kingscliffe, Murwillumbah and Tweed Heads.
Meanwhile in Queensland, the situation continued to deteriorate on Friday as 140,000 people across the state are without power and low-lying areas of the Gold Coast and Logan are being evacuated.
Beaudesert and surrounding areas were evacuated on Friday morning as the Logan River prepared to peak at record-breaking levels.
There were about 4,000 calls to emergency services for help overnight, and 100 people had to be plucked from flood waters.
Footage shows SES crews battling strong currents to cross streets that had transformed into rivers to rescue families trapped on top of cars or on rooftops.
Upper Springbrook has received an incredible 890mm overnight, causing access to the area to be completely cut off, as a huge section of the road was completely washed away by floodwaters.
Thousands of people on the Gold Coast and Logan have been told to evacuate on Friday morning, with fears the area could become cut off by flood waters for several days.
Residents who are still able to get out are being told to secure their belongings and move to higher ground.
The Logan and Albert rivers have overflowed and flood waters are among the highest ever seen.
Over 2,500 schools and early childcare centres remain closed across south-east Queensland today, after the Queensland Government took the unprecedented step to close the schools after 8am on Thursday morning.
Many people are also experiencing a water shortage, with authorities warning Scenic Rim residents to conserve their tap water after all the water treatment plants were knocked out by the record-breaking rains.
"Please only use your tap water for drinking and basic personal hygiene, put off the washing for a few days, everything you can do to put off using that water will be priceless to our community," Scenic Rim Mayor Greg Christensen said.
Four people were missing across the state as of Friday afternoon.
A bushwalker who went missing in Lamington National Park on Wednesday remains unaccounted for, Queensland Commissioner of Police Ian Stewart has confirmed.
The man, aged in his sixties, became separated from the large sightseeing group he was with on Wednesday morning. Contact has not been made with the man since around 7pm that evening, with the wild weather forcing rescue crews to suspend search and rescue efforts.
"You can just imagine what the conditions are like up there," Stewart said.
"It would be a very treacherous situation. We can't afford to put other people at risk at this stage to try and find him."
A search is currently underway for another man, David Heidemann, who went missing from Mondure, north west of the Sunshine Coast on Thursday evening.
The 50-year-old told family he was going to visit a friend on Campbells Road at 8pm on Thursday night. Police hold grave fears for the man, as parts of that road have been flooded overnight.
Approximately 90,000 homes are still without power in south-east Queensland on Friday morning, with Energex crews working to restore electricity across the region.
The Queensland Ambulance Service is warning those without power not to use generators indoors, after two people were rushed to Nambour Hospital on the Gold Coast after being poisoned by generator fumes.
In northern Queensland, a further 50,000 people have been without power for several days in Makay, Bowen and surrounding communities after power lines were knocked out by Cyclone Debbie on Tuesday.
Relief is finally reaching the cyclone-ravaged community of Airlie Beach today, as flood waters start to recede and trucks bringing fresh supplies and materials to start the clean up and rebuild.
A dog who wandered into an evacuation centre in Proserpine -- one of the towns hardest hit by Cyclone Debbie -- has been adopted by emergency relief workers, Nine News has reported. His owners are being asked to come forward to claim the dog.
ALSO ON HUFFPOST AUSTRALIA