The new "Game of Thrones" teaser is here, and all men (and women) must freak out.
In the latest video, Daenerys (Emilia Clarke), Cersei (Lena Headey) and Jon Snow (Kit Harington) all take their seats as they prepare for upcoming conflict. And it looks like White Walkers aren't far behind.
Cersei is in the Red Keep, Jon Snow appears to be at Winterfell, and Dany, well, Dany appears to be in a third location.
From the stone-like seat Clarke sits on, it's possible Dany is at Dragonstone. If that's the case, it may confirm that the set leaks showing Jon Snow meeting Dany and interacting with dragons (supposedly at Dragonstone, the ancestral seat of House Targaryen in Westeros) are authentic.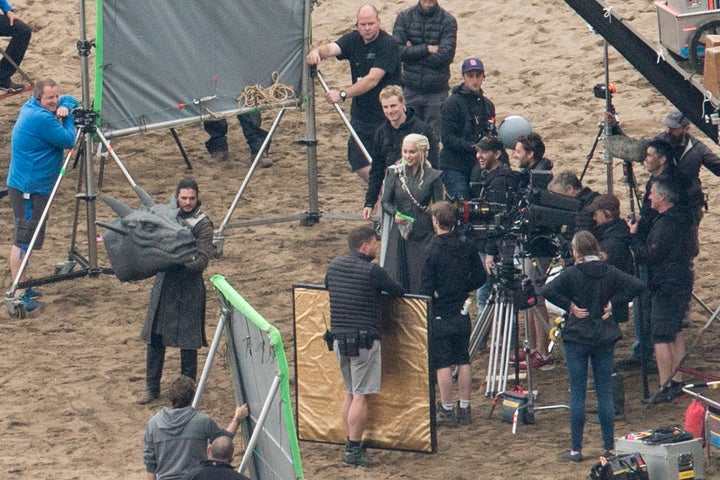 There was some speculation that the set leaks, especially photos of Harington with dragons, could've been staged purposely by HBO to throw people off. The new teaser seems to offer support.
As the King in the North, Harington, already told HuffPost, "Lots of people cross paths, and that's something that I think the audience has been waiting for for a long time."
Dragons are coming.
"Game of Thrones" Season 7 premieres July 16.
Tina Fey, Alec Baldwin, Mahershala Ali, Amy Poehler and a whole host of other stars are teaming up for Stand for Rights: A Benefit for the ACLU. Join us at 7 p.m. Eastern on Friday, March 31, on Facebook Live.
You can support the ACLU right away. Text POWER to 20222 to give $10 to the ACLU. The ACLU will call you to explain other actions you can take to help. Visit www.hmgf.org/t for terms. #StandForRights2017