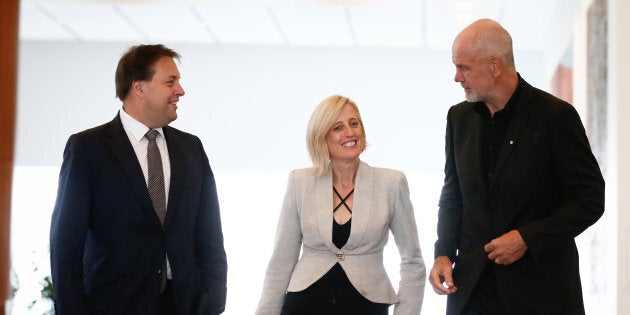 CANBERRA -- The push for Australia to become a republic has been given a big boost inside federal parliament, with a new group of politicians forming to lobby for the country to divorce itself from the British monarchy.
The Parliamentary Friendship Group for an Australian Head of State was launched on Thursday. It counts members from both sides of the political aisle, including Prime Minister Malcolm Turnbull and opposition leader Bill Shorten. To be convened by Labor senator Katy Gallagher and Liberal MP Jason Falinski, it will work from inside the parliament to advance the campaign for an Australian republic.
Australia Republic Movement research released in 2016 reported a majority of federal politicians in both houses of parliament support a republic, as does every state premier. ARM chair, Peter FitzSimons, said public support for a republic was around 52 percent, with around 25 percent opposing and 25 percent unsure. At Parliament House on Thursday, he said he hoped the parliamentary group would help boost that support number to 60 percent, the figure he said was needed before a referendum on a republic could hope to succeed.
"We're united in the view that in the 21st century, Australia can do better than find our head of state from a family of English aristocrats living in a palace in London, as much as we might admire her majesty," FitzSimons said.
He said he was a "passionate minimalist" when it came to change, claiming his preferred model could "fit in a tweet".
"The current system, the Prime Minister chooses the Governor-General, and asks the Queen of England. New system, Prime Minister chooses the Governor-General, asks the parliament of the people," he said.
"We still call ourselves the Commonwealth of Australia, the Governor-General is still called the Governor-General, nothing changes but that."
Gallagher said she was "devastated" at the result of the 1999 referendum on a republic, which failed to attract the needed support, and had resolved to be involved in any future push for a republic.
"I'm in a privileged position to do that as a senator now, to be a small part of that national conversation that needs to happen," she said.
Falinski conceded that many in the community do not see a republic as a pressing national issue, but said it was an important discussion to have.
"There will always be more urgent things for us to do but there are few more important things than who our head of state is, who the person who can represent our hopes and aspirations as a nation and community is," he said.
"Our head state should be one of us."
FitzSimons outlined the ARM's plan to move Australia toward a republic, saying 2017 was about "consolidation", 2018 about "conversation", with plans for a national plebiscite in 2019 on whether a republic is wanted, and a referendum in 2021 with a specific plan for what that republic would look like.
"We'll have this passionate debate with the Australian people and let Australian democracy rule. Trust Australian democracy, whatever model they come up with, and if Australian democracy decides they want a general election [for a head of state], I'll be the first in the queue to say yes," he said.
"There will be a simple question on the plebiscite, 'do you think Australia should have an Australian as a head of state?' You'll come home with a thumping majority. At that point, a national discussion about the models, then a referendum of the new model against the old model."
"We're a grown up, sensible people. We'll come up with a model that suits us."
Gallagher said the parliamentary group would hold events and discussions inside parliament, as well as encouraging MPs and senators to start discussions and events in their own electorates to spread the message.
ALSO ON HUFFPOST AUSTRALIA
Click below to follow HuffPost Australia Politics on Facebook!