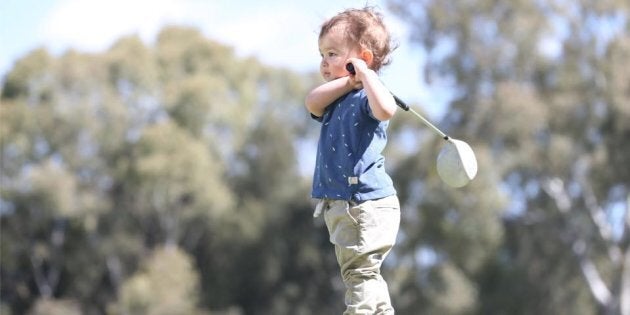 Sam Blewett, the son of former Australian Test cricketer Greg Blewett, already looks to be a professional golfer in-the-making. But here's the catch -- he's only just turned two.
With a swing that is nothing short of incredible for a toddler, Sam loves golf and takes any chance he can get to give his trusty pink golf club a swing at anything that resembles a ball.
Don't believe us? See for yourself below.
"They cannot believe their eyes when they see him hitting balls. He will always have a little crowd around him."
With a little help from his dad Greg, Sam is making connections from all over the sporting world -- from current Australian cricket Captain Steve Smith, who features in one of his clips, to the US-based PGA Tour and broadcaster ESPN, who included him in one of their 'Play of the Day' segments.
With a lot of time still to go before Sam is eligible to enter a tournament series as big as the PGA Tour, it leaves him with plenty of years of practice.
Watch out Adam Scott and Jason Day.
ALSO ON HUFFPOST AUSTRALIA