Churros are the ultimate street food dessert -- or breakfast, if you're eating it the traditional way.
Although the perfectly sweet and crunchy doughnut-esque treat is usually reserved for food markets and chocolate bars, making your own churros at home is surprisingly easy.
In fact, this easy recipe from MasterChef Street Food of the World by Genevieve Taylor only requires 10 ingredients from start to finish.
The churros are crispy and cinnamon sugar-coated on the outside, warm and soft in the middle, ready to be dunked into a milk chocolate and dark chocolate sauce.
Feel free to give the chocolate sauce a twist by adding cinnamon, chilli, salt or vanilla.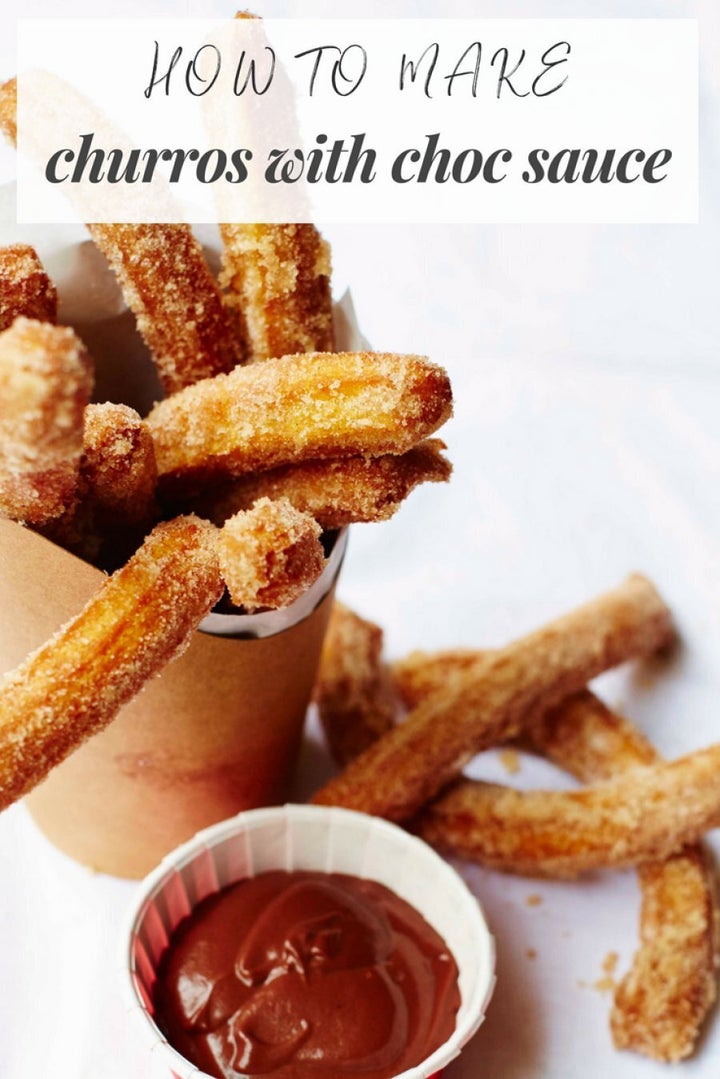 Churros and chocolate sauce
The quintessential Spanish street breakfast, churros are long, thin doughnuts served with a rich chocolate sauce for dunking. You could also flavour the sauce the Mexican way with a little orange zest stirred through as the milk warms.
INGREDIENTS
375g self-raising flour
A pinch of salt
600ml boiling water
3 tablespoons olive oil
2 teaspoons vanilla extract
150g caster sugar
2 teaspoons ground cinnamon
300ml milk
100g milk chocolate, chopped
100g dark chocolate, chopped
2 teaspoons cornflour
A piping bag fitted with a 1cm star nozzle
METHOD
Stir the flour and salt together in a large bowl. Pour in the boiling water, olive oil and vanilla extract and beat together thoroughly to form a smooth paste. Set aside to rest for 10 minutes, then spoon the dough into a piping bag fitted with a star nozzle.
For the sauce, pour the milk into a saucepan, set over a medium heat and bring to simmering point. Remove one tablespoon of warm milk and stir it through the cornflour in a small bowl. Add the chocolate to the pan and stir until melted, then pour in the cornflour and milk paste and whisk continuously until the sauce is smooth and thickened. Keep warm over a very low heat.
Stir the sugar and cinnamon together and spread out in a large flat dish or tray. Heat the oil in a deep fat fryer to 180°C/350°F. Working carefully, squeeze the dough out into 10–12cm-long strips directly into the hot oil. I find the easiest way to snip off the end of a strip is to simply pinch it off with a clean finger and thumb, but you can also cut them with scissors. Don't add more than four or five to the oil at once or they will stick together. Fry for four minutes until crisp and deep golden brown. Drain briefly on kitchen paper before rolling in the cinnamon sugar while still hot. Repeat until you have used up all the dough.
Serve the churros warm with the chocolate sauce to dunk them in.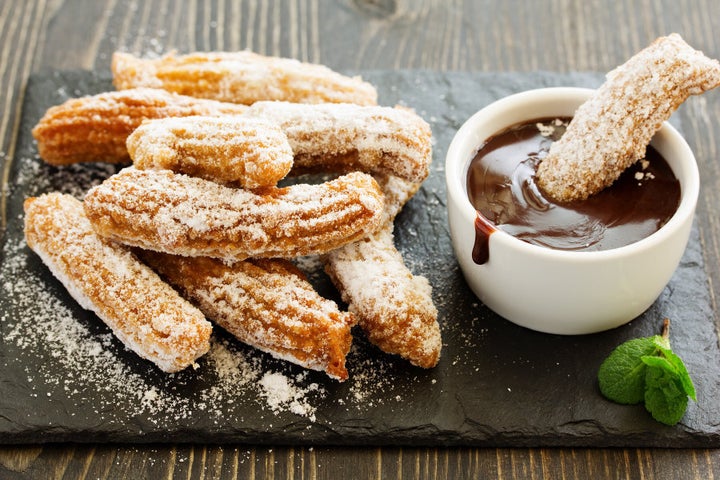 Recipe extracted from MasterChef Street Food of the World by Genevieve Taylor, published by Bloomsbury, $45. Out now.
ALSO ON HUFFPOST AUSTRALIA