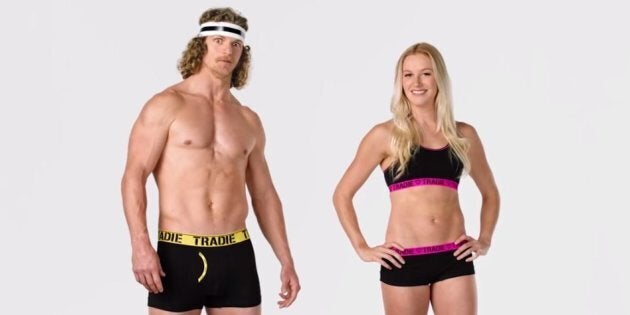 Undies ads aside, the first thing you need to know about Danielle Scott is that the 27-year-old former gymnast is one of the top two aerial skiers in the world. Need proof? Can do-ski.
The brief video below shows highlights of the Aussie aerialists at the recent World Freestyle Ski And Snowboarding Championships in Spain, where David Morris took bronze for the Aussie blokes, and Scott took silver in the ladies* event.
Scott also took second-place overall in the aerial skiing World Cup this year. That means over the course of the entire winter, she was the second most consistent athlete in the world.
"We can upgrade," Scott joked about her twin silvers, with an eye to the 2018 Winter Olympics in PyeongChang, Korea, which are now less than 11 months away. "To keep building, that's my plan."
Scott dropped into the HuffPost Australia during the week, and we could't resist starting our chat by talking about THAT undies ad. Here it is. It features rugby player Nick "the Honey Badger" Cummins, whose trademark quirky vernacular is quickly mastered by Scott.
Ant: So as far as I can tell, you say "Drag em over your getaway sticks and you'll be grinnin' like a dead sheep."
Danielle: Yeah, that's it.
Ant: Which basically means "Put them on your lips and you'll be smiling in a long-lasting way".
Danielle: Yep, happy as a clam.
Ant: Wow, you're actually using Honey Badger lingo in real life.
Ant: OK, so what about the next line: "You'd have to be as sharp as a bag of hammers if you can't see how other grunters look like the last bite of a bad burrito".
Danielle: It means you'd have to be pretty dumb not to see that other undies are no good.
Ant: Which I guessed, but it's good to have it confirmed. So what's it like seeing yourself on TV and on buses and stuff?
Danielle: It's pretty funny, almost a bit overwhelming. One of the team vehicles put my ginormous face on the back. I had no idea.
Ant: Well you're a superstar on and off the snow now. I believe, by the way, that you scored a career best score in the world championships [for any aerial skiing nerds out there, the jump was a "back full-double full"]. Congrats.
Danielle: The last time I performed that jump was at the previous world championships when I didn't stick it. So this was redemption.
Ant: And if your Instagram is any guide, you appear to have taken yourself off to Utah for a break afterwards.
Danielle: I did a quick trip through southern Utah. Now I'm chasing some warm weather at the beach back in Australia. It's very important to have some downtime as I don't plan on coming back due to Olympic preparations.
Ant: Your Instagram is very outdoorsy which is all very good and healthy and terrific but I couldn't help noticing one photo where you were skateboarding barefoot. That can't be good for a professional skier. If I'm your coach I'm not happy about that.
Danielle: With no shoes, I can't go so fast so it's not as dangerous.
Ant: Interesting argument.
Danielle: Plus I hate shoes.
Ant: So Australia has won two gold medals in aerial skiing [Alisa Camplin and Lydia Lassila] as well as three bronzes. Do you feel good about the set-up in Korea?
Danielle: Pyeongchang is surprisingly cold and the cold goes right through to your bones. They also built the jump wrong for the test event and it had to be demolished. But I'm looking forward to my second games experience. I'm prepared to get to work and make the peak of my career happen.
Ant: And we hope it happens for you. Hey, before we let you go, I almost forgot to ask. Who would win a fight between a kangaroo and an emu?
Danielle: An emu. They're sneaky little bastards.
Ant: They are. Great answer, by the way. A lot of people have been saying kangaroos lately. Thanks for popping in to The Huffington Post Australia Danielle, and good luck over the coming year.
Danielle: Thanks for having me.
*We said "ladies" instead of "women" at the top of the story because Danielle uses the word in the undies ad. Just thought you'd like to know.