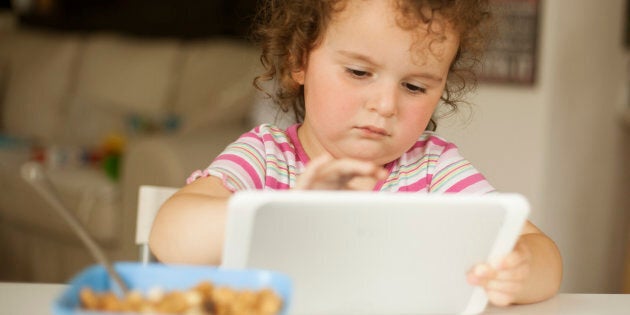 A vast majority of parents believe balancing a child's digital life is as important as making sure they have healthy diet, a new study shows.
But almost two-thirds (63.4 percent) of parents say they spend more time than they would like using their devices, or say they're just as addicted to their gadgets as their children.
The Real Insurance Core Data Kids and Technology annual survey found 87.3 percent of parents believe balancing a digital life for children is similar to making sure they eat a healthy diet.
Children's use of technology has its pros and cons

Technology becomes an increasingly accepted part of life for children as they get older, where parents tend to be more relaxed when it comes to screen time allowance;
Parents recognise a range of potential learning and development benefits that technology can have on their children;
Technology can also be a blessing in disguise in certain circumstances, particularly in entertaining their children;
However, parents also recognise a range of potential drawbacks, including exposure to inappropriate content, 'risky' behaviours and poorer physical and mental health. Online predators and bullying are also major concerns

Source: Real Insurance
The report found exactly half of Aussie parents (50.0 percent) say technology keeps their children entertained during school holidays, and around two in five appreciate the distraction technology serve for children while travelling on holiday (39.8 percent) or whilst parents are busy (39.0 percent).
About two thirds of parents (63.4 percent) are firm believers that pacifying their children with technology is passive parenting.
An overwhelming majority of parents (90.1 percent) don't let their children have free reign when it comes to using technology, but believe that children under the age of five should only use devices under strict parental supervision.