Stephanie King, her daughter Ella Jane, 11, and her son Jacob, 7, all drowned when their car slid off the slippery Dulguigan Road and into the Tweed River in the town of Tumbulgum at around 1:40pm on Monday.
One of King's children, Chloe May, aged 8, managed to swim to safety and ran to a nearby farm for help. Nearby residents rushed to join the search for the submerged car, but by the time they had reached the river's edge, the car had disappeared and only a trail of bubbles was visible.
Stephanie King lived in the small town of Bilambil in far northern NSW and worked as an Assistant in Nursing at Opal Aged Care Centre Tweed Heads, according to her Facebook page.
Former highway patrol officer Matt Grinham described his feelings of helplessness as the car sunk into the river.
"The bubbles were there. We could find the bubbles. We just couldn't get to the car.
"It was just too deep, too cold -- as soon as you opened your eyes underwater it was horrendous. It was freezing cold."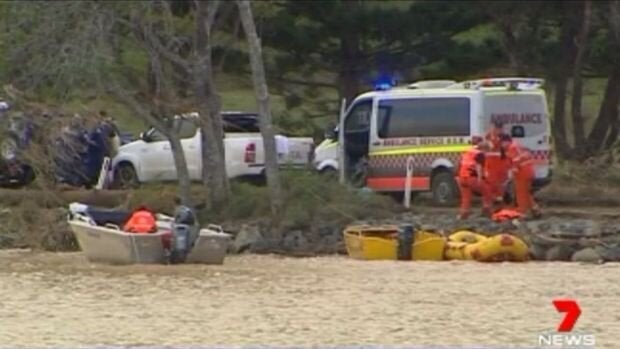 Chloe was taken to the Tweed Hospital with cuts to her legs and neck pain. She is now being cared for by family members.
Emergency services were called to the scene at 1:40pm on Monday afternoon. Sonar equipment located the vehicle five metres from the river bank, according to a NSW Police statement, but the attempt to retrieve the car was called off on Monday evening.
Police divers were called up from Sydney and a crane and a police helicopter were called in to assist in the recovery effort.
"It appears that a vehicle has slid off the road into the river," Loy said.
"That road was actually closed because of the debris and the mud on the road and we really understand that people want to get to where they need to be and live their lives normally, but this is an extreme event."
The latest confirmed fatality was a 77-year-old man whose body was found at Eagleby, south of Brisbane, on Saturday.
On Friday, a woman's body was found on a flooded residence near Murwillumbah, while a 64-year-old woman died in the Hunter region after her car was washed off a causeway near Muswellbrook.
ALSO ON HUFFPOST AUSTRALIA