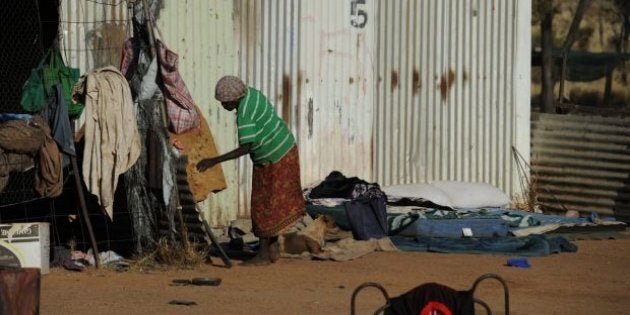 The United Nations has blasted Australia's Indigenous incarceration rates and its failure to reach its own Close the Gap targets in a scathing review of the treatment of Australia's first peoples.
The findings come as United Nations Special Rapporteur Victoria Tauli-Corpuz completed her 15-day national tour of Indigenous communities, organisations and juvenile detention centres.
Tauli-Corpuz said "the most disturbing thing" she saw during her visit was the hopelessness of the Aboriginal and Torres Strait Islander children in juvenile detention.
I've spoken to somebody who was arrested because he stole a [piece of] fruit."
"They don't think they have any future because many of them are going to be arrested again and then by the time they become adults then they will be convicted to serve long-term sentences in jail."
Despite only making up 2 percent of the population, over one quarter of prisoners are Indigenous, and that number is rising. In the Northern Territory, Indigenous people make up 83 per cent of the adult prison population.
Children as young as 12 years old or younger were entering this cycle of incarceration for extremely minor offences, the Special Rapporteur said.
"I've spoken to somebody who was arrested because he stole a [piece of] fruit. And another one who was sleeping in the trash bin and that was the reason they were arrested," Tauli-Corpuz said.
"They are essentially being punished for being poor and in most cases, prison will only aggravate the cycle of violence, poverty and crime."
She wants the funds currently spent on locking these children up to go into early intervention and rehabilitation programs.
The United Nations has also criticised the Australian Government's defunding of grassroots organisations within Indigenous communities in recent years, including services for women escaping domestic violence.
Tauli-Corpez cited the lack of support for the National Congress of Australia's First Peoples -- an Indigenous advocacy body -- as an example of the Government's failure to provide self-determination to Indigenous Australians.
Australia became a signatory to the UN's Declaration of the Rights of Indigenous Peoples in 2009, but is failing to live up to the conditions of the declaration, Tauli-Corpez said.
Australia needs to "substantially address" its treatment of Indigenous people for its bid to join the UN Human Rights Council to be successful, the Special Rapporteur said.
Australia has been pushing to join the Council for the 2018-2020 term.
"Before [Australia] can enter, I hope to hear that they will have serious commitments in terms of funding the National Congress [of Australia's First People], restoring funding to the Indigenous peoples and removing the conditions they are enforcing when they are providing funds," Tauli-Corpuz said.
Tauli-Corpez also said she was "appalled" at the run-down and over-crowded conditions some Indigenous Australians were living in.
"This is really so dismal considering how rich Australia is."
Indigenous Affairs Minister Nigel Scullion thanked Tauli-Corpez for her initial findings, but said that her descriptions does not reflect "the vast majority of First People in Australia".
"The vast majority of First People in Australia are engaging in their communities just like people in the wider community," Senator Scullion said in a statement.
"They have jobs, they're attending school and undertaking further training -- and despite public perception, are not involved with the criminal justice system."
Scullion also cited some inaccuracies in Tauli-Corpez's initial findings around funding that she had agreed to address before releasing her final report.
It isn't the first time that the United Nations has accused Australia of failing to live up to its human rights obligations.
Its multiple scathing reports into the Australian Government's treatment of asylum seekers have made headlines around the world and damaged Australia's international reputation as a place of equality and freedom.
Most recently, in October last year the United Nations slammed the "inhuman and degrading" treatment of asylum seekers on Manus Island and Nauru, citing physical, sexual and psychological abuse of children among the atrocities to which Australia was turning a blind eye.
In 2015, the UN's Special Rapporteur on Torture Juan Mendez submitted a report saying the conditions on Nauru and Manus amounted to torture.