Being pregnant is an exciting yet exhausting experience. Everything is changing, in every sense of the word, and you're growing a little human.
But there are certain guidelines to follow which can feel restrictive -- specifically, diet.
Blue cheese, deli meat, pâté, caffeine, alcohol, many seafood, runny eggs, and eggy dressings and desserts like mayo, chocolate mousse and some ice creams are all off the table.
But there's a way to help ensure your partner enjoys food throughout pregnancy, as well as make sure she's being supported: cooking delicious pregnancy-friendly meals.
For recipes and tips, The Huffington Post Australia spoke to Aaron Harvie, former MasterChef contestant, father and author of A House Husbands' Guide: Cooking for your Pregnant Partner.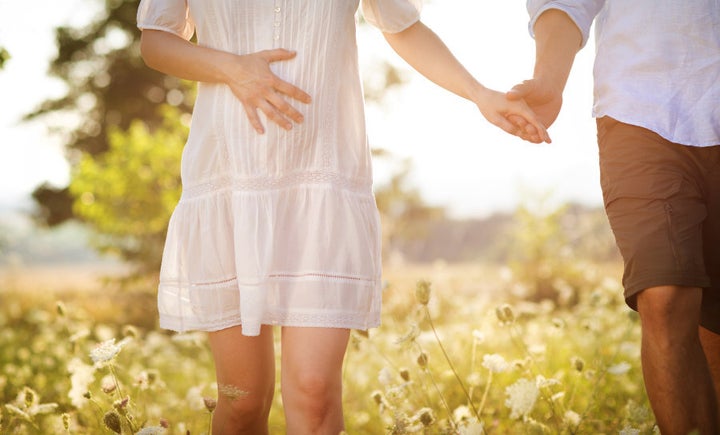 "I have always been into food and cooking, and when my wife got pregnant, like most partners do, I wanted to get involved and help," Harvie told HuffPost Australia.
"I started noticing that the food the doctors were recommending my wife, and the diet she was to follow during her pregnancy, was quite restrictive and repetitive.
"She was disappointed with all the foods that she couldn't eat, so I took it upon myself to use the dietary guidelines given by the doctor and come up with recipes that can offer alternatives and fun, so that there's not as much restriction."
Everyone has their specific food cravings and favourites, and often times these are the ones pregnant women are unable to eat. But finding delicious alternatives is possible.
"For example, one of my wife's favourite sandwiches is a bánh mì and that has pâté on it, which of course a pregnant person can't have. So I made a mushroom pâté to put on that," Harvie said.
"It's just finding alternatives for people to be able to enjoy."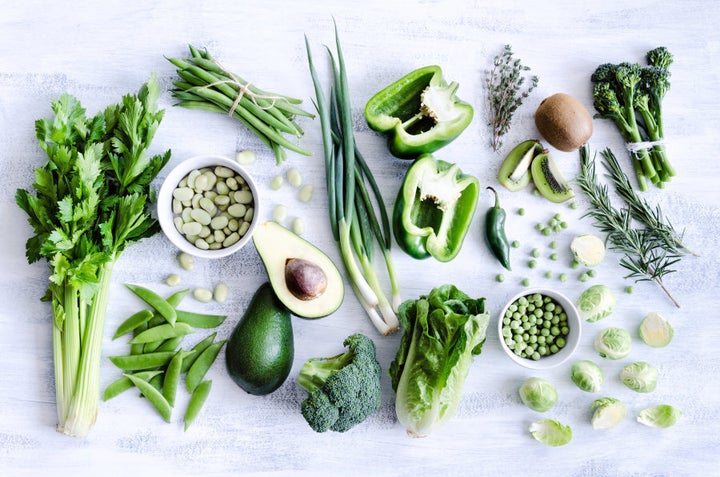 Cooking for your pregnant partner not only helps them out, but is a way of being part of the pregnancy.
"The other thing I thought was important is, when your partner is pregnant, they go through all this transformation in their body and change as the baby grows," Harvie said.
"But for the partner, your body stays the same. Cooking for your pregnant partner and cooking for your baby helps you help their development and makes you more involved.
"What you're doing in those nine months is essentially teaching you how to start creating your family. Everyone being as involved as they possibly can only be a good thing.
"Your pregnant partner has to carry the load and grow a baby, so it's the least that we can do."
Here are three delicious recipes to cook for your partner.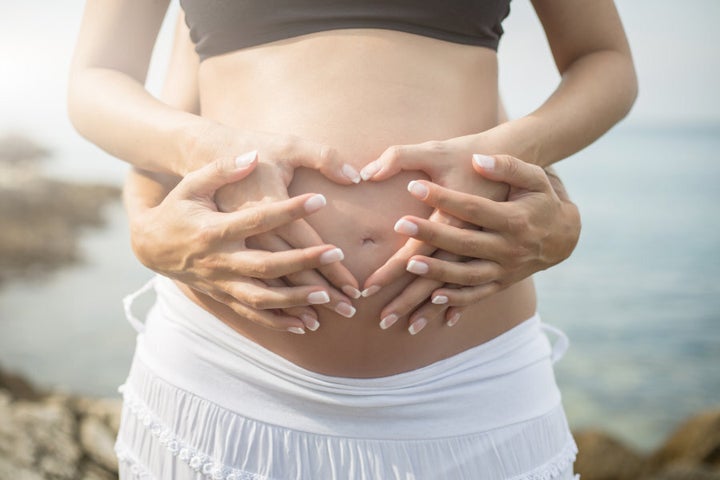 1. Osso bucco and pork shoulder lasagna
Compared to some other lasagna recipes this one does take a little more time but let me tell you, it is most definitely worth the effort and a great thing to make on a lazy Sunday afternoon.

The problem with this dish is once you taste the combination of the rich ragù with the creamy béchamel and gooey mozzarella, you will become hooked.
INGREDIENTS
Osso bucco and pork shoulder ragù:
1 oregano sprig
1 rosemary sprig
1 thyme sprig
1 continental parsley sprig
500g osso bucco
500g pork shoulder, chopped into chunks
1 tablespoon sea salt
1 tablespoon cracked black pepper
2 tablespoons olive oil
1 onion, roughly chopped
10 garlic cloves
3 tablespoons red wine vinegar
800g tinned whole peeled tomatoes
1 litre beef stock
Béchamel sauce (makes 800ml):
65g butter
40g plain (all-purpose) flour
Pinch of nutmeg
600ml milk
1 bay leaf
1 box lasagne sheets
300g mozzarella cheese, grated
60g parmesan cheese, grated
½ bunch continental parsley, roughly chopped
METHOD
Gather the oregano, rosemary, thyme and continental parsley and tie together securely with a length of kitchen string to make a bouquet garni.
Season the osso bucco and pork shoulder with the sea salt and cracked black pepper. Place a large pot over medium heat and add the olive oil. When hot, add the osso bucco and pork shoulder, browning on all sides.
Add the onion and the garlic. Add the red wine vinegar and scrape all of the brown from the bottom of the pot. Add the tomatoes and beef stock and stir well. Cover, bring to the boil and then reduce to a low simmer.
Cook for two hours. Remove the lid and reduce for a further 30 minutes, stirring frequently. (You will know when dish is cooked because the meat will be tender and fall apart.) Pick out the bouquet garni, bones and any fat from the osso bucco and break up all the meat with a wooden spoon.
To make the béchamel sauce, place a saucepan over low heat and add the butter. When the butter is melted, add the flour and nutmeg, stirring to combine well. Continue stirring while pouring the milk into the saucepan in a thin stream until it is all combined. Add the bay leaf and simmer until the béchamel has thickened. Remove the bay leaf and set aside in the fridge.
Preheat the oven to 180˚C (350˚F) and grease an ovenproof dish with olive oil. Lay a layer of lasagne sheets on the bottom of the dish. Spoon over the ragù and top with béchamel. Add a layer of mozzarella cheese, parmesan cheese and continental parsley. Top with a layer of lasagne sheets and repeat the layers finishing the dish with a top layer of béchamel and mozzarella. Place into the oven and cook for 40 minutes. Remove and leave to stand for 15 minutes before serving. Serve with a simple salad.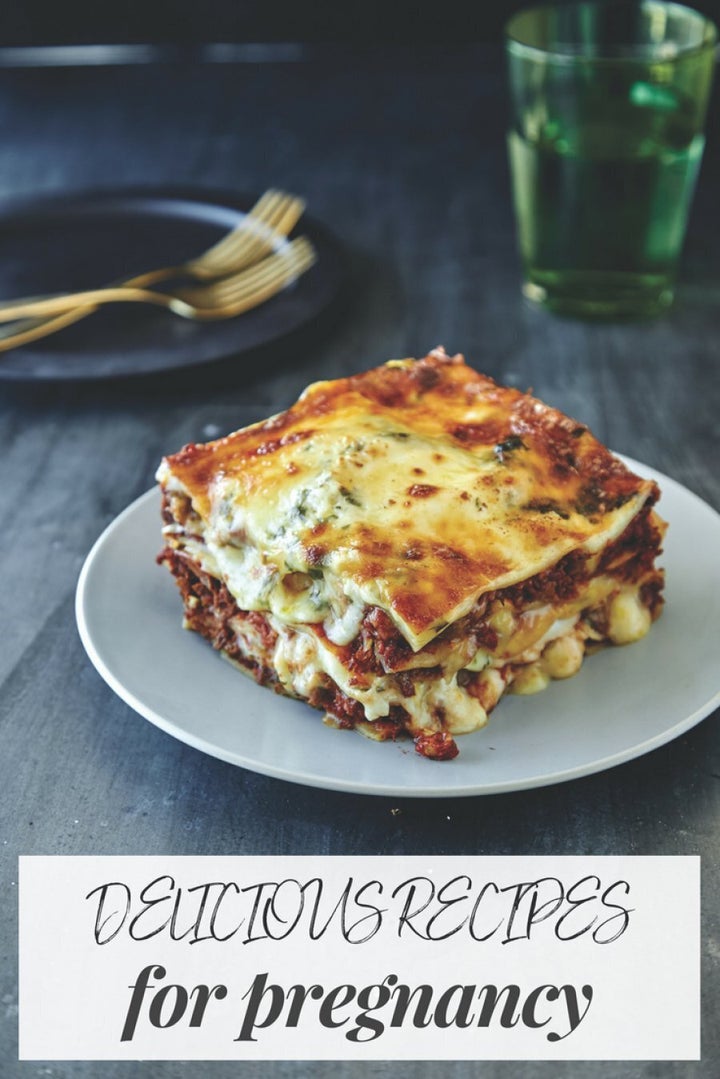 2. Corn and red onion fritters
Sometimes you feel like something different than the run-of-the-mill fruit or cereal or eggs or toast for breakfast and who can blame you? Well if you're looking for something different for breakfast, look no further than these corn fritters and with the spinach.
INGREDIENTS
3 corn cobs
Olive oil, for cooking
1 red onion, cut into thin slices
1 tablespoon maple syrup, plus extra for drizzling
50g baby English spinach
3 tablespoons milk
2 eggs
125g plain (all-purpose) flour
1 teaspoon baking powder
1 teaspoon bicarbonate of soda (baking soda)
2 teaspoons chipotle powder or smoked paprika
Sea salt and cracked black pepper, to season
METHOD
Hold each cob vertically on the chopping board, running a knife down each side and slicing off all of the kernels. Repeat on each cob of corn.
Heat the olive oil in a frying pan over low heat. Add the corn and onion and cook until the onions are soft. Increase the heat to high and cook until the corn and onion starts to colour and blacken. Pour in the maple syrup and cook until the sugar caramelises. Remove from the heat and set aside.
Place the spinach, milk and eggs into a food processor and blend until combined. Add the flour, baking powder, bicarbonate of soda and chipotle powder or smoked paprika to the blender and combine. Pour the mixture into a bowl and add the corn and the onions. Season well with salt and pepper.
Heat the olive oil in a frying pan over medium heat. When hot, add several tablespoons of the fritter batter to the pan ensuring they are well spaced.
Cook until golden, then turn over the fritters and continue cooking until golden. Remove the fritters from the pan and drain on a paper towel, repeating the steps with the rest of the batter.
Serve the corn fritters warm, with maple syrup, if you like.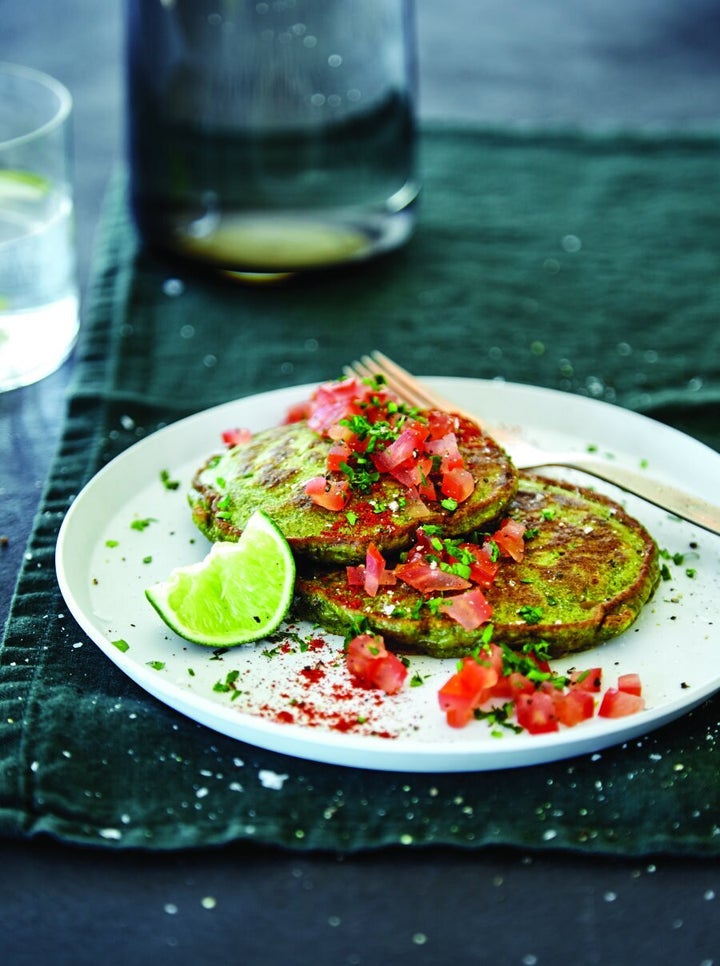 3. Fig, pear and pan-fried prosciutto
This dish is a great example of the myriad of different types of salads you can whip up for a quick lunch or light dinner.

The ingredients are interchangeable (I have used figs, pears, witlof and spinach) for whatever you might feel like or have on hand, so don't feel like you have to stick to the recipe. You can add nuts or an egg, or change the fruit or the protein, it's up to you.
INGREDIENTS
150g baby English spinach
6 white witlof (chicory/Belgian endive) heads, leaves removed
1 nashi pear, quartered and thinly sliced
10g parmesan cheese, grated
1 pomegranate
8 figs, quartered
1 tablespoon balsamic vinegar glaze
12 prosciutto slices
4 tablespoons olive oil
Sea salt and cracked black pepper, to season
METHOD
Add the spinach, witlof and pear to a mixing bowl. Grate over the parmesan cheese.
Cut the pomegranate in half and squeeze the seeds over the salad.
Place a frying pan over medium heat and drizzle with some olive oil. Add the figs, cooking until browned. Add the balsamic vinegar and toss well. Remove the figs from the heat and set aside on a plate.
Wipe the pan clean and place back over medium heat, add some olive oil and the prosciutto. Fry the prosciutto until crispy on both sides, then remove from heat. (Ensure prosciutto is steaming for safety.) Leave to cool slightly, then roughly chop and drain on a paper towel.
Add the figs and the prosciutto to the salad. Dress with olive oil and season with sea salt and cracked black pepper. Gently toss together and serve while the prosciutto is warm.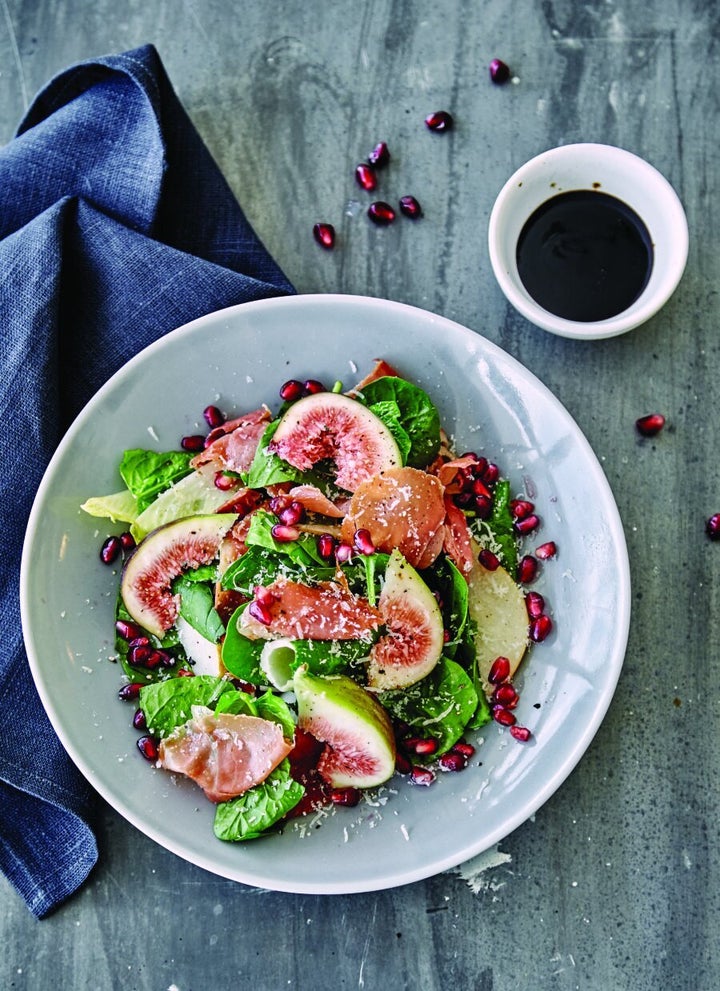 Recipes extracted from A House Husbands' Guide: Cooking for your Pregnant Partner by Aaron Harvie. New Holland, RRP $35.00.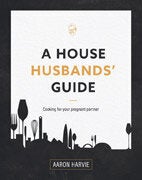 ALSO ON HUFFPOST AUSTRALIA