Granola is a damn fine breakfast option, but there's no doubt that making your own at home can be time consuming and messy.
Enter rawnola: perfectly delicious granola that's, well, raw and made in a few minutes.
All you need to do is combine eight ingredients, flatten the granola mixture onto a baking tray and refrigerate until firm.
The ways to use this healthy rawnola from Hippie Lane: The Cookbook by Taline Gabrielian are endless -- with fresh fruit and yoghurt, sprinkled on top of beautiful smoothie bowls, or layered in chia pudding parfaits. It's even great on its own as a filling snack and to satisfy sweet cravings.
And for those with food intolerances, you'll be pleased to hear that this rawnola is naturally gluten, dairy and refined sugar free.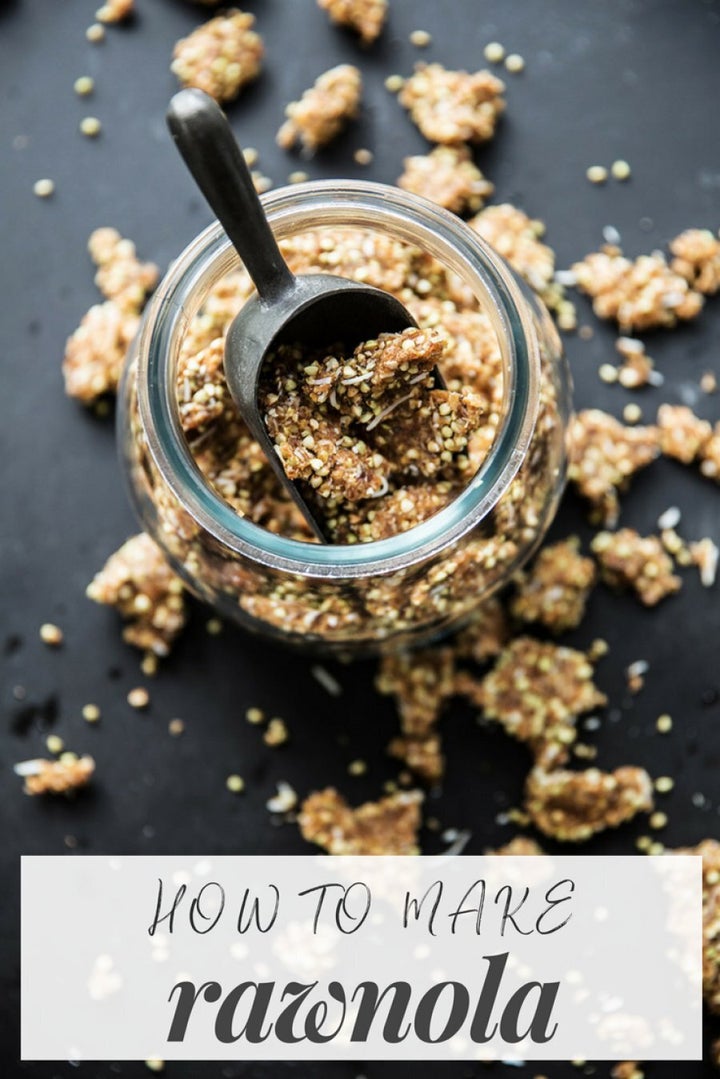 RAWnola
Serves four. Raw, vegan, dairy free, gluten free and refined sugar free.
A raw version of the beloved breakfast granola, my RAWnola is based on one of my favourite gluten-free superfoods, the humble buckwheat seed, making these irresistible clusters high in protein, vitamin B, zinc, magnesium and antioxidants.

Dehydrating the RAWnola mixture is not essential, but is recommended if you'd like a crunchier result and an extended shelf life.

Once you've made yourself a batch, you'll find yourself snacking on it all day long.
INGREDIENTS
10 medjool dates, pitted
1 teaspoon coconut oil
1 tablespoon peanut butter
180g (1 cup) buckwheat groats
65g (¾ cup) desiccated coconut
1 tablespoon linseeds (flaxseeds)
1 teaspoon ground cinnamon
½ teaspoon maca powder
METHOD
Place the dates, coconut oil and peanut butter in a food processor and pulse into a paste.
In a large bowl, combine the remaining ingredients. Add the date paste and use both hands (wearing some food-handling gloves, if you have some handy) to thoroughly combine all the ingredients, so the mixture sticks together.
If you have a food dehydrator, press the mixture onto a dehydrator tray, to about 5mm thick, and dehydrate at 40°C (105°F) for eight hours. Once set, break the mixture into bite-sized pieces and store in an airtight container in the pantry. It will keep for up to four weeks.
If you don't have a food dehydrator, line a flat plate or tray with baking paper and spread the mixture on it, about 5mm (¼ inch) thick. Set in the fridge for at least 2–3 hours. When your mixture is firm, your RAWnola is ready to eat. It will keep in an airtight container in the fridge for up to 3–5 days.
Images and recipes from Hippie Lane: The Cookbook by Taline Gabrielian (Murdoch Books RRP $39.99). Photography by Petrina Tinslay.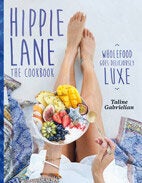 ALSO ON HUFFPOST AUSTRALIA