When natural disasters strike, Australia's normally bashful wildlife seem to emerge from the rivers, trees and bushes, and start wandering down the nation's streets.
And Cyclone Debbie has been no exception.
The animal rescue organisation Wildlife Rockhampton has been run off its feet this week, rescuing everything from egret chicks through to 'roos who had ventured into town and were hit by cars.
This poor young mum lost track of her joey when she was hit by a car in Rockhampton on Tuesday:
Snakes, spiders, birds and echidnas are also being driven into homes as their feeding grounds go underwater. Even water-loving animals like this platypus are getting washed away from their territory as powerful floodwaters reshape the landscape:
Even a camel was spotted searching for higher ground near Rockhampton.
The police have also been getting in on the effort to protect local wildlife. One officer helped this little guy cross the road in Rockhampton earlier in the week.
Rockhampton residents were warned to be on the lookout for some less friendly wanderers on Thursday.
As the flood peaked at 8.8 metres, the Fitzroy River was brought to many residents' doorsteps -- a river rife with crocodiles. While no reports of crocs have been confirmed in the town, some very lifelike ornaments did manage to spook some visiting journalists covering the floods:
Several real-life crocs have been sighted further north however, with one snatching a beloved family pet, Rusty the kelpie, from a property in Belvedere.
But crocs aren't the only grisly beasts lurking beneath floodwaters. Sharknado came to life last week when Cyclone Debbie washed a bull shark ashore in the coastal Queensland town of Ayr.
If that won't make you heed warnings to stay out of floodwaters, maybe the thought of giant snakes tickling your toes will do the trick.
This little rainbow lorikeet on Daydream Island became a symbol of resistance in the face of Cyclone Debbie, as animals sought shelter from 265km/h winds in any place they could:
But not every story had a happy ending.
"We laid little Debbie to rest with a couple of her mates who were already deceased and didn't make it through. They were all hanging onto the branches and probably suffered internal injuries in an event like a cyclone," journalist John Andersen of the Townsville Bulletin told The Huffington Post Australia.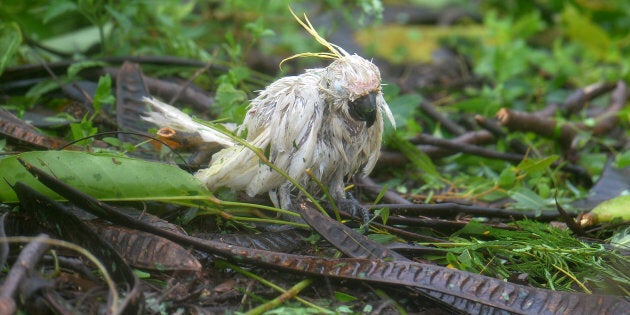 When the floods hit the northern NSW community of Murwillumbah last week, two local men made headlines around the world for their heroic efforts rescuing a neighbour's horse.
Leigh Shepherd found his neighbour's 25-year-old horse, Tilly, struggling in deep water outside their home last Friday night.
After several rescue attempts, Leigh and 21-year-old son Rob managed to use an extension cord to lead the horse up their outdoor steps. She collapsed in their front door, still underwater, where Rob held the exhausted horse's head above water using a boogie board for more than five hours.
"She was just buggered, she couldn't move, she just lay there and was dependent on us," Rob told the ABC.
But Tilly pulled through. She's since been checked out by a vet and is expected to make a full recovery.
ALSO ON HUFFPOST AUSTRALIA