Encouraging kids to eat fruit and vegetables can be hard, there's no doubt about it -- especially when the convenience of lollies, biscuits, packaged and fast food is all around us.
But getting your children to eat the rainbow (the healthy kind) is possible.
Amie Harper is a mother of two, nutritionist, food stylist and author. When it was time for her first child, Pip, to be introduced to food, she struggled to find simple, inspiring meals which would help her daughter enjoy healthy foods.
"When I was starting food introduction with Pip, I knew enough about food, but I just wanted to find really inspiring and simple meals to cook for my family," Harper told The Huffington Post Australia.
Go with the flow and let them lead. Try to be aware of their development and what they want.
After coming across only a few resources, Harper created her own cookbook, Baby Pip Eats, and now the follow up, Little Pip Eats The Colour Of The Rainbow.
"It was one of the most exciting things as a parent to watch my kids and their introduction to food. It was scary, too. I was a bit overwhelmed which is why I searched for that inspiration.
"My aim is to mainly cook with fresh ingredients that are simple and budget-friendly. It's easy just to give them noodles, takeaway or something convenient, because we are tired.
"We all have those moments and nobody's perfect, but if 80 percent of the time you're buying whole food and creating good food for your children, then that's great."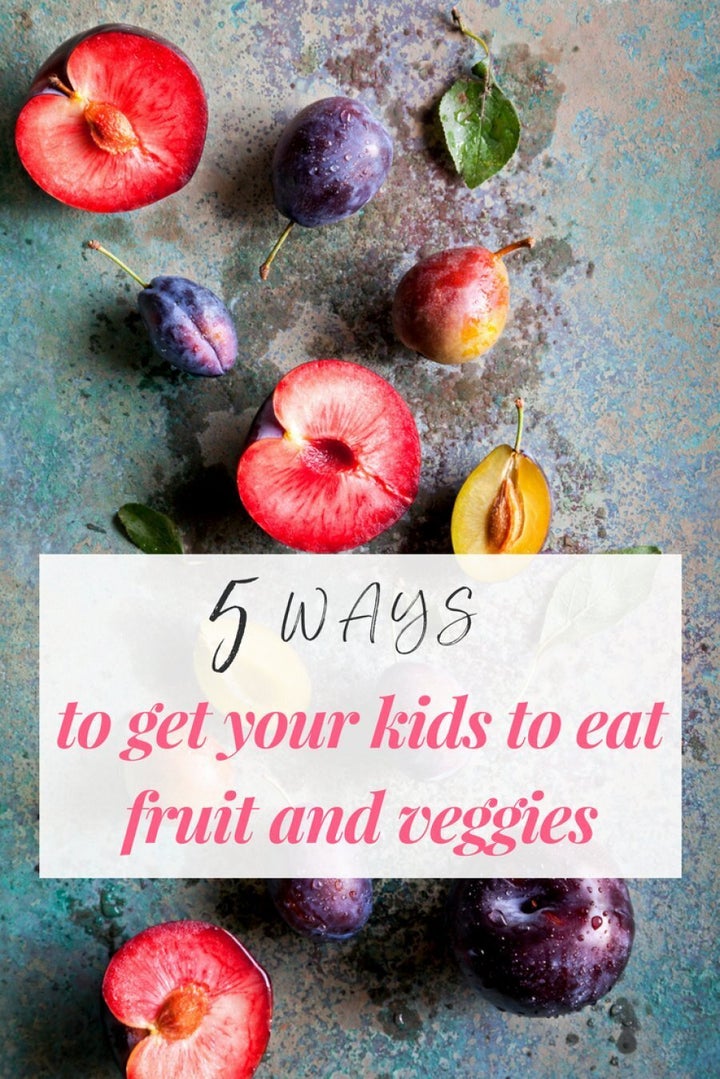 Here are Harper's six tips for helping children eat the rainbow.
1. Don't over-complicate it
Trying 10 different recipes and cooking methods at once can be overwhelming for a child. Instead, introduce simple foods and let them take the lead.
"Try not to overthink it. Go with the flow and let them lead. For instance, if they're reaching for food and wanting what you've got," Harper said. "Try to be aware of their development and what they want."
Feeding a whole family is expensive, but it's important to remember that nutritious food can be very budget-friendly, particularly fruits, vegetables, legumes and grains.
"I know cost is a big part of it. Now that we've got two kids and four to feed, it has really increased the amount of food we buy. We're a one-income family, and I've based these books on a one-income family," Harper said.
"The gnocchi is made with a couple of sweet potatoes, flour and eggs. I want people to be inspired to go, 'I wonder if I could do this with potatoes or pumpkin'. Improvise with what you've got so you don't have to go food shopping 10 times a week to get these special ingredients."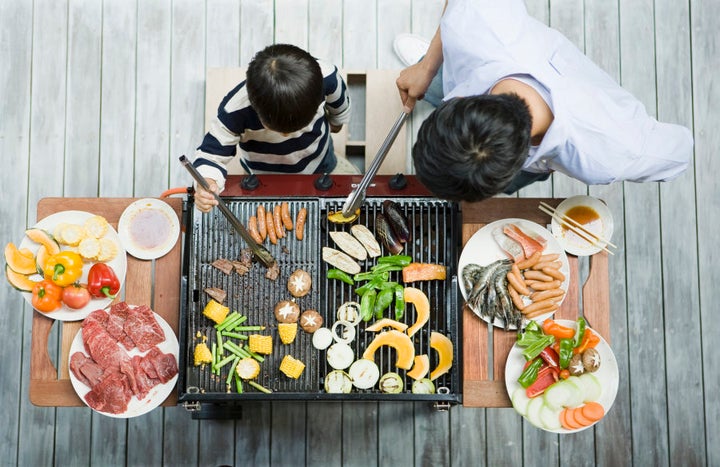 2. Keep it interesting and fun
No adult likes to eat the same vegetable cooked in the same way every single day, and neither do kids.
"Make it fun and adventurous. We have a huge basket of cookie cutters and bread stamps to bring to the table so the kids can feel interactive," Harper said.
It's also a great idea to provide the kids with a range of textures and colours. For instance, use skewers to make colourful combos of various fruits, veggies and proteins.
"It's even using one vegetable and preparing them in different ways. Try grating it fresh, chopping it finely, roasting it, steaming it, turning it into gnocchi. It's just about thinking outside the square," Harper said.
"Give them things to help their progression, not just things that are easy, like pureed foods. It's not stimulating to progress developmentally."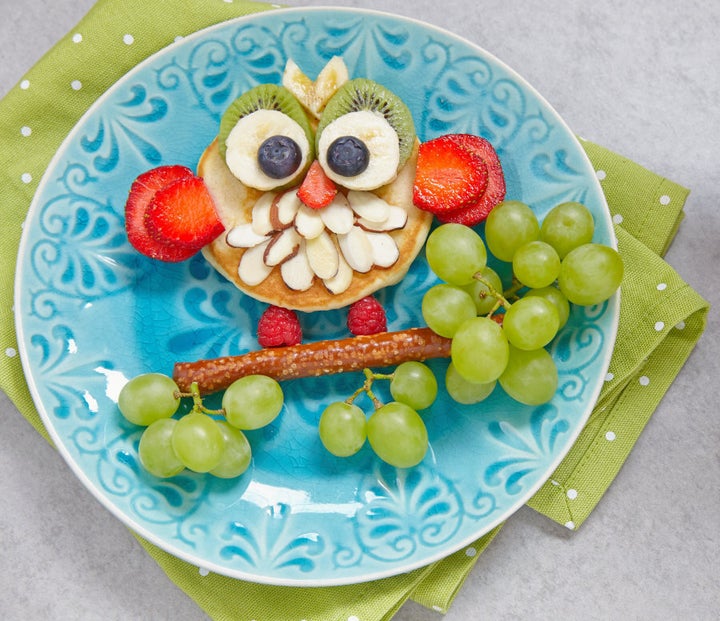 3. Put yourself in their shoes
Parents can often get frustrated that their child doesn't eat a certain food. Harper encourages parents to remember how their own eating preferences change, too.
"Of course they're going to screw their noses up at certain things. On some days they might not eat certain foods, but adults do that too, if you think about it," Harper said.
"Some days I like eggs, some days I don't. That doesn't mean I'm going to stop eating eggs, or that I'm going to stop giving them to my children. I just don't give up."
4. Be patient (and don't give up)
If your child has just spat out the broccoli you spent time preparing, don't beat yourself up.
"Just be resilient yourself. If they say they don't like broccoli one day, just try again another day," Harper said.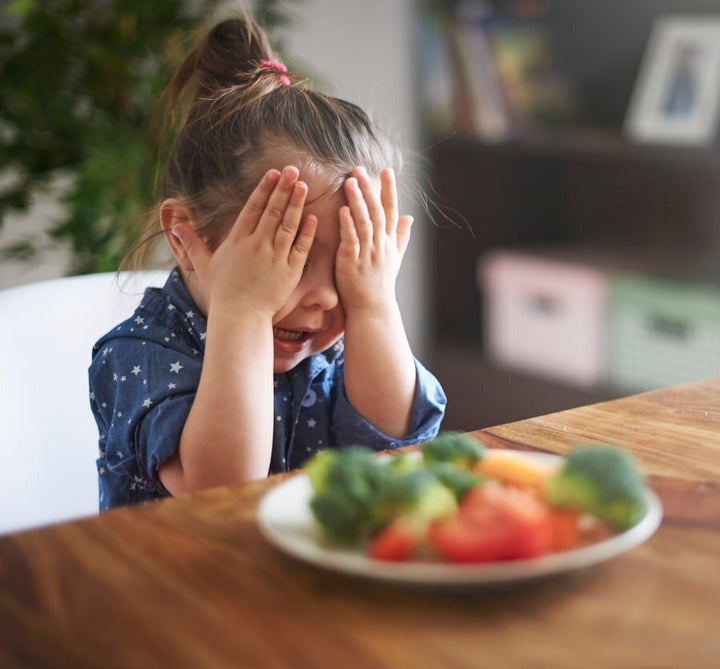 5. Get the kids in the kitchen
"We often let Pip pick a basket of different fruits and vegetables, and we'll come home and cook something that she's picked," Harper told HuffPost Australia.
"When they're feeling a part of it, they feel a sense of ownership, confidence and independence, which they love. And then they really enjoy eating it too, or they'll have a go. They don't eat everything, let's be honest."
If you're worried about the kids making a mess in the kitchen, choose a day during the week where everyone has more time.
"Don't be scared to let them in the kitchen. I know people can be scared about the mess, but maybe pick a day or night in the week where they can be more involved," Harper said.
Using these tips, try these three easy, budget-friendly rainbow meals from Little Pip Eats the Colours of the Rainbow.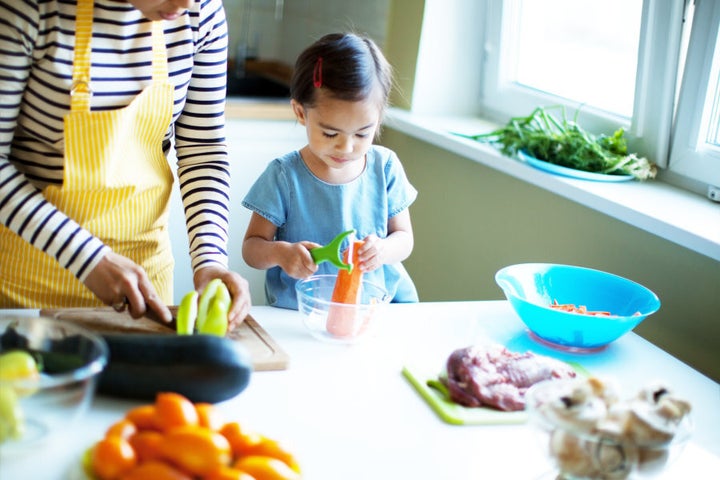 Baked bean brekkie
Source of dietary fibre, iron and vitamins A and C.
Serves one baby/toddler and a family of four.
INGREDIENTS
Olive oil, for cooking
3 French shallots, finely chopped
2 garlic cloves, finely chopped
1 tablespoon finely chopped rosemary leaves
1 × 400g tin butter beans, drained and rinsed
500g fresh tomatoes, roughly chopped
250g cherry tomatoes
4 free-range eggs
METHOD
Preheat the oven to 175°C (345°F). Heat the oil in a medium non-stick ovenproof pan or flameproof casserole dish over a medium heat.
Add the shallot and cook for 3–5 minutes, or until softened and translucent, then add the garlic and cook for a further minute.
Add the rest of the ingredients, except the eggs, and bring everything to a gentle boil. Use a serving spoon to make four little wells in the bean mixture, then crack an egg into each well.
Transfer the pan to the oven and cook for 15–20 minutes, or until the eggs are cooked to the desired doneness. Remove from the oven and allow to sit for five minutes before serving with fresh crusty bread.
Note: Cook eggs completely for babies under 12 months and pregnant mothers.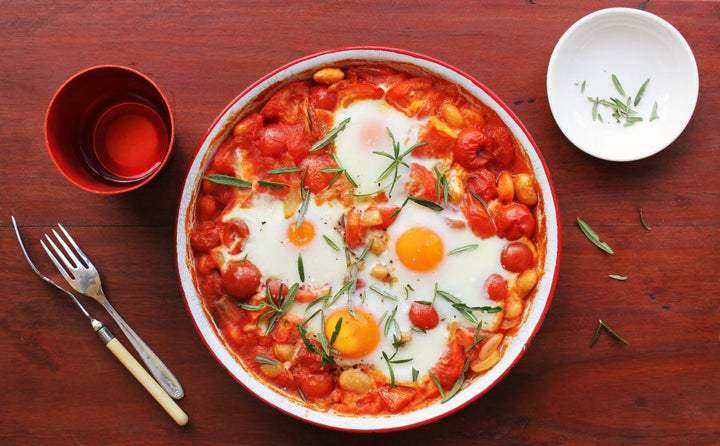 Mini moussakas
Source of iron, protein, dietary fibre and vitmains B2 and B12.
Makes 6-8 mini moussakas.
Serves one baby/toddler and family of four.
INGREDIENTS
Olive oil, for frying
1 onion, finely chopped
3 garlic cloves, finely chopped
1 tablespoon oregano, chopped
500g lean lamb mince
1 x 600g jar tomato passata
3 large or 4 small eggplants, sliced horizontally 1cm thick
260g (1 cup) plain yoghurt
1 egg yolk
200g cheddar cheese, coarsely grated
METHOD
Preheat the oven to 180°C (350°F). Heat one tablespoon of olive oil in a large frying pan over a medium heat and cook the onion, garlic and oregano until soft and fragrant. Add the mince and cook until lightly browned.
Add the passata and simmer for 15 minutes.
Heat another large frying pan over a medium heat. Add two tablespoons of olive oil and fry the eggplant slices, in batches, for three minutes each side, or until lightly golden. Remove from the pan and place on paper towel.
Whisk the yoghurt with the egg yolk until combined.
Line the bases and sides of six 10cm individual ramekins with the slices of eggplant. Spoon the meat sauce into each ramekin until three-quarters full then pour the yoghurt sauce on top of the meat.
Sprinkle grated cheese over each one, and then bake for 20–25 minutes, or until lightly golden.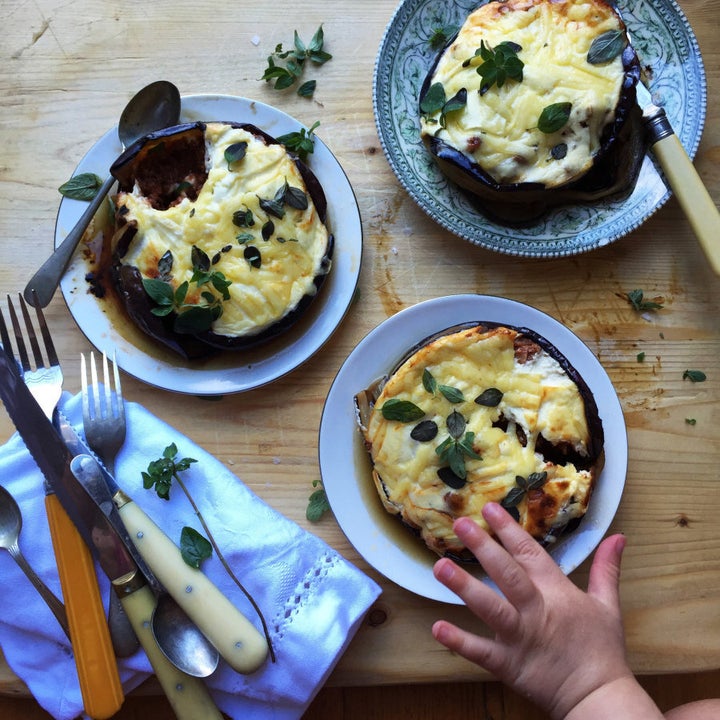 Quick fried rice and easy omelette.
Source of protein and all nine essential amino acids, vitamins A, D, E and B12, and carbohydrates.
Serves one baby/toddler and family of four.
INGREDIENTS
200g (1 cup) white rice
140g (1 cup) frozen peas
2 teaspoons olive oil or butter
1 brown onion, finely chopped
2 cloves garlic, crushed
4 middle-cut bacon rashers, finely chopped
1 carrot, peeled and finely chopped
8 free-range eggs (9 if you want to make a small omelette for your baby)
METHOD
Cook the rice according to packet instructions, adding the peas for the last five minutes of cooking. Drain and set aside.
Heat a large wok or non-stick frying pan over a medium heat. Add one tablespoon of olive oil and cook the onion and garlic until soft and fragrant. Add the bacon and carrot, and cook for a further five minutes.
Add the peas and rice to the frying pan, stir gently, then cook on a low heat for three minutes, stirring occasionally. Remove from the heat.
Whisk two of the eggs with one tablespoon of water. Heat another tablespoon of oil in a small non-stick frying pan over a medium heat. Pour the beaten egg into the pan and stir, using a spatula, in a figure eight motion. Cook for 1–2 minutes, until the egg is almost set before folding the omelette in half and cooking for a further minute. Flip over once the egg is completely cooked. Repeat three more times (or four, if making a single-egg omelette just for baby) with the remaining eggs and serve with fried rice.
Note: Cook eggs completely for babies under 12 months and pregnant mothers.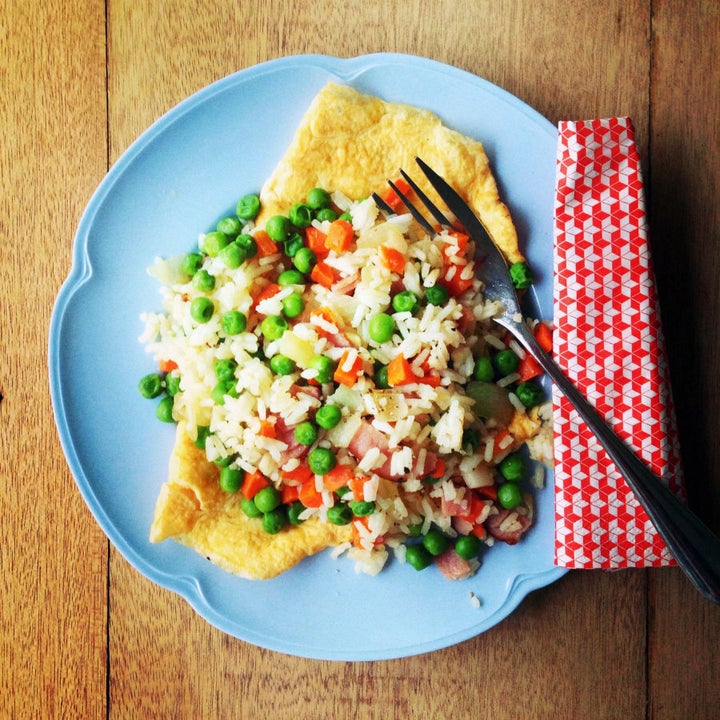 Images and recipes from Little Pip Eats the Colours of the Rainbow by Amie Harper (Murdoch Books, RRP $24.99)

ALSO ON HUFFPOST AUSTRALIA