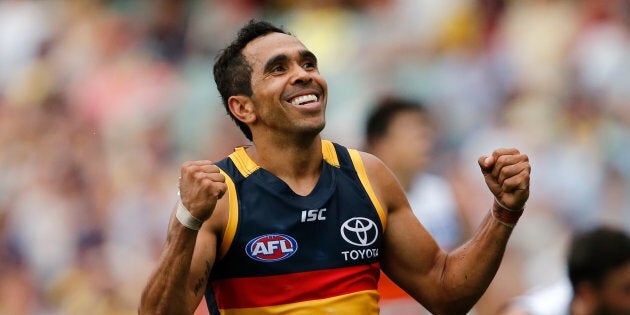 Here we go again. Racist fans in the AFL. Every year they're out there. Still. Yes, in 2017.
Every year the AFL decries them. But every year, they seem to pop up again.
There were also unthinkably awful racial slurs against Betts on social media. Channel Seven in Adelaide tracked down a woman called Maxine Spratt who said particularly nasty stuff which eventually resulted in Facebook removing her account.
Spratt said she just doesn't like certain Crows players, a comment echoed by her boyfriend who said it "wasn't her fault" that she didn't like them. But after reading some of the social media backlash, she eventually said the "s" word in front of Channel 7's cameras. As in, sorry.
Which was the least she could do after mentioning Betts in the same sentence as the words "zoos" and "apes".
Betts has thus far remained silent on the latest outbreak of racism in footy, but you sense he would approve of Spratt's turnaround. Last year, after a raucous Port Adelaide fan threw a banana at him, the 30-year-old called for greater education about racism.
"No one is born racist," he said. "It is ingrained in them somewhere down the track. It all comes down to that, to be educated."
Sadly, it seems we've got a bit more educating to do, especially among fans who wear teal -- although it must be said that Port Adelaide ruckman Paddy Ryder was also racially villified by a Crows fans who has not yet been identified.
Meanwhile, former Sydney Swans star and Indigenous idol Michael O'Loughlin sent a message of support which we think you'll enjoy.
ALSO ON HUFFPOST AUSTRALIA