Chances are you've seen Taline Gabrielian's beautiful photos, whether on her popular Instagram Hippie Lane or elsewhere online.
The Sydneysider is a self-taught raw dessert master, recipe developer and mother of two, who was drawn to raw treats after finding out she had food sensitivities.
"It was around six years ago that I got into making raw treats," Gabrielian told The Huffington Post Australia.
"I had found out through my doctor who ran some tests that I had some food sensitivities to common everyday foods: gluten, dairy, egg, soy and refined sugar.
"I got interested in alternative ingredients to create sweet treats that were free of all the offending foods. I got my food processor out and started making bliss balls and raw treats made from nuts, seeds, dates and superfoods. I loved it."
So much so that Gabrielian began experimenting with new flavours and remakes of classic favourites.
"It was so fun creating new recipes and discovering delicious flavours and combinations. I loved that there was no cooking involved. I got really into it and experimented with more complex recipes from there. I haven't turned back," Gabrielian said.
Now, Gabrielian has a successful app as well as a cookbook, which are full of her droolworthy wholefood plant-based treats.
"I learned how to use natural ingredients to create beautiful and nutritious cakes and treats, and through lots of trial and error, I developed a repertoire of beautiful recipes that I love and share through Hippie Lane."
Here are Gabrielian's top tips for making raw desserts.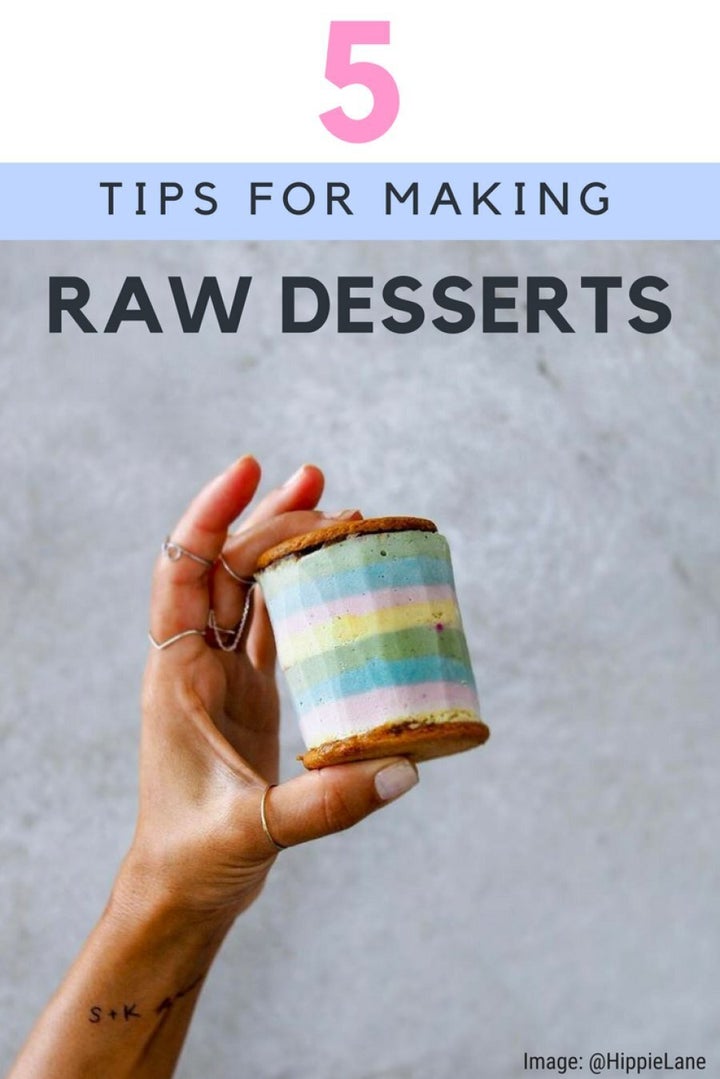 1. Start with easy recipes
When starting out, stick to easy recipes and wait until you feel comfortable and confident before moving onto that huge five layered marbled cake.
"I'd recommend following a good recipe, and starting off with bliss balls and simple treats before moving onto cashew cheesecakes and more complicated recipes," Gabrielian said. "Once you get a taste, you'll convert -- the process and the results are so awesome.
"Raw treat making is actually very simple, you just need to have the ingredients on hand, a good food processor and invest some time."
2. Use the right equipment
"Invest in a good food processor," Gabrielian said.
Although a cheaper appliance may work for bliss balls, spending a little more is worth it if you regularly make raw desserts. Of course, food processors can be used to make other foods like hummus, nut butter, pesto, banana nice cream, curry paste and falafels.
3. Keep the pantry stocked at all times
"Have plenty of nuts, dates, coconut oil and rice malt syrup in your pantry ready to go," Gabrielian said.
"When making raw chocolate, have good quality raw cacao powder and coconut oil to get the best result. I use dark cacao as I find that the chocolate always turn out more smooth and creamy."
4. Experiment
Once you've got the basics down pat, spend time creating your own desserts. You can even take inspiration from your (or your friends' and family's) favourite desserts.
"Experiment with fruit powders for some seriously beautiful natural and eye-catching cheesecake fillings. The colour palette is endless," Gabrielian said.
5. Set and serve your raw desserts properly
After all your hard work, there's nothing more frustrating than going to dig in and the dessert is rock hard, or worse, a sloppy mess. To best serve the dessert, Gabrielian recommends this simple tip.
"Make sure you freeze your treats firm overnight before serving, and allow them to thaw for 15 minutes when you are ready to serve," Gabrielian said.
Ready to get started? Here are two Hippie Lane recipes to begin.
Raw hazelnut brownies
Chocolate and hazelnut: who can resist? These easy no-bake brownies are almost too good to be true. You don't need a whole lot of time or ingredients to get these ones happening -- but you may find it hard to resist the whole slab.
Makes 14. Raw, vegan, dairy free, gluten free and refined sugar free.
INGREDIENTS
270g (2 cups) hazelnuts
265g (2½ cups) shredded coconut
85g (¾ cup) raw cacao powder
650g (4 cups) almonds
⅛ teaspoon Himalayan salt
225g (1½ cups) medjool dates
250ml (1 cup) rice malt syrup
450g (3 cups) chopped sugar-free dark chocolate
500ml (2 cups) coconut milk
METHOD
Place the hazelnuts, coconut, cacao powder, almonds and salt in a food processor and process into small crumbs. Add the dates and rice malt syrup and process until the mixture is well combined and sticky.
Line a 24cm square cake tin, about 5cm deep, with baking paper. Transfer half the brownie mixture to the tin and press down evenly. Set the remaining brownie mixture aside.
To make the chocolate ganache, add the chocolate and coconut milk to a saucepan and stir over medium heat until the chocolate has melted and thickened. Remove from the heat. Using a tablespoon, randomly dollop about six tablespoons of the ganache over the brownie base. Freeze for 10–20 minutes.
Remove the tin from the freezer and press the remaining brownie mixture evenly over the top. Pour the rest of the ganache over the brownie, spreading it evenly.
Freeze for 3–4 hours, or until set.
Remove from the freezer 30–40 minutes before serving. Cut into slices to serve. The brownies will keep in an airtight container in the freezer for 4–6 weeks.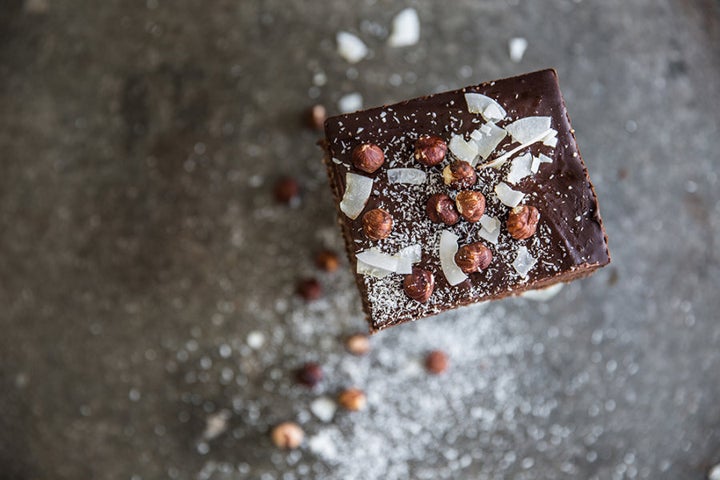 Cherry bites
You won't be able to keep your hands off these babies, made with a combination of dried cherries, coconut, cacao powder and creamy nut butter, then coated in homemade chocolate. A densely satisfying sweet and sour sensation, perfect for when you get that chocolate craving.
Makes 12. Raw, vegan, dairy free, gluten free, refined sugar free.
INGREDIENTS
125g (1 cup) dried cherries
60ml (¼ cup) melted coconut oil
360g (4 cups) desiccated coconut
⅛ teaspoon Himalayan salt
1 teaspoon vanilla powder
2 tablespoons raw cacao powder
2 tablespoons macadamia or almond butter (see tip)
45ml rice malt syrup
375ml (1½ cups) melted coconut oil
175g (1½ cups) raw cacao powder
185ml (¾ cup) maple syrup
METHOD
Place the dried cherries in a food processor and reduce to a paste. Add the coconut oil and coconut and pulse until combined.
Add the salt, vanilla, cacao powder, nut butter and rice malt syrup and process until the mixture sticks together.
Line a rectangular baking tin, measuring about 34 x 23cm and 5cm deep, with baking paper. Press the mixture into the tin and freeze for up to one hour.
Whisk the chocolate coating ingredients together in a bowl.
Place a sheet of baking paper on the kitchen bench, then set a wire baking rack on top.
Remove the baking tin from the freezer and cut the cherry mixture into bite-sized pieces.
Dip each piece in the chocolate and place on the wire rack to allow the excess chocolate to drain off.
Store in an airtight container in the fridge. The cherry bites will keep for 2–3 weeks.
Tip: You can replace the nut butter with seed butter to make this recipe nut-allergy friendly.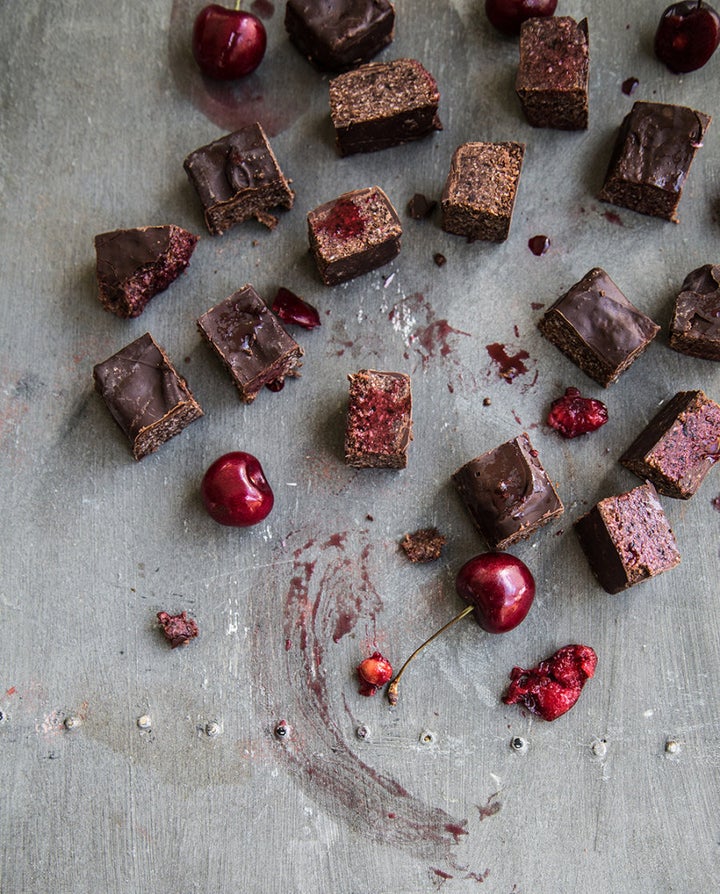 Images and recipes from Hippie Lane: The Cookbook by Taline Gabrielian (Murdoch Books RRP $39.99). Photography by Petrina Tinslay.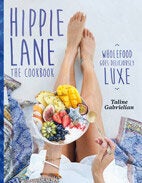 ALSO ON HUFFPOST AUSTRALIA