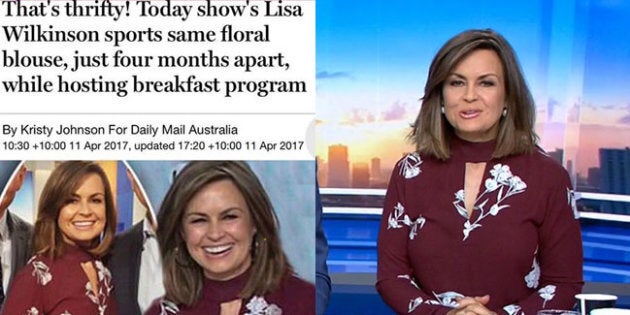 On Tuesday night Lisa Wilkinson was surprised to see herself making headlines for the serious crime of outfit repetition. Responding to an article in the Daily Mail, Wilkinson admitted to her utterly shameful act on social media.
The Mail, which celebrated Karl Stefanovic for solving sexism by wearing the same suit for a year, took Wilkinson to task for having the downright audacity to wear the same top twice in four months. As if any of us aren't wearing the same pair of jeans for weeks at a time without washing them.
Without missing a beat, the day after the news had broke of her absolutely shocking wardrobe double-up, the "Today Show" host sent an incredibly clear and absolutely perfect message by, you guessed it, wearing the exact. same. top.
Not only that, but it seems the blouse, described by the Mail as having a "strategic cut-out just above the bust", may be a new trend completely taking over the studio.
Lisa Wilkinson is the editor-at-large for The Huffington Post Australia.
ALSO ON HUFFPOST AUSTRALIA