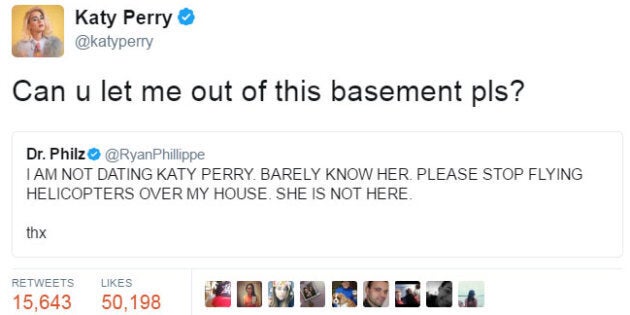 Because it's 2017 and nothing makes sense anymore, we have yet another rumour that a celebrity is trapped in another celebrities basement, or rather... a denial of that fact.
On Monday, actor Ryan Phillippe was frustrated with air traffic buzzing over his residence, and he jumped to what must be the only logical conclusion: everyone thought he was dating Katy Perry.
The pair had been spotted at Elton John's 70th birthday party and there were a few reports of the two "flirting", which took forever to find because the rumour was something pretty much only Ryan Phillippe was talking about.
Shortly after the actor posted the tweet, a few of his followers started to joke with Phillippe that it sounded all a bit too convenient this public denial that Perry wasn't anywhere near his house...
It wasn't until Perry, who must have commando-crawled across Phillippe's basement floor to find a Wi-Fi signal, saw the tweet that it began to get the attention it truly deserved.
OK sure, the pair were having a bit of fun, but this isn't the first time a "there's a celebrity locked in your basement" rumour has swirled. In mid-2016 there was the highly engrossing theory that Beyoncé had kidnapped Sia, and was keeping her locked in a basement, forcing her to write songs for her.
While Sia has been spotted out and about since her basement rumours began, unfortunately things aren't looking so optimistic for Katy Perry.
Just kidding, she's fine. She's totally fine.