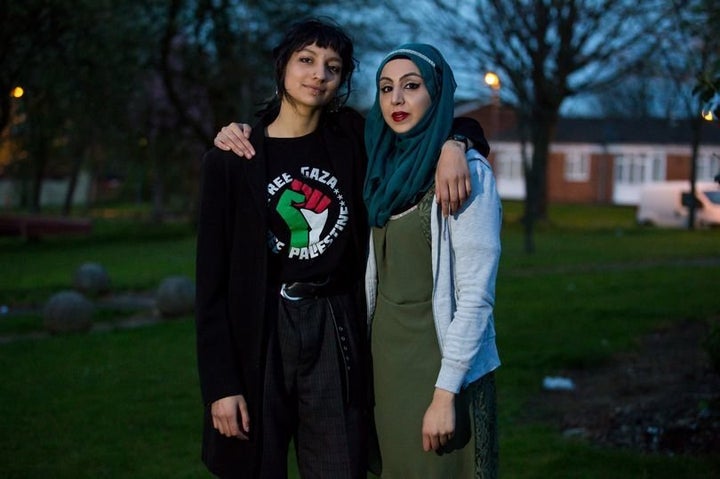 She told The Guardian: "They were saying, 'You're not English,' 'This is a Christian country, not your country,' and 'Go back to where you came from.' I was alarmed and worried for my safety."
Khan said she felt the need to intervene when police failed to respond.
She added: "I wasn't going to let someone who was speaking the truth and being replied to aggressively be put in that position.
"You didn't look like you wanted to be there and I have an intrinsic problem with that."
The EDL tried to downplay the incident.
According to anti-extremist group Hope Not Hate, Ian Crossland responded to a Facebook post of the photo by claiming Saffiyah Khan had disrupted a minute's silence for terror attack victims, adding "she's lucky she's got any teeth left".
The dirty unwashed left wing scrubber was grinning because she managed to disrupt a demo. And the disrespectful witch chose the minute's silence for the victims of the terror attack in Stockholm and Westminster. She's lucky she got any teeth left.
Anita Faster who was at the event, told The Huffington Post UK: "I remember hearing a call for a minutes silence, which as a human being I was fully respected.
"I was, however, shocked to hear the far right members present continue to hurl abuse and profanities at our group. I also recall seeing one EDLer jump over one of their own marshals in an attempt to land a punch on the guy to my left."
A statement from the EDL attempted to counter this narrative.
It said:
Part way through the EDL speeches, one speaker called for a minute's silence to pay respects to the victims of the Westminster jihadist. And part way through that silence a disruptive cry went up from the crowd opposing us. Our token of respect had been shattered and this offended our foot soldiers, some of whom, hearing the victims of the Westminster attack being deliberately insulted, went up to the disruptors to express their annoyance.

An exchange of insults ensued and the disruption continued for longer than the EDL leaders could tolerate, so one of our leaders, Ian Crossland, went up to the confrontation to urge our people to return to hear our remaining speakers. Crossland spoke to a number of people, most of them from the EDL, but he also spoke with a small number of disruptors. It was in this process that the photograph of the long-time Antifa activist was taken.
But the video clearly shows Crossland and other EDL members talking during the silence before the counter-demonstrators started chanting.
Even former EDL leader, Tommy Robinson, said the entire episode was "embarrassing" for the far-right group.
Khan told the Guardian: "The picture definitely is embarrassing for the EDL. Personally I don't know how much I agree with him, but that statement is bang on."
Zafar concluded: "There's no need for anything like this. I'm sure we're more than capable of living together, united despite our differences.
"You just have to walk into Birmingham city centre to see how diverse it is. People of different colours different religions.
"It's an absolutely amazing city and such a beautiful city, and it's nothing like the sort of message that the EDL came here to deliver."