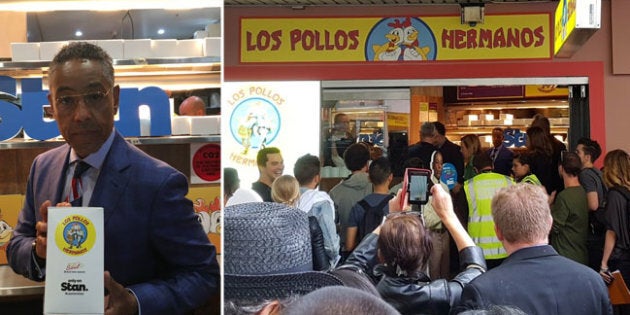 The fictional fast food restaurant features in both 'Better Call Saul' and its predecessor 'Breaking Bad', and is run by the ruthless Gus Fring, played by Giancarlo Esposito who was out in Sydney promoting the chicken and his first appearance in the 'Breaking Bad' prequel.
Needless to say, fans were STOKED, and weren't too worried whatsoever about lining up around the block.
There were also a few counter-offerings being handed out as punters waited in line for their chance to grab some of Fring's famous curly fries.
And while the crowd was chock-full of fans, there was one legend who looked like he didn't really care what all the fuss was about, he was too busy just having a really great day.
In a queue outside a Los Pollos Hermanos pop-up, Giancarlo Esposito managed to find the one person who has no idea what's going on pic.twitter.com/EbupHubqqv

— Harrison Vesey (@harrisonvesey) April 11, 2017
"Better Call Saul" returns for its third season starting April 11 on Stan. The Los Pollos pop up runs until April 12.
ALSO ON HUFFPOST AUSTRALIA