If you think of a big breakfast without eggs, milk, butter or meat, it's natural for people to think, 'Well, what is there to eat?'
But traditional breakfasts like French toast, crêpes and scrambled eggs are possible using just plant-based foods, and they taste just as delicious as the original.
Whether you love sweet brekkies or savoury fare, these scrummy vegan recipes from The Australian Women's Weekly Vegan Kitchen have got breakfast sorted.
1. Chia crêpes with caramelised banana and black sesame
Prep and cook time: 25 minutes, plus standing. Serves four.
INGREDIENTS
¾ cup (110g) plain flour
1 tablespoon white chia seeds
2½ tablespoons coconut sugar
½ teaspoon ground cinnamon
1 cup (250ml) almond milk
½ cup (125ml) water, approximately
30g coconut oil, melted
4 sugar bananas (520g), halved lengthways (see tip)
⅔ cup (190g) coconut or vegan yoghurt
2 tablespoons blueberries
2 teaspoons black sesame seeds
METHOD
Combine flour, chia seeds, two teaspoons of the coconut sugar and the cinnamon in a medium bowl. Make a well in the centre and gradually whisk in combined almond milk and water, until smooth. Stand for 20 minutes.
Heat a 26cm (top measurement) non-stick frying pan over a high heat. Lightly grease with some of the coconut oil. Pour ½ cup of the batter into the centre of the hot pan, tilting pan to coat the base in a thin layer, and cook for one minute or until browned. Turn, cook on the other side until golden. Transfer to a plate and cover with foil to keep warm. Repeat with remaining batter, greasing with coconut oil, to make a total of four crêpes.
Reduce heat under pan to medium-high heat. Sprinkle remaining sugar on cut-side of the banana halves. Cook cut-side down in pan for one minute or until caramelised.
Divide crêpes between plates. Top with caramelised banana, yoghurt and blueberries, and sprinkle with sesame seeds.
Tip: Sugar bananas, also known as finger bananas, are smaller and sweeter than regular bananas. If unavailable, halve regular bananas lengthways and crossways.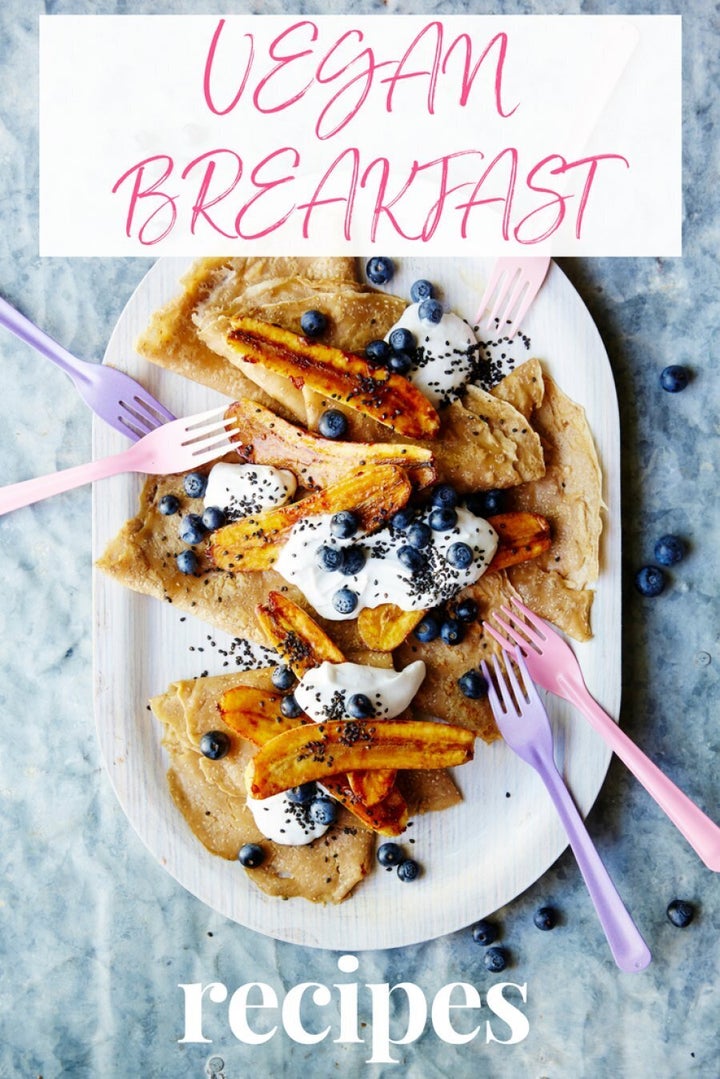 2. Scrambled tofu wraps
Prep and cook time: 20 minutes. Serves four.
INGREDIENTS
600g firm tofu
1 tablespoon olive oil
1 tablespoon tamari
30g baby spinach, sliced thinly
1 large tomato (220g), chopped
2 green onions, chopped finely
1 cup (240g) canned refried beans with chilli
4 x 21cm red quinoa wraps or tortillas
1 medium avocado (250g), chopped
⅓ cup loosely packed fresh coriander leaves
Hot chilli sauce, to taste
1 lime (65g), cut into wedges
METHOD
Pat tofu dry with paper towel. Crumble tofu into pieces with your fingers.
Heat the oil in a large frying pan over medium heat. Cook tofu and tamari, stirring, for two minutes or until warmed through. Add spinach, tomato and green onion and cook for one minute. Season to taste. Remove from pan and cover to keep warm.
Stir beans in a small saucepan over low heat until hot. Spread beans on wraps and top with tofu mixture, avocado, coriander and sauce. Roll up to enclose -- tie with kitchen string, if you like. Serve with lime wedges.
Tips: For a milder flavour, you can use plain refried beans and omit the hot chilli sauce. The beans can be heated in the microwave. The recipe is best made close to serving.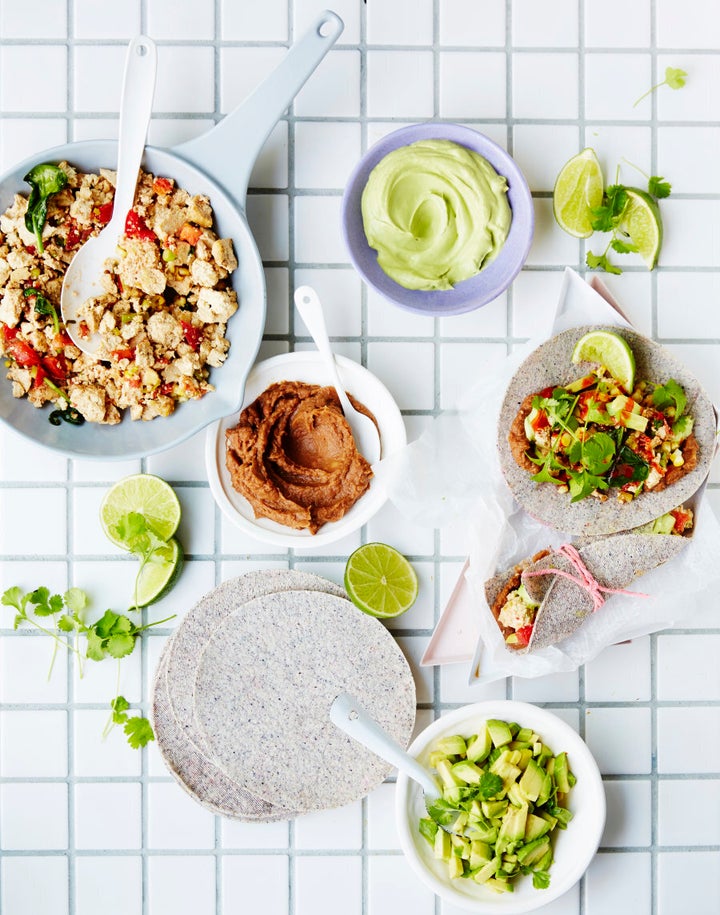 3. Spiced pecan French toast
Prep and cook time: 25 minutes. Serves four.
INGREDIENTS
1½ cups (375ml) coconut milk
2 teaspoons vanilla extract
½ cup (125ml) pure maple syrup
⅓ cup (35g) hazelnut meal
1 tablespoon nutritional yeast flakes (see tips)
½ teaspoon mixed spice
1 cup (120g) pecans, chopped finely
8 x 50g slices thick multigrain sourdough bread
40g vegan margarine spread
250g mixed berries
2 teaspoons icing sugar, for serving
Edible flowers, optional
METHOD
Whisk coconut milk, vanilla, two tablespoons of the syrup, the hazelnut meal, yeast and mixed spice in a shallow dish. Place chopped pecans on a plate. Soak bread in coconut milk mixture, one at a time, for one minute each side. Press bread onto pecans.
Heat half the margarine in a large frying pan over low-medium heat. Cook bread, in batches, for two minutes each side or until golden, adding remaining margarine halfway through cooking.
Divide french toast among plates, and top with berries and remaining syrup. Dust with icing sugar and serve topped with edible flowers.
Tips: Nutritional yeast is deactivated yeast that is a complete protein. It is generally fortified with B12, an important nutrient for vegans that is lacking in a meat-free diet. It is available from health food stores.
Swap almond meal for hazelnut meal and olive oil for vegan margarine spread.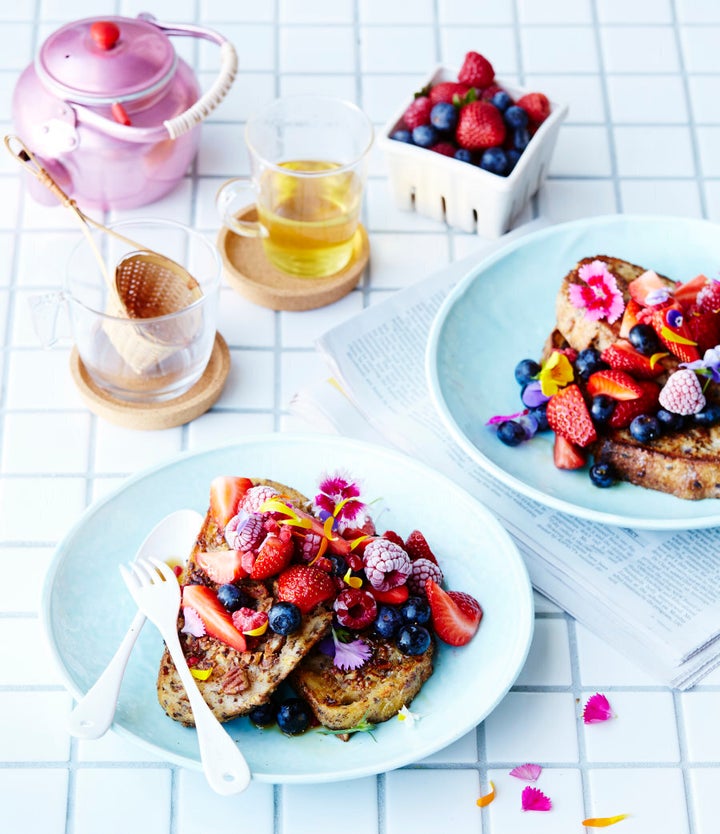 4. Fig and orange chia puddings
Prep and cook time: 15 minutes, plus standing and refrigeration. Serves four.
INGREDIENTS
5 (80g) dried turkish figs
1 cup (250ml) water
2 cups (500ml) almond milk
½ teaspoon vanilla bean powder
1 tablespoon pure maple syrup
1 teaspoon finely grated orange rind
½ cup (80g) white chia seeds
1 cup (280g) coconut yoghurt
150g blueberries
150g blackberries
2 (100g) small fresh figs, cut into wedges
½ cup (75g) cherries
¼ cup edible flowers, optional
METHOD
Place dried figs in a small bowl with the water and stand for at least two hours. Drain figs and discard liquid.
Blend drained figs in a high-powered blender with almond milk, vanilla powder, syrup and rind until smooth. Transfer mixture to a medium bowl and whisk in chia seeds until combined.
Pour mixture into four ¾-cup (180ml) glasses, bowls or dishes. Cover and refrigerate for at least two hours, or overnight.
Blend yoghurt and half of the blueberries until smooth: spoon evenly among glasses.
Serve puddings topped with blackberries, remaining blueberries, fresh figs, and cherries. Sprinkle with extra zested orange rind, chia seeds and edible flowers, if you like.
Tips: To make orange zest to decorate, use a zester to remove the rind from half an orange. (Or, peel rind thinly from orange using a vegetable peeler, remove any white pith and cut rind into long thin strips.)
Puddings are best made the night before serving. They will keep for up to three days in the fridge.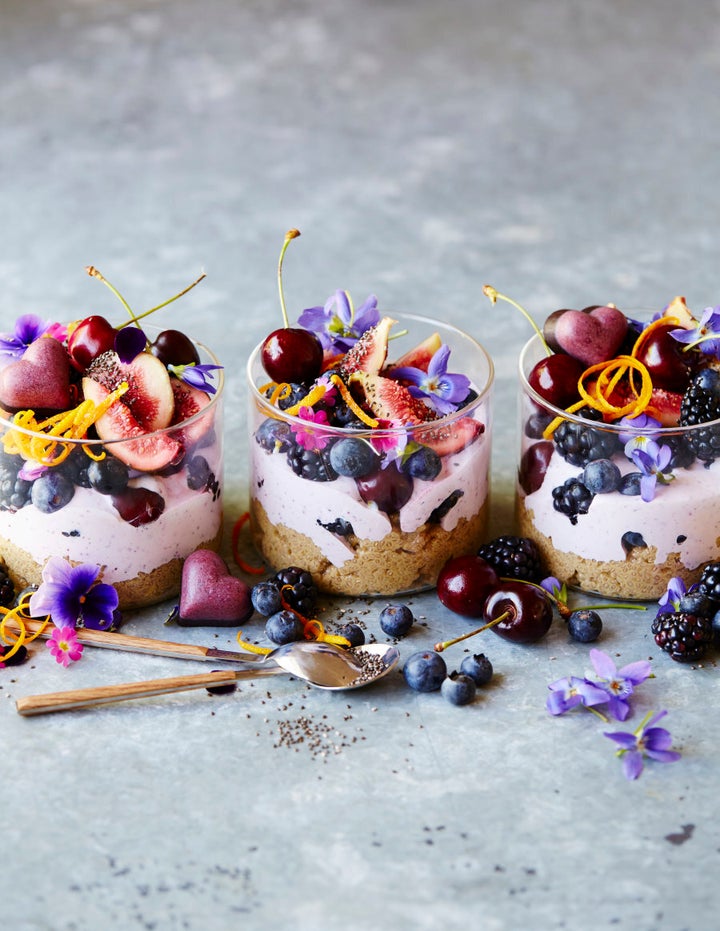 Recipes extracted from The Australian Women's Weekly Vegan Kitchen, RRP: $49.99. Available at all good bookstores and online.

ALSO ON HUFFPOST AUSTRALIA