Kathrine Switzer smashed gender barriers 50 years ago when she became the first woman to officially complete the Boston Marathon. But the most iconic part of this record-breaking endeavor didn't happen at the finish line.
Switzer, then 20, donned lipstick and earrings when she showed up to the 1967 Boston Marathon as the race's first official female competitor. Race organizers had unknowingly granted her this historic title because she used her initials, K.V., to register for the traditionally all-male event ― a move she has said wasn't intentionally misleading.
As she made her way to the starting line, then-boyfriend Tom Miller encouraged her to wipe off her lipstick, worried she might provoke race officials. But Switzer refused.
She had only run a couple of miles before the marathon's director, Jock Semple, took notice of her. He charged at Switzer and attempted to forcibly remove her bib marked with the number 261.
"A big man, a huge man, with bared teeth was set to pounce, and before I could react he grabbed my shoulder and flung me back, screaming, 'Get the hell out of my race and give me those numbers!'" Switzer wrote in her 2007 memoir.
Miller helped fend off the attack, but press photographers captured the tense scene, which became a symbol of sexism in sports. The image thrust Switzer into stardom and inspired her decades-long advocacy for women's equality.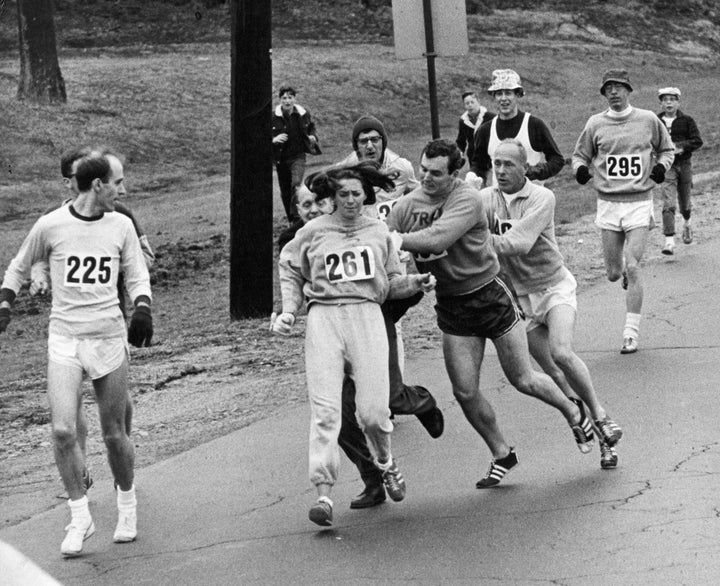 Fifty years later, Switzer completed the race once again. The 70-year-old running pioneer wore "261" on her race bib as she crossed the finish line at the 121st Boston Marathon on Monday. She ran the 26.2-mile journey from Boston's suburbs to Copley Square in roughly 4 hours and 45 minutes ― just 25 minutes slower than her 1967 time.
Switzer ran this year's race alongside 125 teammates to benefit her foundation, 261 Fearless, which she founded in 2015 with the vision of empowering women through running.
Switzer, who ran her last marathon in 2011, told The Boston Globe that her training techniques have evolved since preparing for the 1967 Boston Marathon, although at least one pre-race ritual hasn't changed.
"I never go out of the house without lipstick, much less run a race without it," Switzer told the publication earlier this month. "Definitely. Lipstick, earrings, eyeliner, the whole thing. That's part of it."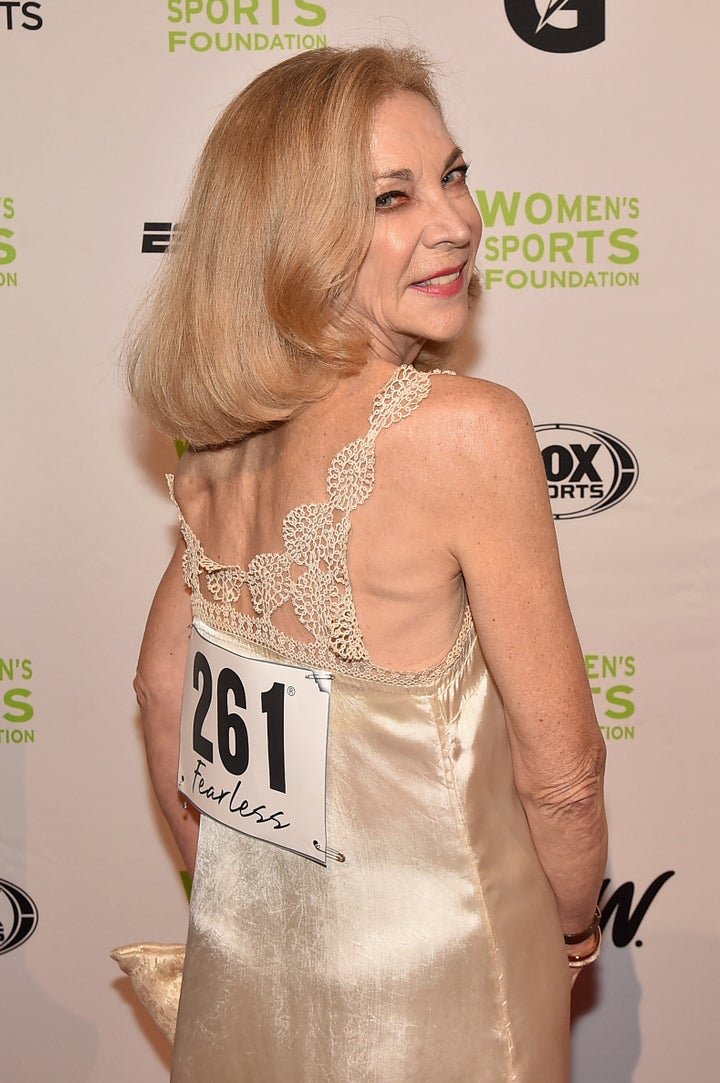 Switzer wasn't the first woman to finish the Boston Marathon. In 1966, Bobbi Gibb, who will be a grand marshall for this year's race, ran alongside the men even though she wasn't allowed to register. Boston Marathon organizers didn't officially allow women to race until 1972.
Switzer's advocacy work helped pave the way for female athletes across the world. She played a major role in getting the women's marathon accepted as an official Olympic event in 1984, and she was inducted into the National Women's Hall of Fame in 2011 for dedicating her career to "creating opportunities and equal sport status for women."
The Boston Athletic Association announced Thursday that it will retire number 261 in Switzer's honor after she runs this year's marathon.
"When I finished Boston in 1967, a journalist asked me what I was trying to prove," Switzer told Competitor.com in March. "I said I wasn't trying to prove anything, I just wanted to run."
"Once you start running, you question other things in your life that don't make you happy," she added. "I often say, 'If you've run a marathon, you can do anything!'"
This story has been updated to include information about Switzer's finishing time on Monday.