What would you do for a free car? How about lock lips with it for more than 48 hours?
People are engaged in a bizarre kissing contest in Texas that will reward the last person slobbering on the vehicles with a free Kia.
Since 7 a.m. on Monday, contestants have been pressing their lips to two different cars inside of an Austin dealership as their marathon is broadcast to Facebook Live.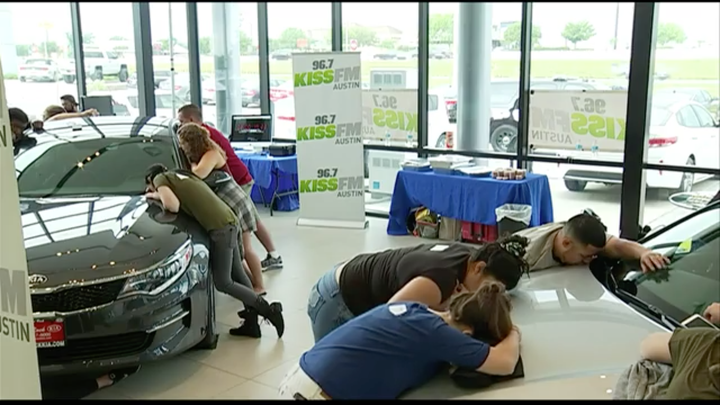 The "Kiss a Kia" contest started with 20 people, Fox 7 reported. By Tuesday afternoon that number was down to 11.
Different candidates left for "different reasons," a representative for iHeart radio station 96.7 KISS FM, which is hosting the event, told The Huffington Post.
"Some left voluntarily, some were called out for their lips coming off the car," said iHeart Media Director Zachary Wellsandt. "Everyone has been in great spirits, even those called out have taken it well and talked to us on their way home to some well-earned sleep."
Fortunately, there are 10-minute breaks each hour — not that it makes idly standing, bending or kneeling next to a car for hours on end a cake walk, especially when you consider they're also fighting a lack of sleep.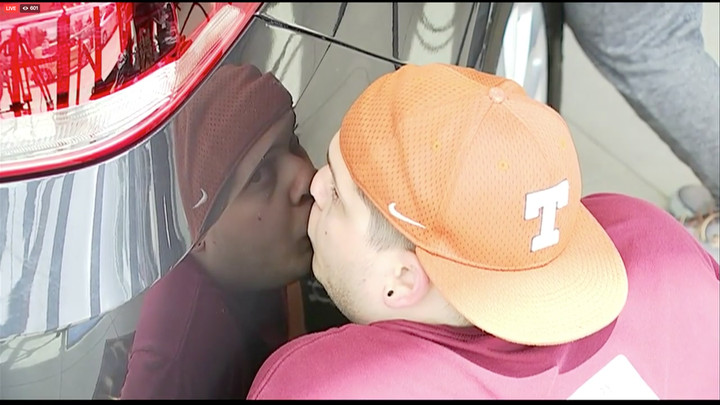 "Your nose is so red," a female contestant told a male competitor as they came up for air during a quick break on Tuesday.
"Yeah, that was miserable," he replied.
"Every hour seems longer than the one before it," she remarked.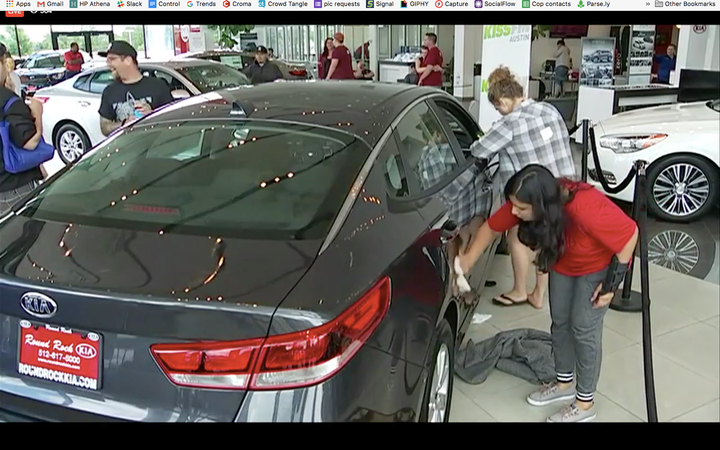 After each break, the participants must rotate places ― requiring a little wipedown of the car by their place taker. Those who were standing before the break will also have to sit in the next hour, and vice versa.
If after 50 hours there are people still hanging on, one of their names will be drawn at random to determine the winner, Wellsandt said.
This article exists as part of the online archive for HuffPost Australia. Certain site features have been disabled. If you have questions or concerns, please check our
FAQ
or contact
support@huffpost.com
.