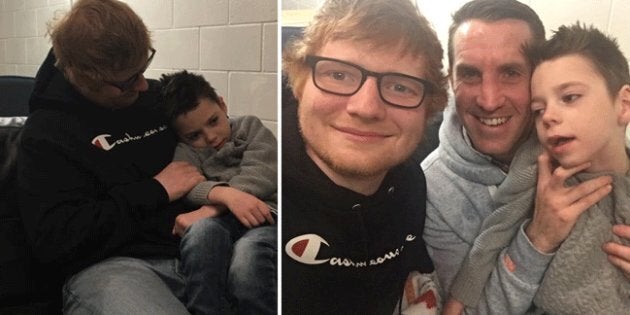 Ed Sheeran made the dream of one young fan come true, by surprising the six-year-old with a backstage visit.
Ollie Carrol and his younger sister Amelia both suffer from a rare genetic condition known as Battens disease. His parents have been running a campaign called Ollie's Army Battling Against Battens, where they regularly spoke of Ollie's love for Sheeran's music on social media. On Sunday, Ollie got his wish to meet the singer backstage.
In the post, Ollie's parents explain how the condition has affected their son in such a short amount of time:
Ollie who once knew all the words to Ed's song, who used to sing along can no longer talk.

Ollie who used to stand at the television watching Ed's videos can no longer stand and see.

However the power of Ed's voice has pulled Ollie through the hardest and darkest of times.

Ollie listens to Ed's songs through his many hospital admissions, his songs have even helped him get through brain surgery.

As soon as Ed walked into the room yesterday and spoke Ollie's eye lit up and a smile spread across his face.

This image was priceless.
Ed spent time with the family, taking selfies and asking questions about Battens. He also wore an Ollie's Army bracelet, which are sold to raise awareness and lend support to their cause.
Battens disease affects the nervous system, and can cause symptoms like seizures, blindness, dementia and a loss of motor skills. Battens is not preventable, there aren't treatments for the disease and it is always fatal.
"As parents," the Carrolls wrote on Facebook, "we can not thank Ed, his team and every single person who shared Ollie's video, and emailed Ed's management team enough".
"Our dying boy wished to meet his hero, last night that wish was granted. ❤️️"
ALSO ON HUFFPOST AUSTRALIA