There's a lot of love for Westpac this Friday, and plenty of anger too. It's all because Australia's second largest bank has overhauled its policy of lending to coal mining projects.
An announcement by Westpac overnight effectively killed off any potential commitment by the bank to help fund Indian mining giant Adani's proposed Carmichael "mega coal mine" in Queensland.
Canavan reportedly has urged Queenslanders to take their mortgage business elsewhere.
But activists are crowing about a decision which they believe will be good for the climate, and even better for the Great Barrier Reef -- given that huge ships using nearby bulk coal terminals would expose the Reef to potential environmental disaster.
"Westpac's decision to rule out funding for new coal basins -- including the Adani mega mine -- is an enormous blow to this project and the future of coal in Australia after sustained community pressure from around the country," said Blair Palese, CEOP of climate activist group 350.org.
"The Federal and Queensland governments are becoming increasingly isolated as businesses and international investors refuse to touch coal and the Adani project."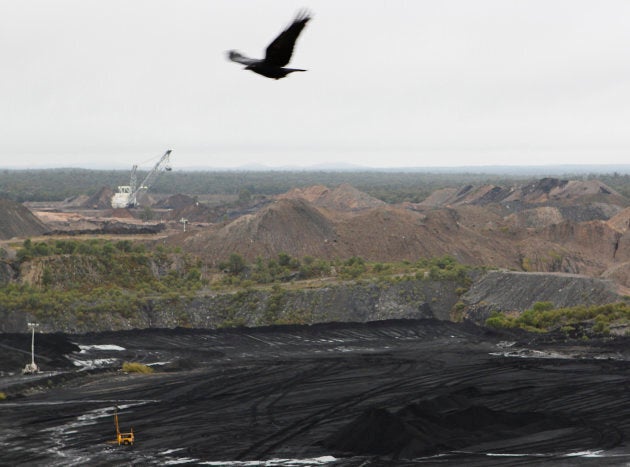 Meanwhile the Australian Youth Climate Coalition called the Westpac decision a "no-brainer".
"It is time for our politicians to grow a spine, show some much needed climate change leadership and send Adani packing," AYCC National Director Gemma Borgo-Caratti said.
"We commend Westpac for this move and call on the other Australian banks to outline concrete policies that will see them rapidly move away from fossil fuels and toward investment in clean energy solutions."
That's a far cry from a month ago, when Borgo-Caratti told HuffPost Australia: "Westpac are the only big bank who haven't distanced themselves from Adani's controversial coal project, and young people are sick of them dragging their feet instead of safeguarding our future."
Here's part of the statement Westpac released overnight.
"As a major lender Westpac is committed to supporting climate change solutions that will drive the transition to a more sustainable economic model, and we have increased our lending target for this sector from $6.2 billion to $10 billion by 2020 and to $25 billion by 2030.

"In addition, we will limit lending to new thermal coal projects to existing coal producing basins only, and where the energy content of the coal ranks in the top 15% globally."
It's the second paragraph that's the important one. It sets specifics for the type of project Westpac will invest in. The bank explained this point at greater length in the bullet points of its overnight press release, where it said that as part of its climate change action plan, it will have.
"Tighter criteria for financing any new coal mines. Financing for any new thermal coal projects limited to existing coal producing basins and where the calorific value of coal meets the energy content of at least 6,300kCal/kg Gross as Received – i.e. projects must rank in the top 15% globally."
Bottom line, Adani's proposed Carmichael mine is in the Galilee Basin, and does not meet those criteria. Westpac won't have a bar of it. The question is: will anyone?
"Two weeks ago we advised NAIF that its company directors would be in breach of their duties if they approved a loan for the Aurizon or Adani rail projects in the Galilee Basin," Barden said.
"NAIF must have regard to the best practice of Australian commercial financiers like Westpac when it makes its decisions.
"It would appear impossible for NAIF's directors to make a decision to support the Adani or Aurizon railway proposals that would cart poor quality coal from the Galilee Basin to the Great Barrier Reef coast and stay within the law."
ALSO ON HUFFPOST AUSTRALIA