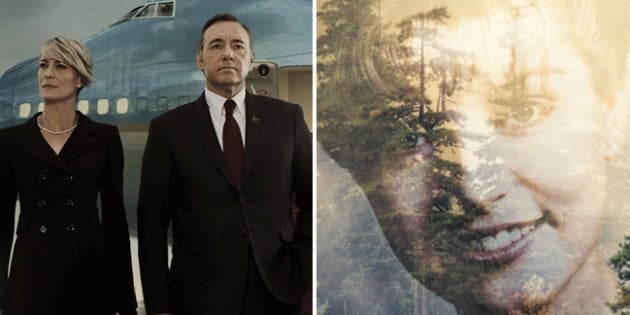 Let's be honest, the best feeling in the world is when someone cancels plans on you, and you can spend the evening on the couch with tons of unwatched TV (and maybe a bottle of wine or three to share).
May also sees the beginning of the limited event return to "Twin Peaks". The iconic series by David Lynch comes back for an 18-part series bringing back the all-star cast and picking up 25 years after the murder of Laura Palmer.
Just to help you plan accordingly, here are some highlights as to what's being added to Netflix and Stan in May. Titles in bold will be arriving on Stan, unbolded on Netflix.
May 1
"In the Shadow of Iris"
"The Day After Tomorrow"
"Heritage Falls"
"The Tribe"
"Citizenfour"
May 2
"Maria Bamford: Old Baby"
"Father Brown": Season 1
"Dear John"
"The Notorious Bettie Page"
"30 Days of Night"
May 3
"Hard Candy"
"Eagle Vs. Shark"
May 4
"In Bruges"
"Oranges and Sunshine"
"Rabbit Proof Fence"
May 5
"Sense8": Season 2
"Handsome: A Netflix Mystery Movie"
"The Mars Generation"
"Spirit: Riding Free": Season 1
"Into the Wild"
"Father Ted": Season 1, 2, 3 + Xmas Special
"In the Night Garden": Season 5
May 6
"Unforgiven"
"Knowing"
"Insidious"
May 7
"Disney's The BFG"
"The Fugitive"
"Lassie"
"Not Suitable For Children"
May 8
"Drunk History": Season 2
"A Single Man"
May 9
"Sing Street"
"Paranormal Activity"
"A Few Best Men"
May 10
"Inside Amy Schumer": Season 3
May 12
"Master of None": Season 2
"Anne with an E": Season 1
"Mindhorn"
"Sahara"
"Get Me Roger Stone"
"All Hail King Julien: Exiled": Season 1
"Revolutionary Road"
"There Will Be Blood"
"Fame"
May 13
"Garden State"
"Zoolander"
May 14
"The Devil's Advocate"
"The Notebook"
"Chicago"
"The English Patient"
"Shall We Dance?"
"The Iron Lady"
May 15
"Stephen King's A Good Marriage"
"The Quiet Ones"
"The Others"
"The Tunnel"
May 16
"Tracy Morgan: Staying Alive"
"Fantastic Mr. Fox"
"Key & Peele": Season 2-5
"The Station Agent"
May 17
May 18
"House of Wax" (2005)
"Workaholics": Season 6
May 19
"Unbreakable Kimmy Schmidt": Season 3
"The Keepers": Season 1
"Laerte-se"
"Scream"
"Scream 2"
"Scream 3"
May 20
"BLAME!"
"She's All That"
"Avatar: The Last Airbender": Season 3
May 21
"She's The Man"
"Kinky Boots"
May 22
May 23
May 24
"Trainspotting"
"Reign": Season 2
May 26
"Bloodline": Season 3
"War Machine"
"Joshua: Teenager vs. Superpower"
"Nathan For You": Season 3
May 30
"F is for Family": Season 2
"House of Cards": Season 5
"Sarah Silverman: A Speck of Dust"
"Ben-Hur"
"War Dogs"
May 31
"Peaky Blinders": Season 3
ALSO ON HUFFPOST AUSTRALIA