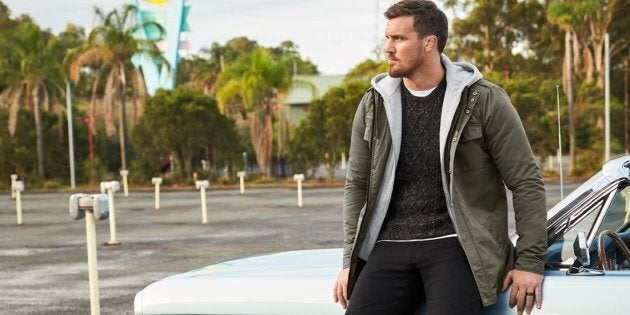 Think about it. When was the last time you read a headline or heard the phrase 'plus size men'?
Women are referred to as 'plus size' in the modelling industry if they're a size 12 or up, and everyday women are considered to fall into that category when shopping for clothes in sizes larger than a 14.
But what about the guys? While there are a few obscure retailers catering to 'big and tall' men, for the most part bigger men aren't really catered for. One could argue that it's not a bad thing as men's bodies are not dissected and discussed publicly in the same way women are, but sadly scrutiny of men is on the rise -- without offering solutions to males who fall into the category.
"I think that men's bodies are, unfortunately, becoming more scrutinised by the media in recent years. This is largely because advertisers make a lot of money from creating a feeling of insecurity in regards to ourselves and our appearance. Certainly not to the same extent as women's bodies, but it is definitely on the increase," Olivia Patrick, Clinical Psychologist and Director of Shape Your Mind told HuffPost Australia.
"The term 'plus size' originally came from the clothing industry and has tended to be used for women, whereas men have traditionally had the 'big and tall' label applied to them -- this of course doesn't actually describe the body shape of all 'plus size' men, so it can feel very dismissive of men who might be overweight, but not tall, for example."
I think there is a dearth of plus-size options for both men and women when it comes to shopping.
"The term 'plus size' is itself quite controversial -- some love the description and feel positive about it, whereas many others feel that by describing people as 'plus size', we are automatically implying that human bodies should be categorised as 'normal' and 'not normal'. In other words, 'plus size' could be seen as a marginalising term that embodies societies fat-shaming tendencies," Patrick said.
Patrick believes that the public would benefit from seeing a more diverse range of body shapes and sizes within advertising toward men.
"Rather than specifically discussing or giving explicit attention to 'plus size' men, I think it is more beneficial that we see a diverse range of men of all different shapes and sizes being represented in the media, without feeling the need to refer to their weight or size at all," Patrick said.
"I think there is a dearth of plus-size options for both men and women when it comes to shopping, and it is one of the biggest challenges that overweight people face when it comes to being able to feel confident in their skin. No matter what people's size, everyone wants to be able to find clothes that they love and can feel comfortable in and far too few brands offer sizes beyond the national average."
Though there are few, plus size male fashion bloggers (such as @guyoverboard) are aiming to prove that bigger men can be stylish, too.
One Aussie brand identified said dearth and decided to do something about it. Johnny Bigg is a offshoot brand by Tarocash and caters for men who don't fit into mainstream menswear brands.
"Our brand is unique in this market. It's the only fashionable, modern, contemporary brand that offers guys that are bigger (or taller) products that they can go out in -- be it casual, smart casual or formal," CEO Julian Hayman told HuffPost Australia.
"No one is offering this customer clothing that is modern and contemporary, nor are these other stores in mainstream shopping centre environments. Typically you find that this guy has to travel to a destination environment and when they get there they are finding that they are very outdated and old school, and their products are very conservative."
Patrick said that some men she sees in her clinic feel shame about their physical appearance and in turn that makes them avoid activities such as socialising and shopping.
"The men that come to see me are men that are not comfortable with their bodies and their relationship with food, so they aren't representative of all larger men of course, however many of them experience a lot of shame about their bodies and this impacts significantly on their self-confidence. Body shame impacts on the kinds of social and physical activities that they participate in, often significantly limiting them, which then has the knock on effect of further decreasing their confidence and sense of self-worth," Patrick said.
"Up until now women have certainly been the focal point in this market. There are five or six different brands out there with hundreds of stores catering to women within the plus size market, but these guys have absolutely been an afterthought. Through our mainstream businesses we realised there was an opportunity to cater to these men. We looked to the U.K and The U.S and discovered that no one was dressing these men in a modern, stylish, contemporary way. It's our job to make this guy feel like every other guy. Just because he is big, or tall, or has large muscles, why should he feel different to anyone else?" Hayman said.
Patrick believes that although there isn't the same pressure on men's appearance, it is increasing.
"I think many men do care about their bodies and their physical appearance, particularly in the context of increasing societal pressure to look a certain way. The pressure on men is not as extreme as the pressure on women, but it is definitely there," Patrick said.
As for the success of Johnny Bigg, it speaks to a greater need for products tailored to these men who have, up until now, been an afterthought.
"The response has been phenomenal, and I am not just saying that because I started the brand. From two stores at launch we now have 22 stores, and aim to have 80 around Australia. We have testimonials from men telling us that they are so pleased that finally someone has thought of them. Yes we are in business, but for me and my team it has been so nice to see a need satisfied for a guy who hasn't been considered in the past. People walk away from our stores feeling good about themselves. It's so nice to see people who are very self conscious walk away feeling differently," Hayman said.
For men who are feeling low on confidence or struggling with body image, there is help available.
"If a man is struggling with body image or the way he feels about his weight and feels that he might need some assistance, seeking professional psychological support from a therapist who specialises in body image issues can be very helpful. The Butterfly Foundation and the Centre for Eating and Dieting Disorders are both great resources for helping people find an appropriate psychologist," Patrick said.
"We need to be kind to ourselves and to remind ourselves that we are worthy of respect, no matter what our shape and size might be. If we believe that we are worthy of respect, it becomes much easier to treat our bodies with respect and to take care of it."
ALSO ON HUFFPOST AUSTRALIA
Why Do We Talk About Plus Size Women But Not Plus Size Men?