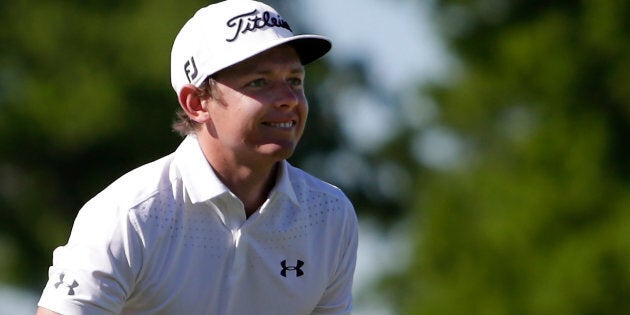 When people say "I'm lost for words", that's technically not true because they've at least managed to squeeze out those four words.
But young Aussie golfer Cameron Smith was literally lost for words after his breakthrough win on America's PGA Tour overnight. And you know what? By saying nothing, he pretty much said everything about how much the win meant to him.
Watch. Enjoy. Be charmed to bits as seasoned golf commentator Dottie Pepper asks Smith what this win means for his career, and he just... well he just... yeah. Like we said, just watch.
In a follow-up interview not long afterwards, Smith finally managed to find a few strangled words.
"Yeah, it's something I've worked on pretty hard," he said of his short game, before tailing off into another solid stretch of not being able to eke out a single word.
Smith is 23. Like his namesake -- the Australian rugby league captain Cameron Smith -- he's a Queenslander. Cam Smith the golfer has had a handy career since turning pro in 2013. His highlight was finishing fourth at the 2015 U.S. Open. But he'd never won a tournament.
Until now. Smith won the Zurich Classic of New Orleans overnight alongside Swede Jonas Blixt. This was a teams event, but the win still counts as an individual victory, which means Smith gains entry to a bunch of prestigious tournaments.
In short, his immediate playing and financial future is now assured. When you're a decent young bloke who's bashful, not boastful, and when you can play shots like this (which set up the win), you deserve every good thing that comes your way.
ALSO ON HUFFPOST AUSTRALIA