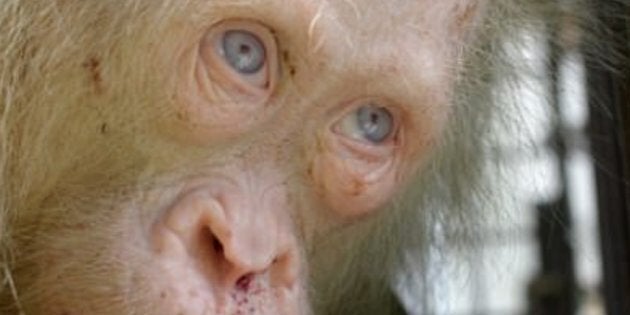 A rare albino Orangutan has been rescued in Borneo after being held captive by locals for days.
The organisation says this is the very first albino Orangutan they have helped, as approximately 1 in every 10,000 Orangutans have the genetic condition. Exact numbers of how many Orangutans are albino however, are still unknown.
In a statement BOS said: "We will continue to observe her and conduct routine health tests.
"She was held captive by local residents for two days and still displays wild behaviours, meaning there is a good chance she could soon be released back to a natural habitat."
So it seems our little albino friend is safe, in good health and will be back to living a normal life soon enough.
Rare albino orangutan w white hair & blue eyes is rescued April 29 after held captive by locals in Borneo. She's the 1st albino ever rescued pic.twitter.com/hUtX1m6aE2

— People's Daily,China (@PDChina) May 1, 2017
ALSO ON HUFFPOST AUSTRALIA