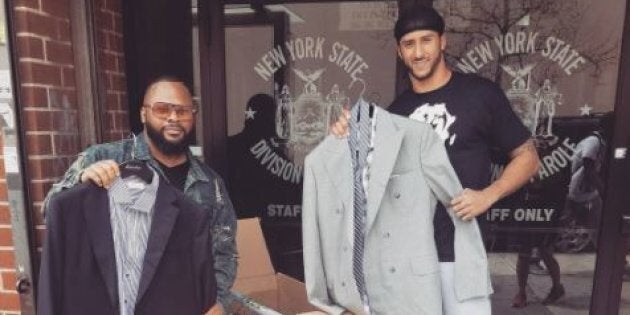 Colin Kaepernick, take a bow.
Kaepernick is the NFL quarterback famous for taking a knee (as in kneeling) during the American national anthem before football games, in protest against police racism.
His latest charitable effort? Suits for people who have been released from prison and are looking for work.
Kaepernick is technically out of work himself right now, and may not play NFL again. The HuffPost ran a really interesting piece recently arguing that the backlash against his activism means he may struggle to find a team owner who'd hire him.
But the 29-year-old quarterback has been using his time productively. In the image above, he is outside the New York State Parole Office with Kevin Element Livingston from 100 Suits -- an organisation that helps former prisoners, homeless people, ex-gang members and survivors of domestic violence.
"By being able to wear appropriate suits to their interviews, these men and women are better equipped to achieve gainful employment, which will ultimately help them to transition into mainstream society and live more productive lives," says the blurb on the 100 Suits site.
Kaepernick fully funds an organisation for youth called Know Your Rights Camp, which raises awareness on higher education, self empowerment, and how to interact with law enforcement in various scenarios.
The organisation released this video of Kaepernick unloading the suits. WARNING: there's some offensive language near the end.
ALSO ON HUFFPOST AUSTRALIA